Clean birth and postnatal care practices to reduce neonatal deaths from sepsis and tetanus: a systematic review and Delphi estimation of mortality effect
BMC Public Health
2011
11(Suppl 3):S11
Abstract
Background
Annually over 520,000 newborns die from neonatal sepsis, and 60,000 more from tetanus. Estimates of the effect of clean birth and postnatal care practices are required for evidence-based program planning.
Objective
To review the evidence for clean birth and postnatal care practices and estimate the effect on neonatal mortality from sepsis and tetanus for the Lives Saved Tool (LiST).
Methods
We conducted a systematic review of multiple databases. Data were abstracted into standard tables and assessed by GRADE criteria. Where appropriate, meta-analyses were undertaken. For interventions with low quality evidence but a strong GRADE recommendation, a Delphi process was conducted.
Results
Low quality evidence supports a reduction in all-cause neonatal mortality (19% (95% c.i. 1–34%)), cord infection (30% (95% c.i. 20–39%)) and neonatal tetanus (49% (95% c.i. 35–62%)) with birth attendant handwashing. Very low quality evidence supports a reduction in neonatal tetanus mortality with a clean birth surface (93% (95% c.i. 77-100%)) and no relationship between a clean perineum and tetanus. Low quality evidence supports a reduction of neonatal tetanus with facility birth (68% (95% c.i. 47-88%). No relationship was found between birth place and cord infections or sepsis mortality. For postnatal clean practices, all-cause mortality is reduced with chlorhexidine cord applications in the first 24 hours of life (34% (95% c.i. 5–54%, moderate quality evidence) and antimicrobial cord applications (63% (95% c.i. 41–86%, low quality evidence). One study of postnatal maternal handwashing reported reductions in all-cause mortality (44% (95% c.i. 18–62%)) and cord infection ((24% (95% c.i. 5-40%)).
Given the low quality of evidence, a Delphi expert opinion process was undertaken. Thirty experts reached consensus regarding reduction of neonatal sepsis deaths by clean birth practices at home (15% (IQR 10–20)) or in a facility (27% IQR 24–36)), and by clean postnatal care practices (40% (IQR 25–50)). The panel estimated that neonatal tetanus mortality was reduced by clean birth practices at home (30% (IQR(20–30)), or in a facility (38% (IQR 34–40)), and by clean postnatal care practices (40% (IQR 30–50)).
Conclusion
According to expert opinion, clean birth and particularly postnatal care practices are effective in reducing neonatal mortality from sepsis and tetanus. Further research is required regarding optimal implementation strategies.
Keywords
TetanusNeonatal MortalityChlorhexidineNeonatal SepsisHome Birth
Background
More than half a million newborns are estimated to die each year from serious neonatal infections, accounting for about 15% of all neonatal deaths globally [1]. The most vulnerable time for both the mother and newborn is during birth and in the hours and days immediately after childbirth. Around 75 percent of neonatal deaths occur during the first week of life, with the majority in the first 48 hours [2], which is also the period of highest risk for mothers [3]. In populations with very high neonatal mortality, up to half of neonatal deaths may have an infectious cause [4, 5].
It is estimated that 30-40% of infections resulting in neonatal sepsis deaths are transmitted at the time of childbirth and have early onset of symptoms (developing during the first 72 hours after birth) [6, 7]. In low income countries, about 60% of births occur without a skilled attendant, most of these at home [8]. Worldwide, 60 million births happen outside facilities and even for facility births hygienic practices may be sub-optimal.
In addition many neonatal deaths due to tetanus and other infections are acquired postnatally [9, 10]. The unhealed umbilical cord is an important portal for local and invasive infections during this period and is rapidly colonised by bacteria from the maternal genital tract and then from the environment. Localised umbilical infection (omphalitis) can spread to the abdominal wall, the peritoneum, or through the umbilical or portal vessels leading to systemic sepsis, which, if untreated, has a high case-fatality rate [11]. Omphalitis with redness extending to the abdominal wall was associated with a 46% increased risk of mortality in rural Nepal [12].
The global burden of neonatal tetanus has reduced over from over 600,000 neonatal deaths in 1990 to fewer than 60,000 in 2008 [1, 13]. Increased tetanus toxoid vaccination coverage and hygienic intrapartum and postnatal practices, particularly cord care, are important contributing factors [14, 15]. In addition to variation in immunization coverage, intrapartum and postnatal practices may explain much of the local variation in incidence of tetanus [16–18]. Clean birth practices have been associated with dramatic reductions in the incidence of neonatal tetanus in the absence of immunization, for example in industrialized countries where tetanus was virtually eliminated before the vaccine was introduced and. in China, training of traditional birth attendants (TBAs) and providing them with a 'clean birth kit' in the 1950s led to a reduction in neonatal tetanus rates from 32/1000 in 1948 to 2/1000 in 1961 [19].
Hygienic behaviours during childbirth and during the early postnatal period are variably defined. In this paper, we define clean birth and postnatal care practices in accordance with World Health Organisation's (WHO) "six cleans" - hand washing of birth attendant before birth, clean birth surface, clean perineum, cutting of the umbilical cord using a clean implement, clean cord tie, and a clean cloth for drying (Figure
1
). These practices may be influenced by a number of programmatic approaches including behaviour change communications, commodity provision, or training of attendants, or combinations of these, and the context may involve a facility birth or a home birth. Hand-washing with soap results in a large reduction in hand contamination, even when washed with unclean water [
20
], and birth attendant and maternal hand washing have been associated with reductions in neonatal mortality [
21
]. However cultural factors frequently govern practices and may influence willingness to adopt new clean practices [
22
–
24
]. Many populations commonly rub potentially harmful substances on the umbilical cord or skin despite WHO recommendations for dry cord care [
11
,
25
–
29
]. Chlorhexidine, a broad-spectrum topical antiseptic, has residual effect for up to 72 hours and may be a useful adjunct to basic clean practices in home and facility settings, especially where unhygienic applications to the cord are common.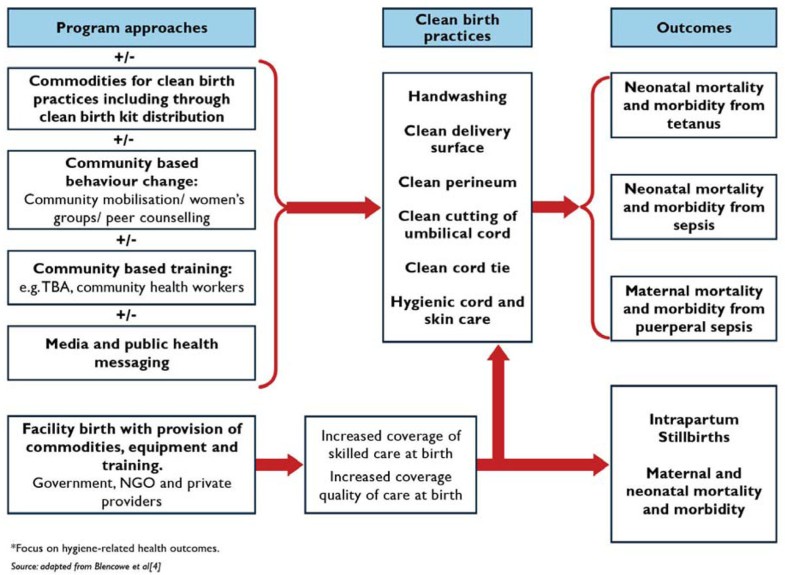 Although such hygienic practices at birth and during the postnatal period are accepted as a standard of care, there is very limited evidence regarding their effect to guide policymakers in the potential mortality effect size. Individually randomized trials of hygienic versus unhygienic practices would clearly be unethical, and thus the quality of evidence will always be limited. There is increasing evidence from cluster randomized trials in South Asia of the significant effect on neonatal mortality of postnatal care practices, including clean practices, [26, 30–35]. However all these studies involve packages with varying intervention content, often with antenatal and intrapartum care, and in several cases also providing curative care for infections at home in the postnatal period. The relative importance and contribution of each component is difficult to determine. An additional challenge is that evaluations often consider intermediate outcomes such as sepsis morbidity or omphalitis, which are variably defined.
This review does not include other interventions to reduce deaths from neonatal infections, such as tetanus toxoid immunization [15], antibiotics for prolonged rupture of membranes, early and/or exclusive breastfeeding or skin-to-skin care, or case management of neonatal sepsis since these topics are reviewed elsewhere [36–39]. Delivering in a facility with a skilled attendant and access to emergency obstetric care has the potential to reduce stillbirths [40], maternal deaths and also neonatal deaths from causes other than infection [41], and these outcomes are also considered in other reviews.
Objective
The objective of this review is to estimate, for use in the Lives Saved Tool (LiST), the effect of clean practices at birth and during the postnatal period on all-cause neonatal mortality, cause-specific mortality from sepsis and tetanus, and infection-related morbidity (e.g. sepsis and omphalitis).
Methods
This review uses an adaptation of the GRADE approach and is designed to provide estimates for use in LiST which models cause-specific deaths averted by increases in coverage of effective interventions. Details of the general review methods, the adapted GRADE approach and the LiST model have been described elsewhere [42].
Results
Our searches identified 778 records, and snowball searching identified a further three papers. (Figure 2) After initial screening of the title or abstract, we reviewed 61 papers for data on the outcome measures of interest. Twenty three papers did not fulfil the inclusion criteria and were excluded (Figure 2). Thirty eight papers were included in the final database (Additional File 2). Four relevant Cochrane Reviews were identified. One review of topical umbilical cord care at birth found no evidence of benefit of topical antibiotic or antiseptic applications in high income countries, but no data from low income settings were included in the review [47]. The second, a study of topical ointment for preventing infection in preterm infants, reviewed four facility-based studies from high income countries and concluded that prophylactic topical ointments should not be used for premature babies in high-income settings due to an increased risk of nosocomial and other infections in the treated group [48]. The final two reviews examined the effect of vaginal cleansing with chlorhexidine on Group B streptococcus [49] and other neonatal infections in high-income countries [50]. Whilst cleansing reduced colonisation with Group B streptococcus, no other benefits in terms of sepsis morbidity or mortality were observed.
The remainder of this review focuses on studies carried out in low/middle income countries where the effect of the clean practices is likely to be larger, and the evidence more applicable to decision makers in the countries using the LiST tool. The order of the results section follows the list in table 1
Discussion
The primary finding and main limitation of this review is the lack of high or moderate quality evidence for the effect of clean birth and postnatal newborn care practices on neonatal mortality, particularly those relevant for low and middle income countries where the impact would be the greatest. In addition there is likely to be publication bias for positive studies. Even within published studies when multivariable analysis showed no association of certain clean practices with tetanus or sepsis-related outcomes, the adjusted effect size was not reported. The overall quality of evidence for impact of clean birth and postnatal newborn care practices reviewed on cause-specific mortality is very low. However as there is strong biological plausibility and this is an accepted standard of care, and randomized controlled trials would be considered unethical, the GRADE recommendation for these practices is strong.
The size of the effect of clean birth and postnatal care practices is important to quantify, and to our knowledge this is the first such estimate. Following the rules established by CHERG for interventions with a strong GRADE recommendation[
44
], but low level of evidence , a Delphi expert process was undertaken. We included a range of experts with wide geographic representation (geographic region, low-middle and high income settings) and expertise (clinical, epidemiology, obstetrics, neonatology). They estimated moderate benefits of clean practices; specifically that clean birth practices may avert between 15 - 27% of neonatal sepsis deaths and 30 – 38% of neonatal tetanus deaths. Greater benefits were estimated for clean birth practices by a skilled birth attendant and in a facility compared to clean birth practices at home with no skilled attendant. Clean newborn care practices were estimated to prevent 40% of sepsis and tetanus neonatal mortality. In total combined clean facility birth and newborn care practices are estimated to avert two thirds of neonatal sepsis deaths and over three quarters of neonatal tetanus deaths when compared to home birth and postnatal care with no clean practices (Table
7
).
Table 7
Cause-specific mortality effect and quality grade of the estimate for the effect of clean birth and newborn care practices on neonatal deaths from sepsis and tetanus for use in LiST
Cause-specific mortality to act on:
Neonatal deaths from sepsis and tetanus
Cause-specific estimate of effect:
Reduction in neonatal deaths from sepsis of 15% with clean birth practices at home with no skilled attendant, 23% with a skilled attendant at home and 27% in a facility.
Reduction in neonatal deaths from tetanus of 30% at home with no skilled attendant, 35% at home with a skilled attendant and by 38% in a facility.
Clean postnatal newborn care practices are estimated to reduce neonatal mortality from sepsis by 40% and from tetanus by 40%
Quality of input evidence:
Very low quality– based on Delphi panel consensus
Moderate to very low quality supporting evidence
Neonatal mortality in high income countries showed a rapid decline throughout the last century[86]. Much of this decline occurred before the introduction of immunization, antibiotics and neonatal intensive care into routine practice. In particular, improved clean practices around the time of birth, coupled with distancing the place of birth from potential soil contamination (and hence tetanus) resulted in a substantial reduction in neonatal tetanus in these countries prior to vaccine introduction [14, 87]. Historical data and data from before and after studies suggest higher reductions than our panel consensus, but such studies may have been undertaken in settings with higher risk behaviours – eg the Masai who traditionally placed cow dung on the umbilical cord. Overall our estimates are likely to be conservative.
Few would disagree with the principles of clean birth and postnatal care for all babies, including those born at home. The benefits of clean care are likely to be positive with minimal plausible adverse effects of the practices per se; however several implementation questions remain important. What is the most appropriate method to promote behaviour change in this area? What practices should be focused on? And if practice is changed, what is the actual cost, the opportunity cost and the likely effect on lives saved of rolling out the promotion method as a policy? Strategies to improve uptake of clean birth and postnatal care practices include community-based behaviour change (including women's groups), health worker/birth attendant training and specific vehicles such as clean birth kits. Possible unintended adverse effects of these strategies may exist e.g. dis-incentivising facility birth. (Table
8
) There is increasing evidence from evaluations of packages which include the promotion of clean birth and postnatal care practices as package components, showing increased uptake of clean practices in the intervention groups [
4
,
30
,
32
,
82
,
88
–
93
]. However as the packages are intended to affect multiple behaviours at once, it is difficult to tease out the effect of each intervention, particularly the effects of clean birth and postnatal care practices in the early postnatal period.
Table 8
Addressing the knowledge gaps for clean practices at birth and in the postnatal period
Analysis of existing datasets
Analysis of existing data sets to examine the relationship between clean birth practices, use of clean birth kits and neonatal mortality/ morbidity, with improved controlling for confounding variables.
Examination of implementation experiences
Examination of implementation approaches for the promotion of behaviour change in relation to clean practices, particularly to examine whether certain strategies for clean birth kits distribution may act as an incentive or disincentive for facility birth.
New studies
New research studies for example well designed randomised controlled trials of implementation strategies to improve clean birth and postnatal practices assessing benefits, feasibility, costs and potential negative effects of different strategies e.g. education, media, community mobilisation, clean birth kits.
One potential vehicle for promoting clean birth and postnatal care practices is the clean birth kit. In some settings, e.g. in conflict or humanitarian emergencies, or in settings where there is currently low coverage of facility birth, a working group of over 35 experts from multiple disciplines concluded that clean birth kits are to be recommended as long as they do not act as a disincentive for facility birth [94]. The concept of a clean birth kit has been promoted for many years, and clean birth kits have been shown to be acceptable in several populations and may be important in areas where commodities are the key constraint [58, 59, 96]. In study settings, clean birth kits changed behaviours directly related to the physical components of the kits [58, 95], but not to more distal newborn practices depicted in the accompanying education leaflet (e.g. immediate breast feeding and wrapping of the newborn) [58]. Many families and healthcare workers are not aware of the benefits of clean practices for newborns and often coverage of these practices is low [24, 27, 28, 96–99] and influenced by local culture, especially for cord care [22–24]. Community education and birth attendant training are both associated with a change in practice to cutting the cord with a clean blade and tying the cord with a clean tie [23, 99]. Few countries have national data regarding coverage of clean birth kits from DHS, and only Nepal has comparable population level trend data [100]. Despite fairly extensive social marketing, clean birth kit use remains low (18% in 2006). Social marketing of insecticide treated bed nets for malaria in very low income communities may lead to only moderate coverage benefits, compared to free provision. Some evidence suggests that the role of a clean birth kit may be less important in communities that already have relatively high use of clean blade and hand washing[58]. Clean birth kits could be adapted to include additional components, but the benefit of adding any additional items must be weighed up against the increased cost and the appropriate use and effectiveness of these items. A recent analysis suggested that locally made clean birth kits linked with programs to improve clean practices are highly cost effective with an estimated US$215 per neonatal life saved [94]. The added benefit and cost of clean birth kit promotion compared to behaviour change strategies alone requires more analysis and evaluation.
Conclusion
While clean birth and postnatal care is widely accepted, there is understandably low-quality evidence for the effect of these interventions especially in low income settings. However, since there is strong biological plausibility and given that clean practices are an accepted standard of care, the GRADE recommendation is strong. Our Delphi expert consensus process judged that clean birth practices at home with no skilled attendant could reduce neonatal sepsis deaths by 15% and tetanus deaths by 30%. The panel judged that clean birth practices in a facility would reduce neonatal deaths from sepsis by 27% and tetanus by 38%. Postnatal newborn care practices were considered to have a higher effect on neonatal mortality with 40% reduction in both sepsis and tetanus deaths.
More research is needed particularly on the content and quality of care during the early postnatal period. Given that most evidence to date is from South Asia, the results of ongoing studies in Africa are of especial importance. Use of standard definitions and outcome case definitions would improve future attempts at evidence synthesis. In addition population-based coverage data are lacking for clean birth practices or for use of clean birth kits.
Clean practices at birth and in the postnatal period could prevent many needless deaths, especially in settings with high baseline neonatal mortality and where the majority of births still take place at home, although in many facilities in low income settings, hygienic practices may also be sub optimal. The benefits of a clean birth have been recognised for centuries and if this basic and feasible action was achieved for every mother and baby of the 135 million births each year, over 100,000 lives could be saved each year [94].
Funding
This work was supported in part by a grant to the US Fund for UNICEF from the Bill & Melinda Gates Foundation (grant 43386) to "Promote evidence-based decision making in designing maternal, neonatal and child health interventions in low- and middle-income countries", and by a grant to Save the Children USA from the Bill & Melinda Gates Foundation (Grant 50124) for "Saving Newborn Lives".
Declarations
Acknowledgements
We would like to thank all those participating in the Delphi expert consensus panel (alphabetical order) Avan B, Blencowe H, Burke T, Campbell O, Belizan J, Costello A, Cousens, S, Donnay F, De Bernis L, Eckardt M, Graham W, Hundley V, Kerber K, Khalid A, Lawn J, Lee AC, Mullany L, Munjanja S, Mwansambo C, Narwyl R, Osrin D, Pattison R, Pearson L, Pittroff R, Qomariyah S, Ronsman C, Waiswa P, Wall S, Winch P, Yakoob Y. We are extremely grateful to Dr Ronán M Conroy for sharing unpublished data and Prof Wendy Graham for contributing to the Delphi organisation and Vanora Hundley for insights on CBKs. We thank Chris Rowland for assistance with Figure 1. We thank the reviewers for insightful comments.
This article has been published as part of BMC Public Health Volume 11 Supplement 3, 2011: Technical inputs, enhancements and applications of the Lives Saved Tool (LiST). The full contents of the supplement are available online at http://www.biomedcentral.com/1471-2458/11?issue=S3.
Authors' Affiliations
(1)
London School of Hygiene and Tropical Medicine, London, UK
(2)
Department of International Health, Johns Hopkins Bloomberg School of Public Health, Baltimore, USA
(3)
Saving Newborn Lives/Save the Children, Cape Town, South Africa
(4)
Family Health Division, Global Health Program, Bill and Melinda Gates Foundation, Seattle, USA
(5)
Health Systems Strengthening Unit, Medical Research Council, Cape Town, South Africa
Copyright
© Blencowe et al; licensee BioMed Central Ltd. 2011
This article is published under license to BioMed Central Ltd. This is an open access article distributed under the terms of the Creative Commons Attribution License (http://creativecommons.org/licenses/by/2.0), which permits unrestricted use, distribution, and reproduction in any medium, provided the original work is properly cited.