Research article
Open Access
Open Peer Review
This article has Open Peer Review reports available.
Knowledge, attitudes, and practices of Hong Kong population towards human A/H7N9 influenza pandemic preparedness, China, 2014
BMC Public Health
2015
15:943
Received: 8 January 2015
Accepted: 7 September 2015
Published: 22 September 2015
Abstract
Background
Since SARS epidemic in 2003, Hong Kong has experienced several major epidemic risks, but how general community might react to the repeated infectious diseases health risks have not been studied. In 2013, imported human H7N9 influenza infected cases from China were reported. Our study aims to assess the knowledge, attitude and practice (KAP) concerning A/H7N9 among Hong Kong general population regarding pandemic preparedness in early 2014.
Methods
A cross-sectional, population-based telephone survey study was conducted among the Cantonese-speaking population aged over 15 years in Hong Kong in February 2014. The study survey was composed of 78 KAP questions. Factors associated with individual and household pandemic preparedness were analyzed.
Results
Final study sample was 1,020 with a response rate of 45.9 %. Among the respondents, most of them believed personal hygiene and avoidance of avian contacts were effective in preventing H7N9 infections. The majority of respondents had satisfactory hand hygiene practices and avoided touching avian species but did not employ other preventive measures. Female, 25 years old or older, white collar workers, people with chronic diseases and people living in the city center tended to report better hygiene practices. The average State-Trait Anxiety Inventory score was 1.85, similar to that of the period during the first wave and at the start of the second wave of the H7N9 epidemic. Self-reported face masks wearing when having influenza-like illness in general population dropped from 92.4 % during H5N1 period in 2007 to 39.0 % in this study.
Conclusion
Hong Kong citizens show a low level of anxiety, misconceptions regarding the novel strains as well as gaps between perceived usefulness and practice of preventive measures towards influenza outbreaks. Educational campaigns and framing the issue to increase public and media awareness are crucial in preventing the current public fatigue towards outbreaks.
Keywords
KnowledgeAttitudePracticeInfluenza A/H7N9Pandemic preparednessChinese communityHong Kong
Background
The experience of SARS coronavirus epidemic in 2003 has radically changed the concept and catalyzed actions globally and locally for combating infectious diseases outbreaks at the community level [1, 2]. Different health agencies globally are now striving to increase community resilience in combating this emerging infectious disease challenge. In particular, in the Hong Kong Special Administration Region of China, where a number of infectious diseases epidemic originated, resources were invested for enhancing infrastructure, policies and health education for pandemic preparedness and infection control. Whilst population resilience level in Hong Kong in handling infectious disease challenges are thought to be higher than other global cities, the mild clinical outcome of A/H1N1 influenza pandemic in 2009 and the limited transmissibility of the A/H5N1 avian influenza outbreaks in humans in 2007 may have modified citizens' attitude and perceived risk towards similar outbreak incidences [3–5], and may have led them to underestimate the emerging A/H7N9 outbreak at the community level. A study conducted between 2006 and 2010 suggested that prolonged warning of a future pandemic was likely to cause pandemic fatigue in the public [6, 7]. For example, studies showed a decrease in self-reported mask use in case of influenza-like illness symptoms since the SARS in 2003 and post-SARS period [8]. There is currently limited literature to examine how prolonged warning may affect community perception and response to these large scale infectious disease risks.
In March 2013, a human infected H7N9 influenza A virus (A/H7N9) case was first identified in Eastern China and caught global attention [
9
,
10
]. Serious response level of the Preparedness Plan for Influenza Pandemic was activated in Hong Kong in Dec 2013 [
11
]. As of August 2014, a total of 450 confirmed cases were reported in various provinces in China [
12
]. A recent study in Hong Kong during the first wave of H7N9 epidemic in April 2013 showed low population anxiety levels [
13
]. Although current evidence of sustained human-to-human transmission for A/H7N9 is rare, a small cluster of infected cases within the family showed hospitalization might be required [
14
–
16
]. Confirmed case fatality rate was around 20 %, although the estimated symptomatic case fatality risk was lower [
17
]. At that time, there were a substantial number of confirmed cases of human infected cases of H7N9 avian influenza during the second wave of the epidemic (Fig.
1
). Meanwhile, the infection rate of seasonal influenza was high in Hong Kong, as reflected by the Government Center for Health protection sentinel surveillance system [
4
].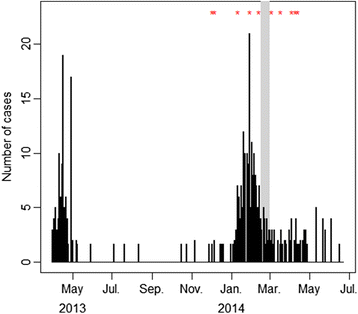 Some personal behaviors had been suggested to be effective to control pandemics such as SARS and H5N1 in Hong Kong. Previous studies suggested that close contact with live poultry, visiting public places and the places having confirmed cases were risk factors, while frequent mask use, hand washing, disinfection, and avoidance of eating poultry were protective factors [13, 18, 19]. In this study, we conducted a representative, population-based telephone survey in Hong Kong 1) to investigate the current situation regarding the self-reported knowledge, attitude and practice of pandemic responses at individual level on the second wave human infected A/H7N9 avian influenza outbreak; and 2) to investigate factors associated with the self-reported personal hygiene practices.
Methods
Study design and study population
A cross-sectional, population-based telephone survey was conducted from 15–28 February 2014 in Hong Kong. The study population was the population aged 15 years or above residing in Hong Kong, including residents holding valid work or study visas. Exclusion criteria included i) non-Cantonese-speaking respondents; ii) overseas visitors holding tourist visas to Hong Kong; iii) 2-way permit holders from mainland China; and iv) those who were unable to be interviewed due to medical reasons.
Instrument
A structured Chinese questionnaire was constructed and used for data collection. The questionnaire consisted of 78 closed ended questions that aimed to collect the following information from the respondents:
1.

Socio-demographic and background information, including age, gender, district of residence, occupation and employment status, educational attainment, type and size of housing, and household income (total 21 questions).

2.

Knowledge of H7N9 influenza A virus, including the differences between H7N9 and other respiratory diseases, transmission routes and "whether seasonal influenza vaccination could protect people from H7N9 infection" (total 9 questions).

3.

Attitudes and risk perception towards H7N9 influenza A infections, including attitude towards preventive measures (total 9 questions), perception of H7N9 impact, perceived severity and infectivity, channel preference for information reporting and seeking, and their current anxiety level concerning the outbreak (total 30 questions). The 6 questions short form of the State-Trait Anxiety Inventory (STAI) was used for measuring anxiety [20]. A five point Likert-type scale were used to ascertain level of agreement or disagreement for the questions (from 1 to 5, 1 = strongly disagree, 2 = disagree, 3 = uncertain, 4 = agree, 5 = strongly agree).

4.

Practices of preventive measures against H7N9 influenza A infections, including personal hygiene practices, avoidance of contact with avian species, household preparedness and vaccination practice (total 18 questions). A four point Likert-type scale were used to ascertain level of the practices (from 1 to 4, 1 = always, 2 = often, 3 = sometimes, 4 = never).

5.

Active personal hygiene practice was defined by practicing 6 or more of the following 9 personal hygiene measures, including wash more hands, wash hands with soap, do not share utensils, wear mask when sick, bring own utensils during meals, avoid going to public places and avoid using public transport, avoid contacting with live poultry, avoid eating poultry and avoid going to places that had H7N9 confirmed cases. Active personal hygiene attitude was defined by regarding 6 or more of the above 9 personal hygiene measures above as useful for prevention H7N9.
Each interview took approximate 15–25 min to complete. The survey questionnaire was pilot tested in January 2014 (n = 50) to ensure practicability, validity, and interpretability of answers. The questionnaire was slightly refined for wording and format before distribution to the study sample based on the results of the pilot study. Results about vaccination practice and channels for disease surveillance have been reported elsewhere and not included in the analysis.
Data collection
Randomly generated telephone numbers from a list of all land-based telephone numbers in Hong Kong was used as the sample frame [3, 8]. The telephone interviews were conducted by trained interviewers. The telephone calls were made in the evening on weekdays (6 pm-10 pm) and during daytime and evening on weekends (10 am-10 pm) to prevent over representation of the unemployed population. The subjects undergoing the interview were chosen based on the "last birthday method" [21, 22], in which the household member who was present in the household during the survey and whose last birthday was closest to the interview date was invited to participate. The subjects were invited on the basis of the proportion of age, gender and living district from the 2011 Hong Kong Population Census data. The sampling would continue until the quotas for each stratum were met. If the selected participant was busy or not there, up to 4 follow-up calls would be made. The numbers were called for a maximum of 5 times before being classified as unanswered.
Statistical analysis
Differences in proportions between demographic characteristics in this survey and the Hong Kong Population Census data in 2011 were examined. Descriptive statistics for knowledge, attitude and practice of H7N9 influenza A prevention in the study population were calculated. Differences in proportions between groups were tested using Pearson's Chi-square test or Fisher's exact test. Likert-type scale results were collapsed to binary outcomes for analysis. Cut off point for questions with 5 point scales were defined as >3 and for questions with 4 point scale as >2. Univariate analysis was first conducted to identify apparent associations between individual pandemic preparedness practices with socio-demographic factors, perceived health risk, knowledge and attitudes towards A/H7N9 influenza virus. Backward multivariable logistic regression analyses were then conducted to identify factors associated with actual pandemic preparedness. All variables were retained in the final model if they had P-value < 0.05. All statistical analyses were conducted using R (version 3.0.2, R Development Core Team 2011). Statistical significance was set at α = 0.05.
Research ethics
This study was approved by the Survey and Behavioural Research Ethics Committee of The Chinese University of Hong Kong. Oral consent was obtained from each of the participant at the beginning of the study. All collected data were anonymous.
Results
The final number of respondents who completed the survey was 1020, and the response rate was 45.9 % (1,020/2,221). Figure
2
detailed the data collection algorithm and response rate. Table
1
shows the socio-demographic characteristics of the study population compared with the general population in Hong Kong in 2011 [
23
].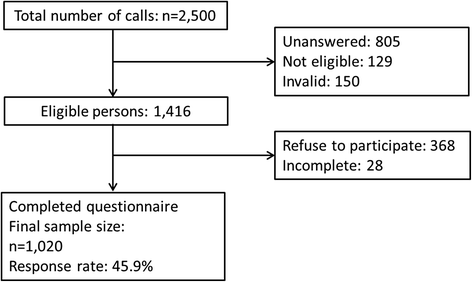 Table 1
Socio-demographic characteristics of the respondents and the general population in Hong Kong in 2011
Sample population

Hong Kong population 2011

Sample vs. census p-valuea

n

%

%

Demographics

Age (n = 1,020)

15-24

143

14.0

14.0

0.99

25-44

348

34.1

35.5

45-64

363

35.6

35.4

≧65

166

16.3

15.1

Gender (n = 1,020)

Male

461

45.2

46.0

1.00

Female

559

54.8

54.0

Education (n = 1,019)

Primary education or below

138

13.5

22.7

0.18

Secondary education

517

50.7

50.0

Post-secondary education(including diploma and certificate)

364

35.7

27.3

Occupation (n = 1,006)

White collar

411

40.9

NA

Blue collar

96

9.5

NA

Housewife, retired or unemployed

393

39.1

NA

Students

106

10.5

NA

Area of residence (n = 1,020)

Hong Kong Island

185

18.1

18.0

1.00

Kowloon

308

30.2

29.8

New Territories

527

51.7

52.2

Marital status (n = 1,018)

Single

355

34.9

42.2

0.36

Married

663

65.1

57.8

Household income (n = 969)

<$10,000

135

13.9

23.8

0.30

$10,000-19,999

220

22.7

23.8

$20,000-39,999

346

35.7

29.0

≧$40,000

268

27.7

23.5

Type of housing (n = 1,017)

Public housing

387

38.1

30.3

0.61b

Subsidized home ownership housing

160

15.7

15.9

Private permanent housing

455

44.7

52.3

Others

15

1.5

1.4
Discussion
We assessed the knowledge, attitude and actual practice of the Hong Kong population for pandemic preparedness during the second wave of human infected H7N9 epidemic in mainland China and when the seasonal influenza activity was high in the community. The result showed respondents still harbored misconceptions of H7N9 influenza, were generally not anxious about the H7N9 outbreak, and were not sufficiently practicing protective measures against infections.
Conclusion
Similar to previous studies, Hong Kong citizens show a low level of anxiety, misconceptions regarding the novel strains as well as gaps between perceived usefulness and practice of preventive measures towards influenza outbreaks. Educational campaigns and framing the issue to increase public and media awareness is crucial in preventing the current public fatigue towards outbreaks.
Availability of data and materials
Not applicable.
Declarations
Acknowledgements
The authors thank all participants of this study and Prof. William B. Goggins for his help in the supporting of statistical analysis. This work has received financial support from the Research Fund for the Control of Infectious Disease, Food and Health Bureau, Government of the Hong Kong SAR (grant no. CU-13-01-01).
Open AccessThis article is distributed under the terms of the Creative Commons Attribution 4.0 International License (http://creativecommons.org/licenses/by/4.0/), which permits unrestricted use, distribution, and reproduction in any medium, provided you give appropriate credit to the original author(s) and the source, provide a link to the Creative Commons license, and indicate if changes were made. The Creative Commons Public Domain Dedication waiver (http://creativecommons.org/publicdomain/zero/1.0/) applies to the data made available in this article, unless otherwise stated.
Authors' Affiliations
(1)
Collaborating Centre for Oxford University and CUHK for Disaster and Medical Humanitarian Response, JC School of Public Health and Primary Care, Faculty of Medicine, The Chinese University of Hong Kong, Hong Kong, Hong Kong SAR