Software
Open Access
Open Peer Review
This article has Open Peer Review reports available.
EPIPOI: A user-friendly analytical tool for the extraction and visualization of temporal parameters from epidemiological time series
BMC Public Health
2012
12:982
Received: 13 March 2012
Accepted: 9 October 2012
Published: 15 November 2012
Abstract
Background
There is an increasing need for processing and understanding relevant information generated by the systematic collection of public health data over time. However, the analysis of those time series usually requires advanced modeling techniques, which are not necessarily mastered by staff, technicians and researchers working on public health and epidemiology. Here a user-friendly tool, EPIPOI, is presented that facilitates the exploration and extraction of parameters describing trends, seasonality and anomalies that characterize epidemiological processes. It also enables the inspection of those parameters across geographic regions. Although the visual exploration and extraction of relevant parameters from time series data is crucial in epidemiological research, until now it had been largely restricted to specialists.
Methods
EPIPOI is freely available software developed in Matlab (The Mathworks Inc) that runs both on PC and Mac computers. Its friendly interface guides users intuitively through useful comparative analyses including the comparison of spatial patterns in temporal parameters.
Results
EPIPOI is able to handle complex analyses in an accessible way. A prototype has already been used to assist researchers in a variety of contexts from didactic use in public health workshops to the main analytical tool in published research.
Conclusions
EPIPOI can assist public health officials and students to explore time series data using a broad range of sophisticated analytical and visualization tools. It also provides an analytical environment where even advanced users can benefit by enabling a higher degree of control over model assumptions, such as those associated with detecting disease outbreaks and pandemics.
Keywords
EpidemiologyTime seriesTrendsSeasonalityAnomaliesData visualization
Background
Government, non-governmental agencies and research groups regularly monitor the health status of populations with diverse geographical and temporal resolutions in addition to varying levels of clinical detail (from mortality records to DNA sequencing of particular pathogens) [1]. This invaluable documentation has enabled the development of elucidative studies about the causes of disease, increasing the likelihood of appropriate decision-making for public health.
Epidemiological data is frequently indexed in space (the locality where the event took place) and time and therefore, if systematically collected, many insightful and relevant patterns, outliers and parameters can be uncovered. For examples of the utility of spatio-temporal analysis one might consider the identification of the mortality attributed to epidemics [2–5] or exploring the spatial patterning of disease burden [6–9]. Much of this information, however, tends to be hidden to all but specialists with access to complex analytical tools. This complexity not only hinders a broader base of public health workers to further understand their own data (which can be critical in the preparation of responses for epidemics), but also inhibits the crosschecking of analyses and assumptions by people who understand the biology though perhaps not the computational programs used.
Here a freely available program, called "EPIPOI" (Epidemiological Parameter Investigation from Population Observations Interface), is presented which facilitates the visual exploration and description of several time series properties in a user-friendly and interactive way. Prototypes of EPIPOI have already been used in several of our studies [5, 7, 10, 11] and have benefitted from this iterative experience. The development of the software was initiated in the context of the Fogarty International Center's project the Multinational Influenza Study of Mortality and Seasonality (MISMS, http://www.origem.info/misms), where it was used for the inspection of pneumonia and influenza datasets. Its accessibility and utility was trialed by participants of several MISMS workshops around the world. More recently, EPIPOI was extended to assist in the analysis of the other vital statistics datasets within The Etiology, Risk Factors, and Interactions of Enteric Infections and Malnutrition and the Consequences for Child Health (Mal-ED) project (http://mal-ed.fnih.org).
A number of excellent resources can be found online that do similar tasks to EPIPOI, however none combine the various specialist tasks into a single interface or present results in a manner that might offer additional insights beyond the raw analytical results – of particular interest in EPIPOI is the comparison of time series parameters in geographic space. For example, Pelat et al.[12] provide an excellent tool for periodic regression with a particular focus on predicting and identifying epidemics and Torrence and Campo [13] have an online tool to perform wavelet analysis (which EPIPOI has benefited from). In both cases only a single time series can be analyzed at a time, and consequently users must know how to manipulate extracted results in such a way to allow further comparison (indeed even recognizing that further comparison across time series might be made). Perhaps surprisingly, the closest existing software– PAST [14] – was developed for paleontology. PAST is able to visualize, fit and extract seasonal harmonics, but falls short of attempting to visualize time series parameters in the context of other comparable time series.
What follows is a brief technical introduction and discussion of features of EPIPOI, with further practical instructions and a repository for the program available at http://www.epipoi.info.
Overview of EPIPOI
EPIPOI is meant to be self-explanatory. Users are guided to load their datasets and explore analytical options easily and with little worry of "doing something wrong". The dynamic appearance of options, display of meaningful keywords (technical jargon is avoided as much as possible), immediate visual feedback of the impact of options chosen (and therefore model assumptions) and consistent use of non-alphabetical coded information (e.g. colour keys) is intended to allow the user to concentrate on the exploration of their dataset (Figure 
1
).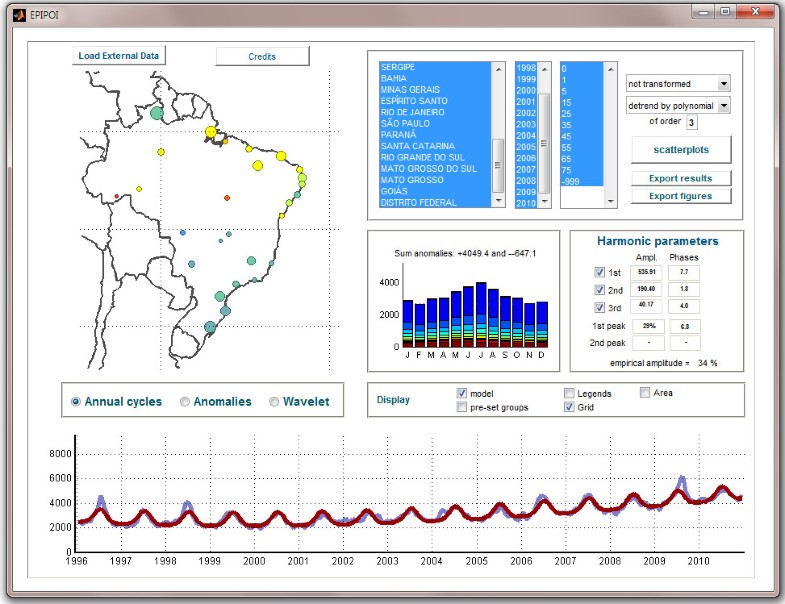 Implementation
EPIPOI has been written and compiled in Matlab (The Mathworks Inc) taking advantage of many built-in and second-party (including the authors) functions that are used to identify relevant information from time series. The immediate focus of our analyses is epidemiological, but nothing prevents users from other fields (e.g. ecology, economics) from finding EPIPOI analytically convenient and useful.
Figures displayed on the graphic user interface can, in the same way as numeric results, be generated at any stage of the analyses (and can be exported in several file formats).
Preparation of data
EPIPOI accepts inputs from Microsoft Excel (because of its familiarity to most users) and then manipulates data internally to extract and export relevant parameters and processed data in formats ready to be exported back to Excel.
Time series file
Users can load the example dataset provided on the EPIPOI website or use it as a template for their own data. The spreadsheet containing the data is organized in a simple structure: after a single header row, the first column is for the year, the second for a finer resolution time unit (e.g. months, weeks or days), and thereafter each column is dedicated to a series of observations (see the example on the EPIPOI website for an illustration). These time series need to cover the whole date range of years without any data gaps, though missing observations can be filled with NaN (the Matlab shorthand for "Not a Number"). All dates and observations must be sorted in ascending chronological order (i.e. oldest in the uppermost row and most recent at the bottom). If the data has an additional categorization (for instance age or gender), different worksheets of the time series file can be used to explore this "third dimension" of the data (time and -usually- space represent the other two dimensions). We encourage the user to explore this resource whenever possible (see the website for further details on how to do it).
Geolocation file
In case each time series (column) of the "Time series file" corresponds to a different geographic location, a second file - the "geolocation file" - containing the latitudes and longitudes of each location is needed because EPIPOI can then display the temporal parameters of those series in geographic space as well. The geolocation file does not have headers, and only needs three columns: the names of the sites (which should be identical to the ones in the time series file) and then the latitudes and the longitudes (in decimal degrees). An optional forth column can be added with names of major groupings, such as country or province names as this additional information can be color coded in the maps and scatter plots.
Results and discussion
Reproducibility of results has been advocated as a fundamental pillar of the scientific method [29]. With EPIPOI this possibility is taken to its full meaning for epidemiologic time analyses because any user can not only reproduce (and even improve) the analyses we have previous performed, but also apply, compare and test the same methods with other datasets. In so doing, EPIPOI expands the number of users that can perform these analyses and can be instrumental in helping process epidemiological data currently available yet still unexplored in many countries.
EPIPOI packages a number of useful resources for the exploration and visualization of temporal patterns that ought to be part of a first step in any analysis [30], but are largely confined to those with knowledge of specialist software.
This ease of exploring parameters resulting even from complex analysis warrants, on the other hand, constant awareness of the various transformations and assumptions introduced in the analytical process (as detrending, or exclusion of periods from the model). This latter feature is a methodological advantage over approaches that rely simply on goodness of fit. In EPIPOI the user can, for instance, identify the tension or bias that data from a particular period produces in the model, leading to a refinement of the analyses (e.g. was a particular pathogen or strain circulating at that time? is this phenomena structured geographically? were all age groups affected similarly?).
EPIPOI does not, however, cover all analytical possibilities that can be of relevance in the investigation of epidemiological time series. For instance, EPIPOI does not calculate the reproductive number of a pathogen, nor does it currently allow the inclusion of additional variables (e.g., climatologic or other putative risk factors) in the model. Some of these limitations are restricted to the current version, and will be addressed in future releases. But others stem from our reluctance to interfere with the simplicity and friendliness of the user experience. Finally, there are also analytical possibilities that we did not include for epistemological reasons. Chiefly, we have been frequently asked why EPIPOI does not make predictions. Although it would be possible to include an option to extrapolate model results, we believe EPIPOI is a tool to better explore and understand relevant descriptive information in empirical data. Error rates grow very rapidly as models project into the future and new conditions can suddenly change the premise upon which they were built [31] such that public health decisions should be based on evidence and insight, rather than reliant solely on on models (especially when their underpinning assumptions and limitations are difficult to check and/or understand).
Overall, EPIPOI has already proved useful to public health practitioners (trialed at MISMS workshops around the globe), contributing to several research studies [5, 7, 10, 11] emphasizing a need and desire for wider access to such a tool. We believe it can be used on a larger scale and perhaps in fields not originally anticipated. Feedback from users and the constant need to stretch analytical possibilities should encourage the development of new versions.
Conclusions
The accessibility of free and user-friendly tools for exploratory analysis of spatio-temporal data, including data visualization, has been limited. It is hoped that EPIPOI can address this imbalance and make available hitherto specialist tools in an intuitive format, so that a wider array of public health practitioners can explore their own epidemiological time series.
Availability and requirements of the current version (1.0)
Project name: EPIPOI
Project home page: http://www.epipoi.info
Operating system: 64-bit Windows PC and Macs (10.6.4 and above)
Programming language: Matlab (The Mathworks Inc)
Other requirements: Matlab or the Matlab Compiler Runtime (MCR). The EPIPOI software, the link to the MCR and further instructions and learning material can be found at the EPIPOI website
License: GNU
Any restrictions to use by non-academics: None, provided that - as is the case with academics - the proper citation to the current article (and when relevant, to the website) is provided.
Declarations
Acknowledgments
EPIPOI is available at http://www.epipoi.info. The authors are grateful to the Department of Vital Statistics from the Brazilian Ministry of Health for providing the mortality data used as an example dataset. We thank Cynthia Schuck-Paim, Jennifer Weisent and Camille Pelat for their valuable comments on manuscript. The development of this tool has been possible using the support of MISMS project, MAL-ED funded by the Bill and Melinda Gates Foundation, and the Premio Santander Universidades. Torrence and Compo (Torrence and Compo 1998) graciously made codes which have been integrated in EPIPOI to perform wavelet analyses freely available. This tool has certainly benefited from comments from users. We are grateful for this and hope to keep receiving such feedback in the future (for this, please go to http://www.epipoi.info).
Authors' Affiliations
(1)
Fogarty International Center, National Institutes of Health, Bethesda, USA
Copyright
© Alonso and McCormick; licensee BioMed Central Ltd. 2012
This article is published under license to BioMed Central Ltd. This is an Open Access article distributed under the terms of the Creative Commons Attribution License (http://creativecommons.org/licenses/by/2.0), which permits unrestricted use, distribution, and reproduction in any medium, provided the original work is properly cited.