Research article

Open Access

Open Peer Review
This article has Open Peer Review reports available.
An examination of the effectiveness of health warning labels on smokeless tobacco products in four states in India: findings from the TCP India cohort survey
BMC Public Health
BMC series – open, inclusive and trusted
2016
16:1246
Received: 30 April 2016
Accepted: 1 December 2016
Published: 13 December 2016
Abstract
Background
In 2009, after many delays and changes, India introduced a single pictorial health warning label (HWL) on smokeless tobacco (SLT) packing—a symbolic image of a scorpion covering 40% of the front surface. In 2011, the scorpion was replaced with 4 graphic images. This paper tested the effectiveness of SLT HWLs in India and whether the 2011 change from symbolic to graphic images increased their effectiveness.
Methods
Data were from a cohort of 4733 adult SLT users (age15+) of the Tobacco Control Project (TCP) India Survey from 4 states. The surveys included key indicators of health warning effectiveness, including warning salience, and cognitive, emotional, and behavioral responses to the warnings.
Results
The HWL change from symbolic to graphic did not result in significant increases on any of the HWL outcome indicators. A substantial minority of SLT users were unaware that SLT packages contained HWLs (27% at both waves). Noticing the warnings was also remarkably low at both waves (W1 = 34.3%, W2 = 28.1%). These effects carried over to the cognitive and behavioural measures, where among those who noticed HWLs, about one-third reported forgoing SLT at least once because of the HWLs, and fewer than 20% reported that HWLs made them think about SLT risks or about quitting SLT. Even fewer reported avoiding HWLs (8.1 to 11.6%). Among those who quit using SLT by post-policy, awareness that SLT packaging contained HWLs was significantly greater at post-policy (86.8%) compared to pre-policy (77.8%, p = 0.02). Quitters were also significantly more aware of the post-policy HWLs compared to those who continued to use SLT (p < 0.001).
Conclusions
Health warnings on SLT packages in India are low in effectiveness, and the change from the symbolic warning (pre-policy) to graphic HWLs (post-policy) did not lead to significant increases of effectiveness on any of the HWL indicators among those who continued to use SLT products, thus suggesting that changing an image alone is not enough to have an impact. There is a critical need to implement SLT HWLs in India that are more salient (large in size and on the front and back of the package) and impactful, which following from studies of HWLs on cigarette packaging, would have strong potential to increase awareness of the harms of SLT and to motivate quitting.
Keywords
Tobacco controlHealth policyHealth warning labelsSmokeless tobacco
Background
Over the last decade ―since the WHO Framework Convention on Tobacco Control (FCTC) came into force in 2005― there has been strong progress in tobacco control in many countries around the world. These efforts however have been largely focused on smoked tobacco (mainly manufactured cigarettes) with limited attention paid to other harmful and prevalent tobacco products, such as smokeless tobacco (SLT).
Currently, more than 300 million adults in 70 countries across all WHO regions use SLT, of which 250 million (90% of global SLT users) are in the 11 countries of the WHO's South East Asian Region (SEAR) [1]. Notably, rural users in India and Bangladesh make up 80% of the total SLT users in the world [2]. Moreover, studies have shown that SLT use is highest among SEAR's illiterate and low socioeconomic populations [1].
SLT products represent a significant risk to human health [3–6]. There is considerable diversity of SLT products, but those commonly used in the SEAR, and notably in India, include highly toxic forms, with very high levels of harmful constituents such as nitrosamines and heavy metals [2, 7, 8]. SLT products in SEAR have been shown to cause a broad range of diseases and adverse health effects such as various types of cancers, cardiovascular disease, and adverse pregnancy outcomes [1, 2, 5, 6, 9–11]. The latter is particularly striking, as SLT use is highly prevalent among reproductive age females in SEAR [11, 12].
Despite the considerable evidence base linking SLT use with adverse health outcomes, knowledge of the health effects of SLT remains low [6, 13, 14]. Added to this, there are many misconceptions about SLT, including the belief among many that SLT can be used for health purposes, such as cleansing their teeth and to relieve stress and other health ailments. These misconceptions have likely contributed to low rates of quitting among SLT users in many of these countries [1, 15, 16].
Due to a lack of public awareness and incomplete knowledge about the harmful effects of SLT, there are significant challenges towards effective tobacco control related to SLT use. One of the most effective public health measures to inform the people about the harms of tobacco products is to implement large pictorial health warning labels (HWLs) [17]. Overall, many collective elements, such as the size, position, content, and design of these messages, influence HWL effectiveness [18–20]; however, although there has been a great deal of global research on the effectiveness of tobacco HWLs on manufactured cigarette packages, there is little evidence about the impact of these warnings on SLT packaging [2, 21]. This is particularly true in the SEAR, but most notably in India where SLT use is highly prevalent, and where it exceeds smoked tobacco among both men and women [2].
Smokeless tobacco and health warning labels in India
About 275 million people currently use tobacco in India. Among all tobacco products, SLT is the predominant form used by men (32.9%), women (18.4%), and youth (9.0%); it exceeds the prevalence of cigarette smoking [22] and that of other smoked products (e.g., bidis) [16]. Men and women also differ in the types of SLT products that they use, and thus are exposed to many different forms of product packaging, which would likely further reduce the impact of HWL by gender [23].
Although India's 2003 Cigarette and Other Tobacco Products Act called for pictorial warnings on both smoked and smokeless tobacco product packaging, tobacco industry influence led to years of delays and dilutions [22, 24, 25]. When pictorial HWLs were finally introduced in 2009, they were weakened so that they did not meet the WHO FCTC Article 11 Guidelines [26]. From May 2009 to November 2011, SLT packages included a HWL with one symbolic image (that of a scorpion, which is unrelated to cancer) on 40% of the front of the package. In December 2011, the scorpion image was replaced by 4 graphic images of cancer of the mouth, jaw, or neck [27]. In 2013, 3 new graphic HWLs were implemented. All SLT warnings since 2011 were accompanied by the text "TOBACCO KILLS"; however, the size (40%), location (on the front only), and the lack of rotation remained [22, 25]. The tobacco industry could also freely choose only one of the available warnings [28], http://www.tobaccolabels.ca/countries/india/.
Cross-sectional and qualitative studies show that the 2009 scorpion HWL was poorly understood [29–31], but to our knowledge, there are no longitudinal population studies that have examined the effectiveness of the change from the 2009 scorpion warning to the graphic 2011 HWLs. Therefore the objectives of this paper were to test: (1) the effectiveness of the 2009 and 2011 SLT HWLs in India; and (2) whether the 2011 change from symbolic to graphic images increased effectiveness among validated HWL indicators and intentions to quit SLT use. We conducted this evaluation with a longitudinal cohort design, which confers considerable advantages in policy evaluation [32].
Discussion
Implementing HWLs that meet the FCTC Article 11 Guidelines is an effective strategy for enhancing their perceptual, cognitive, and behavioural impact on tobacco users. However unlike the strong evidence for the effectiveness of HWLs on smoked tobacco packaging [17, 19, 20], there is little evidence about the effectiveness of HWLs on SLT, and whether enhanced warnings on SLT packaging would impact emotional, cognitive, and behaviour changes among users. This study tested both of these objectives. The results of this first longitudinal study of HWLs on India's SLT products showed that the effectiveness was very low at both pre- and post-policy, and the change from symbolic to graphic images did not increase any of the HWL indicators or intentions to quit SLT, neither among the entire cohort of SLT users nor among those using SLT products with mandated HWLs. Interestingly however, those that quit SLT use were significantly more aware that SLT packaging contained the HWLs at post-policy compared to the pre-policy measure (and quitters were also significantly more aware of HWLs compared to those that continued to use SLT), thus the new graphic HWLs may have impacted those who quit SLT differently that those who continued use. The trend in the decrease of noticing the HWLs among SLT quitters could be explained by the fact that they were no longer regularly exposed to SLT packaging.
Among continued SLT users, the low level of effectiveness of the HWLs was evident across the indicators: from awareness and salience to the cognitive and behavioural reactions. Indeed, a substantial minority were not even aware that there were HWLs on SLT products (27% reported that they were not aware of the 2009 scorpion image or the 2011 graphic images), which is surprising considering that 90% of the users reported using SLT more than once a day, thus they should have been frequently exposed to the HWLs on SLT packaging. Even when the analyses only included users of SLT products that required mandated HWLs, 20% reported that they were unaware that the package contained health warnings at both pre-and post-policy. This surprising level of unawareness is similar to that found in smaller cross-sectional studies, including 27.5% in Karnataka [31], 20% in the Kumaon Hills of India [34], and 31.2% in Mumbai [30].
The results from this study confirm those of other studies in India in which HWLs have low levels of noticing and effectiveness [
14
,
30
,
31
,
34
]. There are a number of possible reasons for this low level of effectiveness. For example, SLT packages tend to be considerably smaller in size compared to smoked tobacco products such as cigarettes. As a result, the overall salience will be diminished because of the actual size of the warnings. This is particularly true for single-use packages, which are common. Added to the reduced size, a large proportion of users are poorly educated, which would reduce the comprehension of the warnings. Additionally, there is wide variety and diversity of package design used by SLT manufacturers [
2
], which is a reflection of their use of packaging as a marketing venue to reinforce brand imagery, to minimize perceptions of risk, and to suggest incorrectly that some types of products are less harmful than others. SLT packaging designs can effectively counteract warning content through creative techniques that can undermine the salience and impact of the warnings (see Fig.
3
). Because SLT packages are exceptionally vibrant (e.g., multicolored with elaborate graphic designs), HWLs have to compete for attention. Therefore research is needed to examine the HWL design that will have the greatest impact and noticeability on SLT users in India (e.g., they should be much bigger and have contrasting colours to the other packaging design elements) Other reasons for low salience include the fact that some products are made at home, some users may only use SLT in the form of loose tobacco purchased from local farmers or producers (even locally produced and marketed tobacco products with packaging often fail to display HWLs), and many forms of SLT are prohibited from containing tobacco, but often do, thus they do not require a mandated warning (e.g., lal dantmanjan) [
35
,
36
].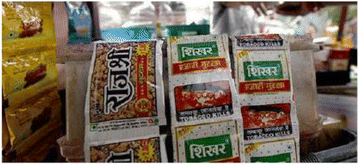 The weakness of the SLT warnings was also found in the cognitive and behavioral HWL indicators. For example, 10% of SLT users with mandated HWL packaging reported that the warnings had generated thoughts of quitting, or about the risks of SLT (so this leaves 90% of users not considering the health risks or quitting SLT use). Furthermore, only 20% at both pre-and post-policy had intentions to quit SLT use. Similarly, the study by Mutti et al. [37] reported that Indian SLT users intending to quit SLT rated warnings as more effective than those without any quit intentions [37]. ITC findings demonstrate that India's HWLs on smoked tobacco products have the lowest level of effectiveness of all 20+ countries including other LMICs [38]. Given that there exist linkages between the effectiveness of health warnings and subsequent intentions to quit [39, 40], and that quit intentions are a strong predictor of future quit attempts [41–43], it is clear that the low effectiveness of health warnings on tobacco products in India represents a considerable lost opportunity for reducing both consumption and prevalence of tobacco use.
The results from this study highlight the critical need to improve the salience and other downstream effects of HWLs on SLT products. To date, the progress of India's HWLs on both smoked and SLT has reflected a tangled exchange between the tobacco industry and the Indian government [22]. Research evidence on whether the effectiveness of warnings—on both smokeless and smoked tobacco products—will continue to be an important component of efforts to increase the impact of policies in this domain. Notably however, India's government has implemented new mandated warnings that are among the strongest in the world (as of April 1, 2016). These new labels now cover 85% of the front and back of the principal surfaces of the packaging [44]. The industry however has attempted to fight back by halting tobacco production. The industry is claiming that they paused manufacturing because of confusion over the new HWL requirements, but antismoking activities claim that this was in fact an attempt to put pressure on regulators through means of economic impact (e.g., through losses in employment of factory workers and farmers and tax revenues) [45].
The findings in this study should be interpreted with caution, mainly due to measurement and generalizability. With regard to measurement, we did not ask about a number of variables that might have contributed to the low awareness of the HWLs, including whether their SLT came in a package or container, purchasing of illicit products, or if their SLT product was home-made. Moreover, the TCP Survey was conducted in 4 states in India, and so generalization to India as a whole is not possible. Additionally, the post-policy survey for SLT quitters did not include a question that directly asked if they quit using SLT because of the HWLs, therefore no conclusions can be made about the impact of the warnings on their decision to quit.
Although there are some study limitations, this is the first population longitudinal cohort study to examine the impact of HWLs on SLT packages in India. Moreover, this study included a large number of participants, particularly women, rural inhabitants, and low education people where SLT is most prevalent.
Conclusions
Health warnings on SLT packages in India are low in effectiveness, and the change from the symbolic warning (pre-policy) to graphic HWLs (post-policy) did not lead to significant increases of effectiveness on any of the HWL indicators among those who continued to use SLT products, thus suggesting that changing an image alone is not enough to have an impact. There is a critical need to implement SLT HWLs in India that are more salient (large in size and on the front and back of the package) and impactful, which following from studies of HWLs on cigarette packaging, would have strong potential to increase awareness of the harms of SLT and to motivate quitting.
Abbreviations
GEE:

Generalized estimated equations
HWL:

Health warning label
SEAR:

South East Asian Region
TCP:

Tobacco control project
WHO FCTC:

World health organization Framework Convention on Tobacco Control
Declarations
Acknowledgements
The authors would like to acknowledge and thank all those that contributed to the TCP India Project: all study investigators, the project managers at University of Waterloo, Canada; the TCP India Research Team at Healis-Sekhsaria Institute for Public Health, Navi Mumbai, India, the state collaborators of the TCP India Survey and their field teams for their dedicated efforts in collecting data: Bihar--School of Preventive Oncology; West Bengal--Cancer Foundation of India; Madhya Pradesh--Madhya Pradesh Voluntary Health Association; and Maharashtra—Healis-Sekhsaria Institute for Public Health.
Funding
The TCP India Project was supported by grants from the US National Cancer Institute (P01-CA138389), Canadian Institute of Health Research (115016). Additional support was provided to GTF from a Senior Investigator Award from the Ontario Institute for Cancer Research and a Prevention Scientist Award from the Canadian Cancer Society Research Institute. SG is funded by a Canadian Cancer Society Career Development Award in Prevention.
Availability of data and materials
Data from the International Tobacco Control Policy Evaluation (ITC) Project are available to approved researchers 2 years after the date of issuance of cleaned data sets by the ITC Data Management Centre. Researchers interested in using ITC data are required to apply for approval by submitting an International Tobacco Control Data Repository (ITCDR) request application and subsequently to sign an ITCDR Data Usage Agreement. To avoid any real, potential, or perceived conflict of interest between researchers using ITC data and tobacco-related entities, no ITCDR data will be provided directly or indirectly to any researcher, institution, or consultant that is in current receipt of any grant monies or in-kind contribution from any tobacco manufacturer, distributor, or other tobacco-related entity. The criteria for data usage approval and the contents of the Data Usage Agreement are described online (http://www.itcproject.org).
Authors' contributions
SG drafted the manuscript. GTF, ACKQ, PCG and MSP all conceived the study and/or made substantial contributions to study conception and design and acquisition of data. PD conducted the statistical analyses. SX and ACKQ managed the TCP India survey project from beginning to end. All the authors contributed to interpretation of results and revision of the manuscript. All the authors read and approved the final manuscript, and agreed to be accountable for all aspects of the work in ensuring that questions related to the accuracy or integrity of any part of the work are appropriately investigated and resolved.
Competing interests
The authors declare that they have no competing interests.
Consent for publication
Not applicable.
Ethics approval and consent to participate
Ethics clearance was granted by the University of Waterloo, Office of Research Ethics (Waterloo, Canada) and the Healis-Sekhsaria Institute for Public Health Institutional Review Board (Navi Mumbai, India). All study participants provided written consent.
Open AccessThis article is distributed under the terms of the Creative Commons Attribution 4.0 International License (http://creativecommons.org/licenses/by/4.0/), which permits unrestricted use, distribution, and reproduction in any medium, provided you give appropriate credit to the original author(s) and the source, provide a link to the Creative Commons license, and indicate if changes were made. The Creative Commons Public Domain Dedication waiver (http://creativecommons.org/publicdomain/zero/1.0/) applies to the data made available in this article, unless otherwise stated.
Authors' Affiliations
(1)
Department of Psychology, University of Waterloo, Waterloo, Canada
(2)
Institute for Cancer Research, Toronto, Canada
(3)
School of Public Health and Health Systems, University of Waterloo, Waterloo, Canada
(4)
Healis-Sekhsaria Institute for Public Health, Navi Mumbai, India