Research article
Open Access
Open Peer Review
This article has Open Peer Review reports available.
A narrative account of implementation lessons learnt from the dissemination of an up-scaled state-wide child obesity management program in Australia: PEACH™ (Parenting, Eating and Activity for Child Health) Queensland
BMC Public Health
BMC series – open, inclusive and trusted
2018
18:347
Received: 29 May 2017
Accepted: 28 February 2018
Published: 13 March 2018
Abstract
Background
PEACH™QLD translated the PEACH™ Program, designed to manage overweight/obesity in primary school-aged children, from efficacious RCT and small scale community trial to a larger state-wide program. This paper describes the lessons learnt when upscaling to universal health coverage.
Methods
The 6-month, family-focussed program was delivered in Queensland, Australia from 2013 to 2016. Its implementation was planned by researchers who developed the program and conducted the RCT, and experienced project managers and practitioners across the health continuum. The intervention targeted parents as the agents of change and was delivered via parent-only group sessions. Concurrently, children attended fun, non-competitive activity sessions. Sessions were delivered by facilitators who received standardised training and were employed by a range of service providers. Participants were referred by health professionals or self-referred in response to extensive promotion and marketing. A pilot phase and a quality improvement framework were planned to respond to emerging challenges.
Results
Implementation challenges included engagement of the health system; participant recruitment; and engagement. A total of 1513 children (1216 families) enrolled, with 1122 children (919 families) in the face-to-face program (105 groups in 50 unique venues) and 391 children (297 families) in PEACH™ Online. Self-referral generated 68% of enrolments. Unexpected, concurrent and, far-reaching public health system changes contributed to poor program uptake by the sector (only 56 [53%] groups delivered by publicly-funded health organisations) requiring substantial modification of the original implementation plan. Process evaluation during the pilot phase and an ongoing quality improvement framework informed program adaptations that included changing from fortnightly to weekly sessions aligned with school terms, revision of parent materials, modification of eligibility criteria to include healthy weight children and provision of services privately. Comparisons between pilot versus state-wide waves showed comparable prevalence of families not attending any sessions (25% vs 28%) but improved number of sessions attended (median = 5 vs 7) and completion rates (43% vs 56%).
Conclusions
Translating programs developed in the research context to enable implementation at scale is complex and presents substantial challenges. Planning must ensure there is flexibility to accommodate and proactively manage the system changes that are inevitable over time.
Trial registration
ACTRN12617000315314. This trial was registered retrospectively on 28 February, 2017.
Keywords
ChildOverweightObesityImplementationUp-scalingTranslational researchHealth systemHealth service
Background
Childhood overweight and obesity is a priority health issue in both rich and poor countries throughout the world [1] due to the adverse health implications that track from childhood into adult life [2]. The costs of overweight and obesity to health care systems are indicative of this dual effect [3, 4]. Efforts to address childhood obesity must include both primary prevention and management for those children who are already overweight and obese. The World Health Organization (WHO) Commission on Ending Childhood Obesity Final Report acknowledges this by identifying the provision of family-based, multicomponent, lifestyle weight management services for children and young people who are overweight or obese as part of universal health coverage, as one of its six key recommendations [2].
A number of research trials have demonstrated the effectiveness of lifestyle weight management programs in primary school-aged pre-adolescent children [5]. There is reasonable consensus that programs for this age group should be family-focussed and include strategies to support behaviour changes for healthy eating and physical activity [6]. These studies have informed the development of Clinical Practice Guidelines, including those for Australia [7]. Despite this, few countries have lifestyle weight management services as part of their universal child health coverage.
The Parenting, Eating and Activity for Child Health (PEACH™) Program was developed in Australia at Flinders University in the early 2000s. The PEACH™ RCT (n = 169) conducted in Adelaide and Sydney evaluated a 6-month healthy lifestyle program with and without an additional parenting skills component [8]. PEACH™ was one of the first large trials to evaluate outcomes of an intervention that targeted parents as the agents of change and hence did not deliver the intervention directly to children. However, children attended physical activity sessions designed to provide fun, non-competitive activities and play that ran concurrently with parent group sessions. After 6 months, there was a 10% reduction in relative weight (child body mass index and waist circumference z-scores) (P < 0.001) in both groups that was maintained for a further 18 months without further intervention [8]. In 2013, upscaling to a state-wide community-based program in Queensland commenced as the PEACH™ QLD Project. The project goals, as articulated in the call for tender, were to deliver the program across the state to the families of 1400 children above the healthy weight range and thereby (i) increase parenting skills and the capacity of these families to adopt healthy lifestyle behaviours in nutrition and physical activity, and (ii) contribute to the reduction of the prevalence of overweight and obesity in Queensland children. While the main contracted project deliverable was enrolment numbers, there was a tacit expectation by both funder and the project team, that the project would also explore potential models for universal delivery of childhood obesity management services. Implementation outcomes were defined by the funder and realised using a continuous quality improvement framework. This paper aims to document the implementation and dissemination of the program to inform the upscaling of programs in other jurisdictions. We describe challenges and adaptations to the implementation plan in response to participant, service and system challenges that emerged during the phased rollout, with a focus on key learnings and insights from translation and implementation at scale. The program outcomes for enrolled children and families will be reported elsewhere.
Results
PEACH™ QLD encountered key reach, adoption and implementation challenges that were underestimated by the Project Implementation Team during initial program planning. These were categorised as (i) engagement of the health system; (ii) recruitment and promotion; and (iii) participant engagement. These challenges were considered at each review phase and responses and strategies are summarised in Table
3
. Results describe client, setting, service and system factors which contributed to implementation outcomes.
Table 3
PEACH™ QLD implementation challenges and strategies
Implementation challenge

Strategies utilised to respond to implementation challenge

Resulting change

Interim Review Phase 1: Responding to contractual changes and preparing for pilot.

Interim Review Phase 2: Responding to up-scaling for retention and engagement and preparing for state-wide roll out.

Interim Review Phase 3: Responding to access and equity.

Engagement of the health system and ownership of the health issue

• Stakeholder engagement to align with key health reform policies and strategies in Qld.

• Mapped workforce.

• Targeted service providers versus individual health professionals.

• Designed flexible program delivery model.

• Developed standardised Service Agreements.

• Consulted Governance Committees to develop cost modelling for program delivery.

• Kept abreast of political landscape.

• Issued EOI to engage service organisations to deliver the program.

• Engaged early adopters in the primary health care sector to increase diversity of health care settings.

• Lobbied for the project to continue with the change in government in 2014 and demise of Commonwealth prevention funds.

• Kept abreast of political landscape.

• Issued EOI to engage service organisations to deliver the program.

• Advocacy work at Departmental level to endorse the program.

• Mobilised strategic advocacy for the program via stakeholder presentations.

• Linked with other large scale community-based programs to leverage opportunities.

• Promoted program adaptations to encourage uptake from the health sector.

• Requirement of Implementation Team to be flexible and adaptable.

• Increased communications with Funding Body to leverage sustainability options.

Recruitment of families and promotion

• Modified targets and milestone dates to align with implementation design.

• Created PEACH™ QLD branding and marketing collateral.

• Appointed dedicated marketing position.

• Established enrolment processes and central intake functions to streamline enrolment.

• Accessed demographic and prevalence data to map and profile Queensland to support likelihood of enrolments.

• Devised geographical wave approach to implement the program state-wide.

• Created database to capture program enquiries to inform future marketing.

• Deployed additional marketing strategies in regional and rural Queensland to reach the target audience and reduce stigma in small towns.

• Modified marketing collateral to reflect changes in program design.

• Strategically targeted rural areas to run the program to extend reach.

• Monitored and adapted marketing and recruitment activities for different regions and holiday periods.

• Initiated qualitative research looking at parents' perspectives on factors influencing their decision to enrol [29]

• Trialled removal of weight criteria in four small communities.

• Developed and launched PEACH™ Online to increase reach to families who could not access face-to-face groups.

• Implemented online marketing strategy targeting regional and rural Queensland to promote PEACH™ Online.

• Removed weight criteria.

• Modified marketing collateral to reflect changes in eligibility criteria.

• Investment in marketing strategies which were driving enrolments.

• Changes to eligibility criteria and enrolment milestone targets:

  ➢ Original eligibility criteria from 7 to 13 years to 5 to 11 years (aligning with typical ages of primary school in Qld), and from overweight only to overweight and obese from Wave 1.

  ➢ Removal of weight criteria and eligibility opened to all primary school-age children from Wave 5.

  ➢ Revised overall total enrolment target from 1400 to 1100.

• Alternative models developed to launch in Wave 5, reported elsewhere.

Participant Engagement - attendance and retention

• Designed and introduced 15 min healthy lifestyle component to child sessions.

• Blitzed marketing campaigns 2 months in advance of sessions commencing.

• Referred to Cochrane review [5] to compare attendance data to that of similar national programs.

• Reviewed pilot attendance data.

• Consultations to gain feedback on content matter, delivery format, frequency of sessions, suite of resources, order of parent sessions and general feedback.

• Consulted enrolled families of eight Wave 2 groups to explore how family resources were being used and could be improved.

• Reviewed program design and content to better align with families concerns and reasons for enrolment.

• Reviewed facilitator training encouraged proactive approach in managing attendance.

• Focussed on using community venues such as schools to reduce stigma.

• Initiated value-add work on 'why families enrol in PEACH™ QLD' to assess motivation to enrol in the program.

• Added PEACH™ QLD website functionality for facilitators to record attendance data in real time.

• Reviewed child sessions for appropriateness and enhancement for adherence with current Physical Activity Guidelines [37].

• Reviewed content of 10 parent sessions and modified order.

• Initiated value-add work on 'why enrolled families do not attend' to further inform implementation.

• Changes to program design:

  ➢ Frequency: sessions 1–9 delivered weekly and within a school term (initially delivered fortnightly with no alignment to school term);

  ➢ Motivational content SMS messages sent to families between session 9 and 10;

  ➢ Three support phone calls more spaced out between sessions 9 and 10 (initially fortnightly); and

  ➢ Introduction of SMS reminders to enrolled families 24 h prior to session (Wave 3 only).

• Parent sessions reordered.

• New edition of Parent Handbook released: language simplified, paper quality lowered, images updated for cultural inclusiveness.

• Value-add resources for families sourced.

• Goal setting tool introduced.

• Child sessions enhanced to address child satisfaction, benefit diversity in child facilitator experience and style, guide delivery of sessions for varying group sizes, levels of complexity, venues and age appropriateness.
Engagement of the health system and ownership of the health issue
The far-reaching system changes (Fig. 1) at both state and national level required substantial adaptation of the original implementation plan. In 2011, service delivery decisions within Queensland were decentralised and devolved to newly created HHSs, which were legally independent, autonomous Statutory Authorities [24]. In addition, the Commission of Audit Report resulted in a greater emphasis on financial management, subsequent short term economic rationalism and therefore an increased focus on acute services, waiting lists and length of stay with a concomitant decreased emphasis on prevention and health promotion in HHSs [16]. An example of the impact of these changes was the almost total demise of the community nutritionist workforce [25] who in the original implementation plan had been the primary workforce target for capacity building and program delivery. The overall effects appeared to be that newly formed autonomous HHSs placed a low priority on prevention, including childhood obesity, and substantially reduced capacity to deliver healthy lifestyle promotion services. Simultaneously state-level health services for children across Queensland were being reorganised in the context of the development of the new state children's hospital, requiring the merge of two existing childrens' hospitals. This resulted in instability of employment for those working in child health and again non-acute services to support secondary prevention of childhood obesity were not a priority. In summary, there was little appetite within the health sector in Queensland to 'own' childhood obesity, despite the project funding available. Our initial response to the difficulties with engaging state level service providers was to begin advocacy with the Medicare Locals (MLs) to offer the program, directly or indirectly. The ML were entities created by the National government to geographically cluster and co-ordinate General Practices which included the ability to deliver or commission services in response to local health needs. However, by the end of the pilot phase there had been a change of national government which saw a commitment to change the governance of General Practice, most significantly, the dissolving of MLs. The ensuing uncertainties around funding and structures meant the MLs were reluctant to commit to program delivery after wave 2, see Fig. 1.
The culmination of national primary healthcare funding changes and the state move to decentralised HHSs meant a significant loss of health system engagement and capacity to deliver programs such as PEACH™. As a result, the Project Implementation Team relied much more heavily on Other Providers and QUT-Provided groups in order to meet contractual obligations (refer to Fig.
1
). QUT-Provided groups made up the largest proportion overall among Service Providers (see Table
4
).
Table 4
Summary of groups delivered, and children enrolled, by Service Provider type
Provider Type

Unique Providers

n (%)

Groups delivered

n (%)

Summary of enrolled families

Summary of enrolled children

Number enrolled

n (%)

Number attended ≥1 session

n (%)

Session attendancea (median (IQR))

Number enrolled

n (%)

Number attended ≥1 session

n (%)

Session attendancea (median (IQR))

Health Service Providers (HSP)

Hospital & Health Services (HHS)

5 (28)

24 (22)

252 (27)

179 (26)

6 (3–9)

294 (26)

214 (25)

6 (3–9)

Medicare Locals (ML)

3 (17)

6 (6)

43 (5)

35 (5)

5 (2–7)

45 (4)

35 (4)

5 (2–7)

Hospitals (H)

1 (5)

2 (2)

18 (2)

17 (2)

5 (3–9)

21 (2)

20 (3)

8 (3–9)

Sub-total

9 (50)

32 (30)

313 (34)

231 (33)

6 (2–9)

360 (32)

269 (32)

6 (2–9)

Non-Health Service Provider (non-HSP)

Other Providers

8 (45)

23 (22)

187 (20)

146 (21)

7 (4–9)

224 (20)

178 (21)

7 (4–9)

QUT-Provided

1 (5)

50 (48)

419 (46)

316 (46)

7 (3–9)

538 (48)

402 (47)

7 (4–9)

Total

18

105

919

693

7 (3–9)

1122

849

7 (3–9)
Of the 56 groups delivered the majority (34, 61%) undertook Options 2 and 3 of the program delivery model (refer to Fig. 3 for description of options), requiring QUT to source and employ at least one of the child facilitators. It is of note that only five of the 16 established HHSs in Queensland delivered any groups.
Recruitment of families and promotion
Between October 2013 and September 2016, 1513 children (1216 families) enrolled in the PEACH™ Program. This comprised 1122 children (919 families) enrolled in the face-to-face program and 391 children (297 families) in PEACH™ Online. Data from PEACH™ Online families are not included due to substantial modification of the evaluation framework and format for the online version. One hundred and five (105) face-to-face groups were delivered at 50 unique venues, within 13 of 16 Queensland HHS geographic areas. However, as noted above only five of the sixteen HHS delivered the program in these areas. Of the enrolled children, 48% were boys, 30% and 51% were classified in the bottom two (greatest relative disadvantage) and top two (greatest relative advantage) SEIFA IRSD quintiles, respectively [21]; and 18% lived in moderately accessible or remote areas [22]. Seventy-eight percent of parents were born in Australia and 5% identified as Aboriginal and/or Torres Strait Islander.
Self-referral, via the website or toll-free phone number, generated 68% of enrolments with a further 12% of families self-referring after hearing about the program from a health professional. The remaining 20% of enrolments were directly referred by a health professional (14%) or from a hospital waiting list (6%). The importance of self-referral, evident even from the pilot phase, informed the extensive marketing and promotional activities (see Table
1
and Fig.
4
). For enrolments arising from self-referral, the most common methods for registration were via the PEACH™ QLD website (56%) and the toll-free number (23%). For self-referring enrolments the most successful marketing strategies were advertisements in school newsletters (20%), followed by media (14%) and print advertising (11%). Word-of-mouth contributed a further 9% of enrolments and online searches leading to the PEACH™ QLD website contributed to 6% of enrolments. The Project Implementation Team worked with the local service providers to customise marketing strategies to target priority populations in each site, for example, in regional areas local media outlets were used, notices in local stores and community notice boards and community events. At least 207 Queensland and national mainstream media reports were achieved, comprising more than 133 print and online articles, 66 radio news reports and interviews and 8 TV reports. More than 30 media releases were issued by the QUT Marketing and Media Services to raise the profile of PEACH™ QLD in the community.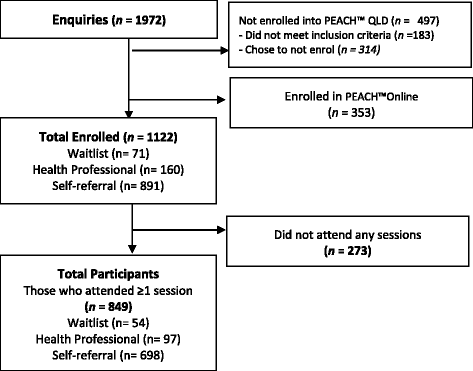 Participant engagement – Attendance and retention
Figure 4 describes the flow of participants through the program. In the pilot phase (waves 1 and 2) 250 families enrolled, of whom 25% did not attend any sessions. Of those families who attended at least one session, the median number of sessions attended was 5 and 43% completed the program. As planned, we undertook a comprehensive review at the end of the pilot phase. This included consideration of the above engagement (recruitment and attendance) outcomes, the related challenge of meeting our contractual enrolment targets, qualitative process feedback from facilitators and some parents and consultation with our Expert Advisory Committee. As a result, a number of actions and changes were implemented and are summarised in Table 3. In the subsequent waves, (waves 3–5) with 872 families enrolled, 28% of families did not attend any sessions, the median attendance was 7 sessions and 56% of families completed. Overall, the median attendance was 7 sessions and 53% of families completed.
The review also considered aspects of the program format and content resulting in changes as summarised in Table 3.
Discussion
The translation of the PEACH™ Program from RCT to a large scale state-wide intervention presented a range of challenges, expected and unexpected, that required iterative adaptions to the original implementation plan. The Dynamic Sustainability Framework (DSF) highlights that sustained implementation requires an acknowledgement of and response to the ongoing state of change in health care systems [26]. This paper documents the impact of political change on the inter-related ecological systems, practice setting and the implementation of an intervention as described in the DSF. Our findings suggest a hierarchical relationship between these three levels. Substantial unexpected changes to the health sector undermined the planned PEACH™ QLD program delivery model, and likely added to our difficulty in engaging health care providers to deliver the program. In response, QUT became the predominant program provider rather than existing health services as was anticipated. Although this enabled the contracted enrolment targets (families and groups) to be met, this change did not support the original vision for sustainability beyond the funding period. A second major, albeit expected, challenge was enrolment and retention of families which adversely affected the capacity to meet contractual obligations regarding enrolments and to demonstrate improvements in parenting and lifestyle behaviours. Changes to program format (e.g. alignment with school terms) and content and eligibility criteria as well as increased investment in marketing and promotion enabled achievement of renegotiated enrolment targets (reduced from 1400 to 1100). While enrolment targets were met we were unable to secure meaningful health service engagement. Consequently, PEACH™ program delivery was not able to be embedded as usual care and a part of universal evidence-based childhood obesity services in Queensland.
Conclusions
PEACH™ QLD successfully up-scaled the evidence-based PEACH™ Program by reaching over 1200 families and over 1500 children across Queensland. The cohort was broadly representative of Queensland families with primary school-aged children above the healthy weight range. Contractual enrolment targets were met but recruitment and engagement of families were challenging, although consistent with similar programs. Key learnings for the dissemination of a program at scale include (i) the need to plan and fund adequate lead times to set up governance and operational procedures prior to commencement of program delivery; (ii) the importance of high quality marketing and promotion to support self-referral to the program; (iii) the operational efficiencies of aligning with school terms and engaging schools in promotion; and (iv) the need to ensure process evaluation is structured to provide detailed real-time information on the needs and responses of families, regardless of level of engagement, to inform program modifications within a continuous quality improvement framework. Despite the prevalence of childhood obesity worldwide [
1
], and the large number of programs that have been developed to address it [
5
], this paper is one of the few to document the experience of real world implementation of childhood obesity management services at scale. Recommendations for dissemination of an upscaled program are described in Table
5
.
Table 5
Recommendations for the dissemination of an upscaled child obesity management program
1. Health system

Recommendation 1.1:

Governments should continue to invest in community based healthy lifestyle programs for families as part of a universal service delivery model for the treatment of overweight and obese primary school aged children. This investment should be embedded in the policy and strategic context for community and primary care.

Recommendation 1.4:

Primary health care services are well positioned for ongoing service provision of childhood overweight and obesity management services.

Recommendation 1.2:

Government investment in programs should include routine performance monitoring for participating health services and program monitoring to ensure health gains continue to be achieved. Programs should include a quality improvement cycle to improve outcomes.

Recommendation 1.3:

The establishment and monitoring of local level performance targets for program delivery are needed to ensure childhood obesity management services are prioritised by providers.

2. Implementation at scale

Recommendation 2.1:

A Model of Care and implementation plan should be closely aligned with and informed by national Clinical Practice Guidelines and the WHO Commission on Ending Childhood Obesity Report.

Recommendation 2.2:

A consistent and coordinated approach to paediatric weight management services across the State including eligibility, availability and type of service with the ability to deliver services to families at the point in which people engage with the health care system. Clinical Practice Guidelines should be extended to describe care pathways with the approach involving all National, State and Private health service providers involved in the management of childhood overweight and obesity across the continuum of care in clinical, community and primary health care settings across a complexity of cases. A shared vision by all, referral pathways and communication between providers is needed, as services to families of children who are already overweight or obese do not sit in only one part of the health care continuum.

Recommendation 2.3:

Upscaling of programs requires a deep understanding of administrative enablers and barriers to embedding childhood obesity management into the core business of the health service, including links to internal funding structures and medical record charting of occasions of service.

3. Recruitment of families and promotion of the program

Recommendation 3.1:

Programs should market directly to families as it is unlikely that the families who would benefit from the program are all interacting with the health care system. Health professional referrals alone are not adequate.

Recommendation 3.2:

Children impacted on parent's interest in taking action on their weight status. Marketing directly to children is likely to be complex but warrants further investigation.

Recommendation 3.3:

Care should be taken to not further sensationalise childhood obesity in the media, and therefore it is critical to ensure that marketing is solution focussed and not problem focussed.

4. Engagement of families

Recommendation 4.1:

Future investment and expansion of PEACH™ must apply a quality improvement framework to ensure modifications and changes which led to an improvement can conclusively demonstrate they are worthwhile.

Recommendation 4.2:

The evaluation of up-scaled programs should focus on reducing the burden on participant families whilst maintaining the integrity of evaluation datasets for ongoing monitoring and surveillance.
The most difficult challenge was engaging the health care sector and ensuring sustainability of the program beyond the funding period. Childhood obesity management is a complex practice and service provision problem. Since completion of the funded project, PEACH™ QLD, is no longer available to Queensland families. PEACH™QLD aligned with multiple government priorities and policies which strongly articulate the need to address childhood overweight and obesity and increase the capacity of health professionals and services within the health sector to do so [39–42]. Despite this, the provision of "appropriate weight management services for children and adolescents who are overweight or obese that are family-based, multicomponent (including nutrition, physical activity and psychosocial support) and delivered by multiprofessional teams with appropriate training and resources, as part of universal health coverage", as recommended by the WHO Commission on Ending Childhood Obesity [2], is yet to be achieved. The experience of PEACH™QLD reflects the broader question of where responsibility lies for provision of universal services to prevent and manage childhood obesity and what ecological system and contextual setting factors may be required to realise this global target.
Abbreviations
ARIA:

Accessibility-remoteness index of Australia
BMI:

Body Mass Index
GP:

General Practitioner
HHS:

Hospital and Health Service
IRSD:

Index of Relative Socio-Economic Disadvantage
LHD:

Local Health Districts
NPAPH:

National Partnership Agreement on Preventive Health
PAT:

Planning Ahead Template
PEACH™:

Parenting, Eating and Activity for Child Health
QLD:

Queensland
QUT:

Queensland University of Technology
SEIFA:

Australian Bureau of Statistics' Socio-Economic Indexes for Areas
TRIM Kids:

Targeted Risk Modification Kids
Declarations
Acknowledgments
The authors wish to thank all staff who worked on the project at QUT and Flinders University. The authors wish to thank participating families, services who engaged with the program to deliver PEACH™, and PEACH™ parent and child facilitators for their participation in the PEACH™ QLD project.
Funding
PEACH™ Queensland was funded by the Queensland Government through the Department of Health (previously funded by the National Partnership Agreement on Preventive Health – Healthy Children's Initiative until June 2014). The views expressed in this publication do not necessarily reflect those held by the Queensland Government or the Queensland Government Department of Health. The funders were involved in approving the PEACH™ QLD Implementation Plan and its adaptations. They were not involved in the collection, analysis or interpretation of data not the writing of the manuscript.
Availability of data and materials
The datasets generated and analysed during the current study are not publicly available for ethical requirements. Participant consent form was not given for data to be provided to third party.
Authors' contributions
DC as the Project Manager, led the implementation and drafted the manuscript. HV as Senior Research Fellow contributed to implementation and the conceptualisation, drafting and finalisation of the manuscript. LD led the project including securing the funding, design and oversite of implementation and preparation of the manuscript. EE as the Project Dietitian managed the enrolment process and assisted in the collection of implementation data. EH (Research Associate) assisted in the preparation, analysis and interpretation of the data. CM collected, analysed and interpreted program evaluation data. AM was a co-investigator on the funding application and led the program evaluation. All authors contributed to and reviewed the final manuscript. All authors read and approved the final manuscript.
Ethics approval and consent to participate
Participants provided written informed consent. Parent participants completed and signed consent forms, for their own and their child's participation, at their first session. Written parental/guardian consent was gained for the participation of those under 16. Ethics approval for this study was provided by Queensland Children's Health Services Human Research Ethics Committee (HREC) (Reference HREC/13/QHC/25); Queensland University of Technology University HREC (Reference 1,300,000,633); Flinders University Social and Behavioural Research Ethics Committee (Reference 6231); and Central Queensland University HREC (Reference H13/09–173). All ethics applications were submitted with an Australian National Ethics Application Form (Reference AU/1/D1F2110).
Consent for publication
Not applicable.
Competing interests
AM and LD are inventors of PEACH™ and received license fees for the use of program materials in the PEACH™ QLD Project. All authors were employed by the PEACH™ Queensland Project in the implementation or evaluation teams.
Publisher's Note
Springer Nature remains neutral with regard to jurisdictional claims in published maps and institutional affiliations.
Open AccessThis article is distributed under the terms of the Creative Commons Attribution 4.0 International License (http://creativecommons.org/licenses/by/4.0/), which permits unrestricted use, distribution, and reproduction in any medium, provided you give appropriate credit to the original author(s) and the source, provide a link to the Creative Commons license, and indicate if changes were made. The Creative Commons Public Domain Dedication waiver (http://creativecommons.org/publicdomain/zero/1.0/) applies to the data made available in this article, unless otherwise stated.
Authors' Affiliations
(1)
School of Exercise and Nutrition Sciences, Faculty of Health, Queensland University of Technology, Brisbane, Australia
(2)
Nutrition and Dietetics, College of Nursing and Health Sciences, Flinders University, Adelaide, Australia