Research article

Open Access

Open Peer Review
This article has Open Peer Review reports available.
A large and persistent outbreak of typhoid fever caused by consuming contaminated water and street-vended beverages: Kampala, Uganda, January – June 2015
BMC Public Health
BMC series – open, inclusive and trusted
2017
17:23
Received: 13 May 2016
Accepted: 23 December 2016
Published: 5 January 2017
The Correction to this article has been published in BMC Public Health 2017 17:823
Abstract
Background
On 6 February 2015, Kampala city authorities alerted the Ugandan Ministry of Health of a "strange disease" that killed one person and sickened dozens. We conducted an epidemiologic investigation to identify the nature of the disease, mode of transmission, and risk factors to inform timely and effective control measures.
Methods
We defined a suspected case as onset of fever (≥37.5 °C) for more than 3 days with abdominal pain, headache, negative malaria test or failed anti-malaria treatment, and at least 2 of the following: diarrhea, nausea or vomiting, constipation, fatigue. A probable case was defined as a suspected case with a positive TUBEX® TF test. A confirmed case had blood culture yielding Salmonella Typhi. We conducted a case-control study to compare exposures of 33 suspected case-patients and 78 controls, and tested water and juice samples.
Results
From 17 February–12 June, we identified 10,230 suspected, 1038 probable, and 51 confirmed cases. Approximately 22.58% (7/31) of case-patients and 2.56% (2/78) of controls drank water sold in small plastic bags (ORM-H = 8.90; 95%CI = 1.60–49.00); 54.54% (18/33) of case-patients and 19.23% (15/78) of controls consumed locally-made drinks (ORM-H = 4.60; 95%CI: 1.90–11.00). All isolates were susceptible to ciprofloxacin and ceftriaxone. Water and juice samples exhibited evidence of fecal contamination.
Conclusion
Contaminated water and street-vended beverages were likely vehicles of this outbreak. At our recommendation authorities closed unsafe water sources and supplied safe water to affected areas.
Keywords
Typhoid fever
Outbreak
Case-control
Uganda
Background
Typhoid fever is a systemic disease caused by Salmonella enterica serovar Typhi, a Gram-negative bacterium. Humans are the only host, and transmission most commonly occurs through ingestion of water or food contaminated by feces from an acutely ill or convalescent patient or an asymptomatic carrier. The incubation period is usually 1 to 2 weeks but can range from 3 to 60 days [1]. The illness presents with sustained fever and a constellation of other symptoms including dry cough, fatigue, abdominal pain, diarrhea, and constipation [2]. Case fatality ratios range between 10 and 30% if untreated, but fall to 1–4% with appropriate and timely antimicrobial treatment [3]. The gold standard laboratory diagnosis of typhoid fever requires isolation of S.. Typhi from blood, stool, bone marrow, or other tissue or bodily fluid by bacterial culture [2]. Other tests with moderate sensitivity and specificity include the Widal test and TUBEX® TF test which involve detection of antibodies against S. Typhi antigens [2]. Typhoid fever is preventable through public health interventions such as provision of safe water, ensuring proper sanitation and waste disposal systems, and excluding disease carriers from handling food [4].
Typhoid fever is a major cause of mortality and morbidity worldwide. In endemic areas, the disease is most commonly found in children 5–19 years of age. International visitors from non-endemic areas are also at risk if unvaccinated [1]. The global burden of the disease in low- and middle-income countries in 2010 was estimated to be 11.9 million cases, including 129,000 fatalities, after adjusting for water-related risk factors [5]. In Uganda, an outbreak of typhoid fever in Kasese District sickened 8092 persons from 27 December 2007 to 30 July 2009, resulting in at least 249 intestinal perforations and 47 deaths [6]. In 2011, numerous typhoid cases were again reported in Kasese and neighboring Bundibugyo District with many more intestinal perforations and emergence of multidrug resistant strains [7].
On 6 February, 2015, the Ugandan Ministry of Health (MoH) received a report from the Kampala Capital City Authority that a 42-year-old man had died a day earlier of a "strange illness." The patient was admitted to the hospital on 2 February 2015 with symptoms of abdominal pain, high fever, and severe jaundice. Initial testing involved use of the Widal test which was positive. Approximately 30 other people who worked in the same area as the deceased reportedly had similar symptoms. We conducted an epidemiologic investigation to identify the nature of the disease, mode of transmission, and risk factors to inform timely and effective control measures.
Results
Surveillance
From 17 February to 12 June 2015, we identified 10,230 suspected cases from the six treatment centers established by MoH. Cases were distributed widely throughout Kampala and neighboring areas (Fig.
1
).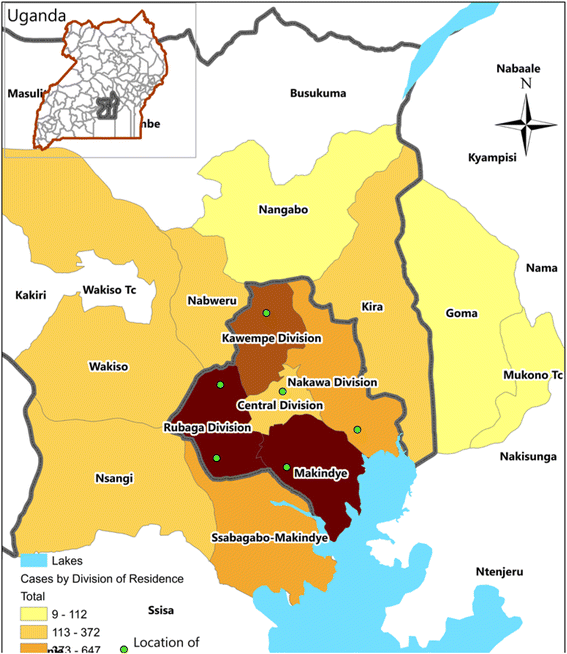 The epidemic curve of suspected cases suggests that the outbreak started at the beginning of February or perhaps earlier. By the time the outbreak was recognized on 6 February, hundreds of cases had already occurred (Fig.
2
). Cases were reported in all five divisions of Kampala: Makindye (32%, 3234), Rubaga (28%, 2828), Kawempe (11%, 1144), Nakawa (6.4%, 656) and Central (4.2%, 428); for 19% (1940) of cases, either no division of residence was identified, or resided outside of Kampala. The attack rate during the outbreak period was highest in Makindye (10/1,000), Rubaga (8.7/1000), and Central (6.5/1000) Divisions. Males had a higher attack rate than females. The attack rate among people in the 15–59 year age group (12/1000) was 6 times higher than among younger (2.0/1000) or older (2.0/1000) persons (Table
1
).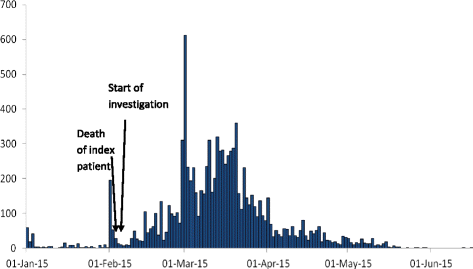 Table 1
Attack ratea (per 1000 residents) by sex, age group, and Division of residence during an outbreak of typhoid fever: Kampala, Uganda, 17 February 2015–12 June 2015
Characteristic

Attack rate (/1000 residents)

Sex

 Male

11.00

 Female

8.40

 Total

9.50

Age group (years)

 <15

2.00

 15–59

12.00

 ≥60

2.00

Division of residencea

 Central

6.50

 Kawempe

3.80

 Makindye

10.00

 Rubaga

8.70

 Nakawa

2.30
Case-control study
In our hypothesis-generating interviews of patients from the area where the outbreak was first identified, consumption of drinks made with water extracted from unprotected sources and packed in unhygienic conditions was often reported.
Of the 33 case-patients we enrolled in the case-control study, 60% were men; the majority of the case-patients (85%) were in the 20–39 year and 9.1% in older age groups. In addition to fever, commonly reported symptoms included abdominal pain (72.72%) and headache (69.69%) (Table
2
). We found that 22.58% (7/31) of case-patients compared with 2.56% (2/78) of controls usually drank locally packaged water in small plastic bags called
"
kaveera water
"
(OR
M-H
 = 8.90; 95% CI = 1.60–49.00); 55% (18/33) of case-patients compared with 19.23% (15/78) of controls drank locally-made passion fruit juice called
"
butunda
"
(OR
M-H
 = 4.60; 95% CI: 1.90–11.00); 31.25% (10/32) of case-patients compared with 16.67% (13/78) of controls usually drank locally-packed pineapple juice called
"
munanansi
"
(OR
M-H
 = 2.00; 95% CI = 0.74–5.20); and 15.63% (5/32) of case-patients compared with 8.97% (7/78) of controls usually drank cold millet porridge called
"
bushera
"
(OR
M-H
 = 2.80; 95% CI = 0.76–10.00). Workplace as a source of breakfast (OR
M-H
 = 0.25; 95% CI = 0.07–0.93), and workplace as a source of lunch (OR
M-H
 = 0.35; 95% CI = 0.11–1.10) were not significant risk factors for illness.
Table 2
Reported symptoms among case-patients in a case-control study during an outbreak of typhoid fever: Kampala, Uganda, 10 February 2015-20 February 2015 (n = 33)
| Symptom | Frequency | Percent |
| --- | --- | --- |
| Fever ≥3 daysa | 33 | 100 |
| Abdominal Pain | 24 | 72.72 |
| Headache | 23 | 69.69 |
| Diarrhea | 10 | 30.30 |
| Nausea or Vomiting | 10 | 30.30 |
| Jaundice | 7 | 21.21 |
| Constipation | 3 | 9.09 |
When we compared the proportions of case-patients and controls who drank 0, 1, 2, or 3–4 types of locally-made drinks, we found that case-patients were more likely to drink multiple types of locally-made drinks than controls (Chi-square for linear trend = 14.65,
p
 < 0.001) (Table
3
).
Table 3
Dose-response relationship comparing those who consumed 1, 2 and 3–4 implicated drinks to those who did not consume any of the drinks during an outbreak of typhoid fever: Kampala, Uganda, February 2015
| Drinks | %Cases (n = 33) | %Controls (n = 78) | OR |
| --- | --- | --- | --- |
| 0 | 36 | 64 | 1.0 (Ref) |
| 1 | 27 | 26 | 1.90 (0.68–5.10) |
| 2 | 15 | 9.0 | 3.00 (0.80–11.00) |
| 3–4 | 21 | 1.0 | 29.00 (3.20–260.00) |
Laboratory investigation
Of 10,230 suspected cases, 3464 (10%) underwent TUBEX® TF testing. Of those, 1038 were positive, representing a positivity rate of 29%. Blood samples from a total of 364 patients (including 20 of 33 case-control study patients) were tested by blood culture and 56 (15%) (including 5 of the 20 case-control study patients tested) yielded S. enterica ser. Typhi.
Subsequently, 30 of the 56 S. Typhi isolates from blood cultures were confirmed at the U.S. CDC as S. Typhi. CDC determined the minimum inhibitory concentrations for 17 of these isolates, 5 of which were resistant to ampicillin, chloramphenicol, streptomycin, sulfisoxazole, nalidixic acid, trimethoprim/sulfamethoxazole and had intermediate interpretation to ciprofloxacin. The remaining 12 were resistant to nalidixic acid and had intermediate interpretation to ciprofloxacin.
Environmental investigation
One of 3 "kaveera water" samples and the unlabeled bottle of water sold by street vendors contained lactose fermenting bacteria, which are commonly Enterobacteriaceae and associated with fecal contamination. The 2 other "kaveera water" samples contained non-lactose fermenting bacteria, also consistent with fecal contamination, and one isolate was further identified as non-typhoidal Salmonella. The 5 water samples from unprotected springs showed evidence of robust contamination with lactose fermenting bacteria. Lactose non-fermenting colonies from 2 spring water samples were identified as non-typhoidal Salmonella spp. Lactose fermenting bacteria were also detected in 2 of 3 "bushera" samples, 1 of 2 "munanasi" samples, all 3 "munanansi" juice samples, and the "bongo" sample. Additionally, non-typhoidal Salmonella was cultured from 1 "bushera", 1 "munanansi", and 1 passion fruit juice sample.
Discussion
Our investigation revealed a prolonged and widespread outbreak of typhoid fever that affected thousands of people in all five divisions of Kampala City over several months. Contaminated water from unprotected sources and drinks made with it were the likely vehicles of infection early in the outbreak. Juice and water samples obtained from street vendors and water samples collected from unprotected spring water sources showed evidence of fecal contamination. Although S. Typhi was not recovered from environmental testing, non-Typhi Salmonella were isolated from five street-vended beverage samples from the implicated markets.
All 17 isolates of S. Typhi from blood tested at CDC were resistant to nalidixic acid and had intermediate interpretation to ciprofloxacin. It is possible that persons affected by the antibiotic-resistant strains during this outbreak had experienced complications of typhoid fever considering that antibiotic-resistant strains of S. Typhi are associated with more severe form of the illness, complications and death [15].
This outbreak may have started in January 2015 or even earlier; however, it was not recognized until early February because routine clinical and laboratory surveillance systems for typhoid fever were not in place before the investigation. The widespread nature of the outbreak is compatible with a waterborne source. The sudden increase in cases after the start of the investigation was likely due to active community outreach and education about the symptoms of typhoid fever and the availability of prompt, free diagnostic testing and treatment through newly established treatment centers. The gradual decline in cases from mid-March onwards was likely the result of patient treatment and public health interventions including provision of free water chlorination products, sensitization of residents on water treatment, and the establishment of free alternative safe water sources in the most affected communities. Based on the evidence we presented, the Kampala Capital City Authority sealed off all underground water sources and worked with the National Water and Sewerage Corporation to ensure the provision of accessible alternative sources of water to the affected communities.
In Uganda, as in many low and middle income countries, definitive diagnostic tests for typhoid fever such as blood culture are usually unavailable, unaffordable, or inconsistently applied [16]. Instead, typhoid fever diagnosis and surveillance often rely on clinical judgment or on the Widal test, which has poor sensitivity and specificity [17]. Moreover, physicians often give presumptive antibiotic and/or antimalarial treatment for febrile illnesses [18, 19] without attempting to determine the etiology. Previous studies have indicated that a significant proportion of febrile illness in Uganda is caused by bacteremia, including invasive non-Typhi salmonellosis and typhoid fever [20]. A more robust approach in these settings could entail periodically identifying persons with febrile illness in the communities and taking blood culture for confirmation [21]. The blood samples could be collected and sent using a specialized transport network to regional laboratory centers around the country where confirmative tests can be performed. This system has been successfully used to improve diagnostic services in early infant HIV/AIDS diagnosis [22]. Sentinel surveillance for febrile illnesses based on blood cultures would accelerate the early identification of outbreaks and implementation of control measures.
Waterborne typhoid and paratyphoid fever affect an estimated 27 million people worldwide each year [3]. In developing countries, where safe water and sanitation systems have not been well-established, large-scale typhoid and paratyphoid outbreaks sometimes occur [7, 23–26]. During a previous typhoid outbreak in Kasese and Bundibugyo districts, Uganda, in 2009–2011, which affected 8092 persons, the vehicle of transmission was also found to be unclean water [7]. The current outbreak was likely caused by consuming contaminated water from unprotected ground water sources. Kampala city has more than 200 unprotected ground water sources, most of which serve as unprotected sources of water for economically disadvantaged people in the city such as those in our investigation [27]. Unsafe disposal of excreta and solid waste are significant factors that contribute to contamination of ground water in Kampala [28]. This outbreak investigation highlights the importance of ensuring access to affordable, safe, treated drinking water and improved sanitation and waste management systems for resource-constrained urban populations.
Risk factors for typhoid transmission were not assessed later during this outbreak, when foodborne transmission might have become more common. Recurrent contamination of unprotected water sources with S. Typhi likely continued to sustain the outbreak propagation over the course of several months.
According to the Uganda Demographic Health Survey 2011 [29], almost 30% of people living in urban areas and more than 60% of those living in rural areas do not treat their water before drinking it. Barriers to safer drinking water include the cost associated with establishing a piped treated water system or purchasing water treatment products for household use and the false perception that naturally occurring water sources could be safe [30].
In the aftermath of outbreaks like this one, public health authorities face 3 possible options: The first option is to do nothing but respond to outbreaks as they occur. Governments in resource-constrained settings often choose this option, leaving the population vulnerable to outbreaks of waterborne diseases including cholera, hepatitis A and E, cryptosporidiosis, shigellosis, and many others in addition to typhoid and paratyphoid fever. The second option is mass vaccination against typhoid fever. A cost-effectiveness evaluation of a hypothetical typhoid vaccination campaign was carried out after the multi-year outbreak of typhoid fever in Kasese District, Uganda, and it was estimated to be highly cost-effective [31]. However, vaccination against the many different pathogens that cause waterborne diseases is not possible because vaccines are not yet available for many of them (e.g. cryptosporidiosis, shigellosis, paratyphoid fever, etc.). In addition, typhoid fever vaccines have been shown to have varied levels of effectiveness (from 50 to 95%) and to last for varied lengths of time (from 3 to 10 years) [15].
The third and final option is to improve the water and sanitation systems. Improvement of sanitation, hygiene and clean water supply around the world could avert ≥90% of diarrheal disease episodes annually [32]. In North America and Europe, typhoid fever caused large-scale outbreaks from the late 19th through the early 20th century [33, 34]. After improvement of municipal water and sanitation systems in the early 20th century, waterborne outbreaks of communicable diseases including typhoid fever drastically decreased [35–37]. Improved sanitation measures such as having a basic pit latrine or a toilet connected to a septic tank curtail the direct contact between human waste and water or the environment. Yet in 2012, only 33% of the urban population in Uganda had access to adequate sanitation, an increase of only 1% since 1990, and 2% still practiced open defecation [38]. Although improving water and sanitation systems requires a substantial investment by the government, ultimately it is highly cost-effective in the reduction of many waterborne diseases [39].
Strengths and limitations
A major limitation of our investigation was that, due to inadequate laboratory capacity to confirm a large number of cases early in the outbreak, and the need to rapidly identify the mode of transmission to inform effective interventions, we included non-laboratory confirmed cases in our case-control study. While a clinical case definition for typhoid fever cases can lead to misclassification, and is not recommended during non-outbreak situations, during an outbreak such a case definition will often perform well, as measured by good positive and negative predictive values [40]. Also, the information on usual sources of water and food was based on self-reports, which could represent a source ofinformation bias. Another limitation is that data on mortality or on complications such as intestinal perforations were not collected. With over 10,000 cases it is likely that there were intestinal perforations and deaths but no surveillance for those outcomes was done. A study is currently being conducted to assess these severe impacts of this outbreak. In addition, only a few water and juice samples were tested, which could explain why S. Typhi was not isolated during the environmental investigation. Also, water and juice samples were tested using the reagents and procedures that were available in the laboratory for testing clinical specimens for Salmonella, and not more conventional methods for evaluating the potential presence of fecal contamination in these types of samples.
Conclusion
In conclusion, this investigation revealed a large outbreak of typhoid fever that affected thousands of people in Kampala, Uganda, which appeared to have been caused by consuming contaminated water and local drinks made from it. To prevent future waterborne outbreaks, we recommended that the Kampala Capital City Authority, the MoH, the National Water and Sewerage Corporation, and partners invest in improving access to potable water, and safe sanitation and hygiene facilities [41].
Abbreviations
CDC:

United States Centers for Disease Control and Prevention
MoH:

Ministry of Health
WHO:

World Health Organization
Declarations
Acknowledgements
The authors would like to acknowledge Mr. James Oweka and Tobias Vudriko of Medical Research Council Uganda, Dr Robert Downing of Uganda Virus Research Institute, Dr. Alex Ario Riolexus of the Uganda Public Health Fellowship Program and health inspectors of Kampala Capital City Authority for their valuable contributions to this work. We also acknowledge the numerous personnel from the Central Public Health Laboratories, and members of the Uganda People's Defense Forces for their assistance in the investigation.
Funding
Authors were funded by their respective organizations. This work was also funded by the Cooperative Agreement - Provision of Comprehensive HIV/AIDS services and Developing National Capacity to manage HIV/AIDS Programs in the Republic of Uganda under the President's Emergency Plan for AIDS Relief (grant number 5U2GGH000817-03) with the Centers for Disease Control and Prevention. The funders had no role in study design, data collection and analysis, decision to publish, or preparation of the manuscript.
Availability of data and materials
Data will not be shared. On receipt of the data, the authors agreed not to reproduce or distribute them. As recipients, the authors were permitted to publish any analyses of the data, but not the data itself subject to confidentiality conditions.
Author contributions
SNK, LB, FN, GP, DWO, RM, CK, BK, BM and AEO were involved in the design and implementation of the investigation. HK, PH, and JNS were involved in the implementation of the clinical laboratory component of the investigation. IM, SK, SK, MD were involved in the implementation and data collection and collation. VRH and AB were involved in the environmental laboratory implementation of the investigation. EM, JR and B-PZ were involved in the data analysis. SNK, EM and B-PZ had primary responsibility for final content. All authors participated in the writing, read and approved the final manuscript.
Competing interests
The authors declare that they have no competing interests.
Consent for publication
Not applicable.
Ethics approval and consent to participate
The Ministry of Health of Uganda gave the directive and approval to investigate this outbreak. In agreement with the International Guidelines for Ethical Review of Epidemiological Studies by the Council for International Organizations of Medical Sciences (1991), the Office of the Associate Director for Science, CDC/Uganda, determined that this activity was not human subjects research and its primary intent was public health practice or a disease control activity (specifically, epidemic or endemic disease control activity). Verbal informed consent was obtained from the participants before the start of each interview. Written consent could not be obtained because it was impractical as most of the participants were illiterate. However, the purpose and nature of the investigation were explained to all participants. Participants were also informed that their involvement was entirely voluntary and their refusal to answer any or all of the questions would not result in any negative consequences. Participants identified as patients were referred for free treatment at the designated treatment centres. To protect participants' confidentiality, personal information were de-identified during data analysis, and the interview forms were locked up.
Disclaimer
The views expressed in this article are those of the authors and do not necessarily represent the official position of the Centers for Disease Control and Prevention.
Open AccessThis article is distributed under the terms of the Creative Commons Attribution 4.0 International License (http://creativecommons.org/licenses/by/4.0/), which permits unrestricted use, distribution, and reproduction in any medium, provided you give appropriate credit to the original author(s) and the source, provide a link to the Creative Commons license, and indicate if changes were made. The Creative Commons Public Domain Dedication waiver (http://creativecommons.org/publicdomain/zero/1.0/) applies to the data made available in this article, unless otherwise stated.
Authors' Affiliations
(1)
Uganda Public Health Fellowship Program, Field Epidemiology Track, Ministry of Health, Kampala, Uganda
(2)
Makerere University College of Health Science Microbiology Laboratory, Kampala, Uganda
(3)
Makerere University School of Public Health, Kampala, Uganda
(4)
Public Health Emergency Operations Center, Ministry of Health, Kampala, Uganda
(5)
Medical Research Council, Kampala, Uganda
(6)
Epidemiology and Surveillance Division, Ministry of Health, Kampala, Uganda
(7)
US Centers for Disease Control and Prevention, Atlanta, USA
(8)
US Centers for Disease Control and Prevention, Kampala, Uganda