Study protocol
Open Access
Open Peer Review
This article has Open Peer Review reports available.
Rationale and methods of a cluster-randomized controlled trial to promote active and healthy lifestyles among Brazilian students: the "Fortaleça sua Saúde" program
Valter Cordeiro Barbosa Filho

1, 2, 3

Email author

,

Adair da Silva Lopes

1,

Antônio Barroso Lima

3,

Kelly Samara Silva

1,

Pedro Felipe Carvalhedo de Bruin

4,

Jorge Mota

2 and
"Fortaleça sua Saúde" Working Group
BMC Public Health
2015
15:1212
Received: 22 June 2015
Accepted: 24 November 2015
Published: 7 December 2015
Abstract
Background
Interventions on adolescents' lifestyle are important, but the main mechanisms that explain the changes (mediating variables) on lifestyle are unclear. This paper presents the rationale and methods of an intervention program focused on promoting active and healthy lifestyles (especially physical activity [PA] practice and reducing screen time) among Brazilian students-the Fortaleça sua Saúde program (Portuguese for "strengthen your health").
Methods/Design
This is a school-based cluster-randomized controlled trial. Three intervention and three control (no intervention) full-time public schools were randomly selected in Fortaleza, northeastern Brazil. Students (n = 1,272) from classes in Grades 7–9 were eligible, and 1,085 (548 in the intervention and 537 in control schools) completed the baseline and follow-up measures. The program duration was approximately four months and took place in 2014. Intervention strategies focused on teacher training, activities on health in the curriculum, active opportunities in the school environment (the availability of equipment for PA), and health education (health materials for students and parents). Data collection was undertaken before and immediately after the intervention. The primary variables included the practice of PA (weekly PA volume, PA behavior change stage and preference for PA during leisure-time) and screen time (TV and computer/video games). Potential intrapersonal, interpersonal and environmental mediators of PA and screen time were evaluated by a standardized questionnaire. Other lifestyle components (e.g., eating habits, substance use), psychological (e.g., self-rated health, body satisfaction) and biological (general and abdominal obesity) aspects, as well as academic performance were also evaluated in the total sample. Depressive symptoms, eating disorders, sleep quality, objectively-measured PA, and sedentary time were evaluated in obese students.
Discussion
If effective, this program will contribute to the development of public policies for the promotion of active and healthy lifestyles in youth, especially those from low- and middle-income countries. The main intrapersonal, interpersonal and/or environmental mediators of PA and screen time may also be indicated. Finally, we anticipate that the proposed strategies may be adaptable to public schools and may even be extended to the entire school system.
Trial registration
ClinicalTrials.Gov: NCT02439827. Registration date: May 3, 2015.
Keywords
Adolescent behaviorInterventionMotor activityMediating variablesMental healthObesityAdolescent healthSchoolHealth promotionBrazil
Background
An active (i.e., regular physical activity [PA] as well as low levels of sedentary time) and healthy (i.e., attitudes positively associated with health, such as healthy eating habits) lifestyle can lead to many individual and collective benefits at any age [1–4]. However, a focus on the early years has been employed due to the potential present and future health impact on the population [1–5].
Although the benefits of active and healthy lifestyles are widely reported, few young people lead an active lifestyle. International data estimates that only two out of ten adolescents meet the PA recommendations (300 min or more of moderate to vigorous PA per week) [6]. In Brazil, the proportion of students who met this recommendation fell from 43.1 % in 2009 to 30.1 % in 2012 [7]. Additionally, other unhealthy lifestyle factors are common among young people (e.g., excessive screen time and inadequate eating) [6–8]. Thus, interventions focused on promoting active and healthy lifestyles in young people are a public health priority [3, 4, 9, 10].
Systematic reviews have summarized the evidence of interventions that aimed to promote PA [10–15] and reduce sedentary behavior [5, 10, 11, 15, 16] among young people. Important implications can be identified from these reviews. First, in general, interventions had modest effect on behavior change [10, 11, 14, 16]. Second, multicomponent programs (i.e., strategies focused on different settings and individuals from the school, the family and/or the community) had more promising results on the promotion of active lifestyles [5, 10–12]. Third, the school seems to be an appropriate setting for many of the intervention strategies [10–12, 15]. Finally, the effectiveness of programs on PA and on sedentary behavior-related variables (e.g., risks and benefits, self-efficacy, social support, environmental perceptions), and how these variables (i.e., mediating variables) explain active lifestyle changes among adolescents has been little explored [13, 15].
Specifically, systematic reviews have highlighted that interventions focused on mediating variables and how they work are still scarce [5, 13, 15, 16]. For example, Van Stralen et al. [15] found 18 interventions on mediators of PA, but most of the potential intrapersonal (e.g., knowledge, self-efficacy), interpersonal (e.g., social support, peer and family model) and environmental (e.g., perception and environmental characteristics) mediators associated with PA remained largely unexplored. Evidence on the mediators of reducing sedentary behavior among young people is even more limited [5, 15, 16].
An intervention program that sought to fill the gaps was the Transform-Us! program [17]. This intervention was carried out in 2011 and 2012 for a period of 18 months and involved almost six hundred 8 to 9 year-old children from Melbourne, Australia. The intervention activities were multicomponent, including changes in physical education (PE) classes, reducing uninterrupted sedentary time and promoting health education in school. Intrapersonal, interpersonal and environmental factors related to PA and screen time were measured [17].
Results from the Transform-Us! program [18] revealed important evidence of the role played by the perceived school environment and perceived social support from teachers as mediators of PA changes among children over time. However, it is questionable whether such results would similarly occur among adolescents given the fact that they have physical, psychological and social peculiarities [19]. Additionally, the Transform-Us! program and most of the evidence from systematic reviews [5, 11, 13, 15, 16, 20] are of high-income countries. Sociocultural and structural distinctions between countries allow exploration of whether the effectiveness of interventions promoting active lifestyle and their mediators occur similarly among low-and middle-income youth populations, such as in Brazil. Considering that most of the world's population lives in these types of countries (see the World Bank's population estimates at www.worldbank.org/depweb), interventions in these contexts are essential in order to know what adjustments and variables are necessary for an effective promotion of active and healthy lifestyles among young people in these sociocultural situations.
Based on these assumptions, this paper presents the rationale and methods of a cluster-randomized controlled trial aiming to promote active and healthy lifestyles among Brazilian students. This program was entitled Fortaleça sua Saúde (Portuguese for "strengthen your health") and included students from elementary full-time public schools (Grades 7–9) from a municipality in northeastern Brazil.
Rationale
Why investigate adolescents?
Adolescence — a life stage that includes those aged from 10 to 19 — makes an outstanding contribution to the individual's current and future health [1, 4, 21]. During this period significant biological change that can affect an individual's health status occurs [19], as well as psychological and social formation related to the adoption of risk or healthy behaviors [21].
Four main reasons explain why adolescence is a period of great interest for lifestyle studies. First, although cardiovascular disease is more common in later stages of life, the internal processes of these diseases may begin in childhood and adolescence [22]. Second, this life stage is characterized by great vulnerability to environmental factors such as the influence of the media, friends, school and the community, impacting positively or negatively on options for health behaviors [5, 23]. Third, many of the behaviors established during adolescence tend to be retained in adulthood [21, 24]. Finally, some behaviors in adolescence potentially impact on health in the early stages of life [25] and contribute to further health problems in adulthood [22].
Despite the importance of a healthy lifestyle and the dissemination of such messages in the community and wider media, data from 105 countries shows that eight out of ten 13 to 15 year-old students do not meet the PA recommendations and seven out of ten students spend two hours or more each day watching television [6]. In Brazil, the proportion of adolescents who fail to meet the PA recommendations and who watch television for two or more hours each day is about 70 % and 80 %, respectively [7]. Therefore, regional and national strategies that seek to promote an active and healthy lifestyle at this life stage are critical.
Why investigate full-time schools in Brazil?
In general, the length of the school day in the Brazilian school model is based on classes that take place during a single period (morning, afternoon or evening separately). In terms of the curricular structure, the disciplines are based on national curriculum guidelines that include, for example, Portuguese, mathematics, science, physical education, foreign languages, and others [26]. In 2007, the Health and Education Ministries created a national program entitled Programa Saúde na Escola (PSE, Federal Decree No. 6286) that aims to provide comprehensive (i.e., extending the time and educational support) prevention, health promotion, and care for children and adolescents who attend schools in the public education system.
Some schools with the PSE are full-time schools. In these schools, the day begins at 7.30 am and closes at 4.00 pm, with two 20-min breaks and a lunchtime (from 11.30 am to 12.55 pm). Within the school curriculum, there is a mixture of previously mentioned disciplines from the national curricular base [26] and full-time school-specific disciplines (e.g., "Youth Protagonism" and the "Life Project"). In addition to these, "unstandardized" disciplines are offered based on the needs of the school community (i.e., teachers and students vote for disciplines that would be interesting for their school). One of the goals of the Brazilian Education Plan (Law 13,005/2014) is that a full-time education system should be offered in at least 50 % of government schools by 2024 (see www.pne.mec.gov.br/images/pdf/pne_conhecendo_20_metas.pdf).
In 2014, 165 municipal schools undertook the PSE in Fortaleza-Ceara, the fifth largest city in Brazil; 40 of these had elementary school classes (Grades 6–9). Of these 40 schools, only six were full-time. However, by 2016, the projection is that 30 of the 40 schools with PSE will be full-time (see information in www.sme.fortaleza.ce.gov.br/mapeamentoescolar).
The involvement of multicomponent and intersectoral strategies to promote healthier individuals and environments is one of the priorities of the PSE [10], as well as staff training (i.e., teachers and coordinators) to meet the health demands of Brazilian schools and communities [9, 10]. Additionally, the PSE was intended to become a comprehensive public and education policy in Brazil. Based on this, we decided to consider schools with PSE and a full-time education model as ideal environments to conduct a multicomponent program focusing on active and healthy lifestyles.
Why is the program called Fortaleça sua Saúde?
The intervention program is called Fortaleça sua Saúde for the following reasons. First, due to the similarity between the city's name (Fortaleza) and the verb Fortaleça (to strengthen) in its imperative form, it conveys the concept of encouragement, stimulation and excitement for students, thus corresponding with the purposes of an active lifestyle program. Second, the inclusion of the word "health" in the program's name allows the students to identify the general purpose of the intervention program on the different aspects of a healthier lifestyle.
With regard to the program's logo, the symbol for
Fortaleça sua Saúde
was represented by a square, symbolizing something that transmits strength as a synonym for force. As students are the population of interest, a heart was used as a widely recognized symbol of health. The program's logo is presented in Fig.
1
.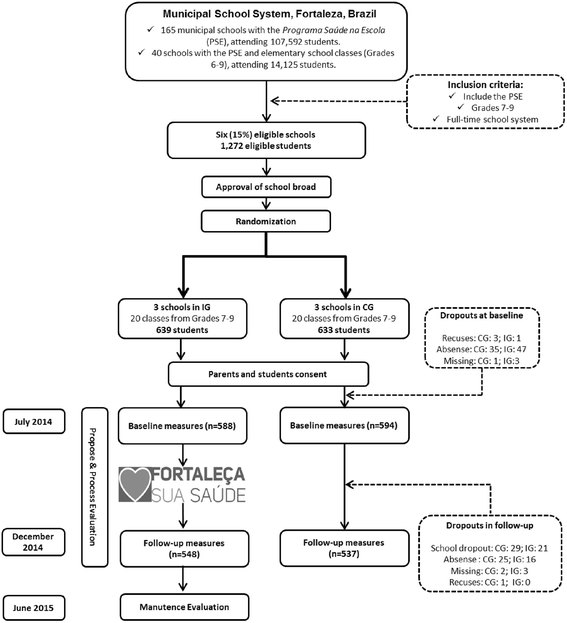 Discussion
The Fortaleça sua Saúde program aimed to identifying whether the combination of discussions on health topics in the curriculum, structural changes in the school environment, and health education in the school community can increase PA practice, reduce screen time and change potential mediators of these variables among students. One of the strengths of this program was considering strategies specific to PA and screen time. Sedentary behavior and physical inactivity may have independent detrimental effects [5] and few interventions have targeted reductions in screen time in schools, especially in Brazil. A further strength of the program was including strategies that focused on different school contexts and members, an element that is valued in the literature [4, 5, 9, 10]. In particular, PE classes have been a constant (and sometimes the only) focus in interventions and, despite its importance [20], the theoretical aspects [4, 10, 29] of this program warn of a more complex and comprehensive understanding of PA and screen time in young people. Finally, strategies were chosen and structured in order to focus on PA and screen time mediators (see Table 1). This may contribute to the understanding of how the use of different theoretical models of human behavior, including socioecological theory [29], can contribute to active and healthy lifestyle promotion among youth [10, 11].
The Fortaleça sua Saúde program was a cluster randomized controlled trial that had a sample size with sufficient statistical power to find the expected moderate effect [11, 16, 35] on the active lifestyle variables, as well as to identify the mediators of these behaviors. The inclusion of students in adolescence was also a strength of the study because similar analyses had only included children [17] and there is a worrying estimate of inactive and unhealthy lifestyles among adolescents [6, 8], including in Brazil [7]. Other strengths of this program were the measurement of potential mediators of PA and screen time [5, 13, 15, 16], and the analysis of whether PA and screen time were predictors of other health factors (e.g., diet and quality of life) and academic performance. A specific evaluation of obese students may indicate the health benefits of this program for a high-risk subgroup of biological, behavioral (objectively-measured), and psychological health problems [4]. Finally, the evaluation of the acceptance, implementation and maintenance of this program may indicate how the Fortaleça sua Saúde program strategies may be extended and adapted to the school context [4, 32].
The study's weaknesses include the relatively short duration of the intervention (one semester, around four months). Although some reviews indicate that short-term interventions can obtain favorable effects on young lifestyles [12], they may not be sufficient to influence all variables. The full-time model is not a comprehensive system in Brazilian schools and this makes it difficult to extrapolate the findings to several schools at this time. Some teachers were aware of which condition in the program the school had been assigned to as a result of the constant communication between the Municipal Education Department and schools. Some staff involved in data collection was also aware of the school's condition in the program, and the training was focused on minimizing this measurement bias. The lack of blinding can affect the outcomes of the participants in the trial, due to a lack of expectations in a control group or overestimation of results in intervention groups [11]. Finally, despite the use of validated instruments, self-reported measures have measurement bias (e.g., precision, memory, etc.), especially in relation to PA and screen time [6]. The operational and funding conditions of this program made it impracticable to use accelerometers for measuring PA and sedentary time for the whole of the study sample.
We hope the Fortaleça sua Saúde program is effective in promoting active and healthy lifestyles and that this represents a program that is well received, implemented, and maintained in the school context. If this occurs, the program's results could serve as an important basis for public action planning aimed at promoting PA and health among young people, especially from low-and middle-income countries. The results on PA and screen time mediators (from intrapersonal to environmental aspects) may have an additional contribution, guiding the specific and principal focuses on active and healthy lifestyle public policies for young people.
Abbreviations
HDI:

Human development index
PA:

Physical activity
PE:

Physical education
PSE:

Programa Saúde na Escola
WHO:

World Health Organization
Declarations
Acknowledgements
We thank the Municipal Education Department for technical support and authorization to the program execution. We thank all members of the school community (managers, teachers, parents and students) of the schools involved for their support during the program. We thank Faculdade Terra Nordeste, Faculdade FANOR/Delvry Brasil, Projeto AIDS: Educação e Prevenção/UFC, Núcleo de Pesquisa em Atividade Física e Saúde/UFSC and the coordinators of the Educação Física + program for technical contributions to this working group. We thank CNPQ (ASL and NFCV) and CAPES (VCBF, EAS, TSA) for individual grants.
Fortaleça sua Saúde working group:
Management Team: Adair S. Lopes, Antônio B. Lima, Evanice A. Souza, Fabiane A. Gubert, Kelly S. Silva, Neiva F.C. Vieira, Nicolino Trompieri Filho, Thábyta S. Araújo e Valter C. Barbosa Filho.
Executing Team: Alana G. Caetano, Alexsandra S. Bandeira, Antônia E. Sousa, Dayane O. Falcão, Deuziane T.F. Brito, Iraneide E. Lopes, Jéssica S. Martins, José M. Alves, Nairton S. Pinheiro, Raguel T. Pinto, Sarah C. Paulino, Soraya A. Sá, Tiago P. Nascimento e Valberson S. Pereira.
Open AccessThis article is distributed under the terms of the Creative Commons Attribution 4.0 International License (http://creativecommons.org/licenses/by/4.0/), which permits unrestricted use, distribution, and reproduction in any medium, provided you give appropriate credit to the original author(s) and the source, provide a link to the Creative Commons license, and indicate if changes were made. The Creative Commons Public Domain Dedication waiver (http://creativecommons.org/publicdomain/zero/1.0/) applies to the data made available in this article, unless otherwise stated.
Authors' Affiliations
(1)
Department of Physical Education, Research Centre in Physical Activity and Health, Federal University of Santa Catarina, Florianopolis, Brazil
(2)
Research Centre in Physical Activity, Health and Leisure, Faculty of Sport, University of Porto, Porto, Portugal
(3)
Institute of Physical Education and Sports, Research Centre in Physical Activity and Health in School, Federal University of Ceara, Fortaleza, Brazil
(4)
Department of Clinical Medicine, Federal University of Ceara, Fortaleza, Brazil
(5)
Department of Nursing, Aids Project: Education and Prevention, Federal University of Ceara, Fortaleza, Brazil
(6)
Department of Education-Fundamentals, Faculty of Education, Federal University of Ceara, Fortaleza, Brazil
Copyright
© Barbosa Filho et al. 2015