Research article

Open Access

Open Peer Review
This article has Open Peer Review reports available.
Strategies to promote uptake and use of intimate partner violence and child maltreatment knowledge: an integrative review
BMC Public Health
2014
14:862
Received: 29 April 2014
Accepted: 24 July 2014
Published: 21 August 2014
Abstract
Background
Intimate partner violence (IPV) and child maltreatment (CM) are major social and public health problems. Knowledge translation (KT) of best available research evidence has been suggested as a strategy to improve the care of those exposed to violence, however research on how best to promote the uptake and use of IPV and CM evidence for policy and practice is limited. Our research asked: 1) What is the extent of IPV/CM-specific KT research? 2) What KT strategies effectively translate IPV/CM knowledge? and 3) What are the barriers and facilitators relevant to translating IPV/CM-specific knowledge?
Methods
We conducted an integrative review to summarize and synthesize the available evidence regarding IPV/CM-specific KT research. We employed multiple search methods, including database searches of Embase, CINAHL, ERIC, PsycInfo, Sociological Abstracts, and Medline (through April, 2013). Eligibility and quality assessments for each article were conducted by at least two team members. Included articles were analyzed quantitatively using descriptive statistics and qualitatively using descriptive content analysis.
Results
Of 1230 identified articles, 62 were included in the review, including 5 review articles. KT strategies were generally successful at improving various knowledge/attitude and behavioural/behavioural intention outcomes, but the heterogeneity among KT strategies, recipients, study designs and measured outcomes made it difficult to draw specific conclusions. Four key themes were identified: existing measurement tools and promising/effective KT strategies are underused, KT efforts are rarely linked to health-related outcomes for those exposed to violence, there is a lack of evidence regarding the long-term effectiveness of KT interventions, and authors' inferences about barriers, facilitators, and effective/ineffective KT strategies are often not supported by data. The emotional and sometimes contested nature of the knowledge appears to be an important barrier unique to IPV/CM KT.
Conclusions
To direct future KT in this area, we present a guiding framework that highlights the need for implementers to use/adapt promising KT strategies that carefully consider contextual factors, including the fact that content in IPV/CM may be more difficult to engage with than other health topics. The framework also provides guidance regarding use of measurement tools and designs to more effectively evaluate and report on KT efforts.
Keywords
Intimate partner violence
Child maltreatment
Knowledge translation
Integrative review
Evidence-based
Background
Intimate partner violence (IPV) and child maltreatment (CM) are recognized as major social and public health problems [1, 2], with serious physical and mental health consequences for individuals [3–7], as well as devastating consequences for families, communities, and even the economy e.g., [8–11]. Data about the scope and impact of IPV and CM began to coalesce in the latter part of the 20th century, coinciding with the increased focus on evidence-based practice and policy in health and social services [12, 13]. It was not surprising, therefore, that the new millennium brought attention to the relative lack of evidence-based interventions available to decision-makers in IPV and CM across the spectrum from clinical care, social service provision, and policy development [14, 15]. This led to increasing calls to conduct rigorous research to better understand how IPV and CM can be effectively identified, addressed, and, ideally, prevented [16–18]. The last decade has seen a marked increase in the number and types of research studies addressing both IPV and CM e.g., [7, 10, 17, 19, 20], and many systematic evidence reviews (of various types) synthesizing what is known (and not known) regarding specific interventions for women, children, and men, and from the perspective of victims and perpetrators e.g., [6, 17, 21, 22]. As highlighted in recent reviews of the evidence for effective interventions in CM [23–26], and IPV [6, 15, 20, 27–29], the two fields differ in terms of the amount and nature of research evidence available to inform practice and policy [30], with considerably more interventions having been tested and shown effective or promising in the CM literature, as compared to the IPV literature. A growing challenge is how best to promote the uptake and use of the best available evidence in each of the CM and IPV fields, as well as emerging evidence at their intersection, such as interventions for children exposed to IPV [31–33], or those that take a lifespan approach, recognizing that earlier violence exposures can have consequences at later life stages [18, 30]. In parallel, the past decade has seen exponential growth in research on the issue of 'knowledge translation' (KT) [34, 35] or 'implementation science' [36]. However, research specific to understanding how best to promote the uptake and use of IPV and CM evidence for policy, advocacy and practice is more limited [37]. This integrative review summarizes and synthesizes the available evidence regarding IPV- and CM-specific KT research, and provides suggestions about the design of future KT initiatives.
Knowledge translation
In the 1990s, the advent of the evidence-based medicine (EBM) movement in the UK, Canada and the USA [12, 38] brought the idea of KT into mainstream clinical practice, where it quickly spread to other areas of health and social service delivery and policy [39–41]. Early KT research focused on identifying the prevalent and persistent gaps between research and practice – health innovations are slow to make their way into common practice and, as a result, patients often do not receive the best possible care [42–45]. Attention was then focused on developing and testing KT strategies to address these gaps, with significant descriptive work across different practice and policy contexts e.g., [46, 47]. Despite the proliferation of KT research, KT continues to undergo an 'identity crisis' of sorts [40]. Part of the problem is in terminology [48, 49]. Although we have chosen to use the term KT, many other terms are used in the literature to describe the same or similar processes (or parts of the process), such as: implementation science, knowledge mobilization, research utilization, knowledge transfer, knowledge exchange, and dissemination, just to name a few. Moreover, no single agreed upon definition exists and the conceptualization of KT has evolved over time. Whereas it was once considered primarily about addressing the research to practice gap (i.e., focused on how to get the best available evidence into the hands of health care providers), recently it has been defined more broadly to address the knowledge to action gap, thus expanding the range of potential knowledge users to health policymakers, health advocates, or the general public, for example [39, 50]. Another change to the conceptualization of KT expands the definition of knowledge. For many, the 'K' in 'KT' is synonymous with 'research evidence'. However, some have questioned whether research evidence is indeed the only relevant knowledge worth translating to potential users [51, 52]. For example, local knowledge and tacit knowledge are highly valued by many health and social service providers [53, 54].
A third way in which KT has been redefined over time relates to the process itself. Rather than involving one-way, linear processes whereby knowledge creators deliver neatly packaged 'knowledge' to potential users, as is the case with traditional 'science push' (i.e., researcher driven) and 'demand pull' (i.e., user driven) models, more nuanced approaches are increasingly favoured [55]. Particularly in the case of complex topics and knowledge use contexts (e.g., policy development) [56, 57], the concept of knowledge translation and exchange (an 'interaction' model) is more relevant, denoting that knowledge users and their needs significantly shape the interaction and must be addressed to ensure more effective knowledge uptake and use [55, 58–60].
Finally, a fourth way in which KT has matured is through a focus on understanding the ways that best practices/guidelines and/or specific proven-effective interventions can become part of routine clinical practice or sustained within an organizational setting [61, 62]. This process, generally called implementation science, is also concerned with scaling up innovative local practices for broader, lasting practice change. Implementation science draws from the original Diffusion of Innovations theory to identify early adopters and champions of new practices as a way to promote scaling up at a systems level [63]. One topic of interest is finding the right balance between fidelity and adaptation, since attempts to effect change using a 'one-size-fits-all' strategy are generally unsuccessful and highlight the need to take relevant contextual, cultural, and policy factors into account [64]. Implementation science is also concerned with the need to re-evaluate or develop strong criteria for external validity – traditional research provides knowledge about what works under controlled conditions but often lacks information about how to make interventions work within complex social systems [65]. Interested readers are directed to Fixen et al.'s detailed review of the literature in the area [66].
For the purposes of this review, KT is defined as the process of strategically moving (by various methods) knowledge (broadly defined) from those who create, synthesize, or have access to it, to those who can use it, for the purpose of improving decision-making. Embedded in this definition are several key points related to the evolution of the conceptualization of KT as described above. First, knowledge users are those who can use knowledge, with 'use' in this instance defined broadly to include any of the following three established forms: instrumental (i.e., direct, concrete use), symbolic (i.e., to confirm decisions already made or justify thinking) or conceptual (i.e., indirect or diffuse use, e.g., to assist in understanding) [67]. The contexts of use are also broadly defined, and include service delivery, policy, planning and/or advocacy efforts. Second, 'knowledge' is not restricted to research evidence, but also includes, for example, tacit and contextual knowledge [53]. Third, KT need not, but certainly can, involve a process of exchange with knowledge users.
Rationale and research questions
As better evidence regarding how to effectively identify, treat, and prevent IPV and CM (apart and collectively) emerges [16, 17, 24], researchers need guidance regarding how to best translate this knowledge. At the same time, knowledge users can benefit from an understanding of "research-pull" strategies and mechanisms that could be useful as they are increasingly expected to bring research evidence into their decision-making processes. Similarly, when research evidence exists but is contentious, as in the example of the effectiveness of universal IPV screening [17, 68], KT can be particularly challenging [37, 69], and knowledge of how best to communicate "difficult" evidence under these conditions, and in complex areas such as IPV and CM, is necessary. This integrative review updates, summarizes and synthesizes IPV- and CM-specific KT literature.
The review, due to its broad definition of knowledge and knowledge users, includes KT strategies applicable to a wide range of knowledge use contexts, from community-based settings to clinical settings [53]. Topic-specific KT reviews are indeed becoming more popular e.g., [70, 71], perhaps because of recognition that 'one size does not fit all' when it comes to KT [37, 53, 59]. We believe that family violence is a unique context requiring focused attention to appropriate KT practices that demonstrate value, while minimizing potential harms.
To our knowledge, one published review on KT in the area of IPV and CM exists. Larrivée, Hamelin-Brabant, and Lessard [72] reviewed 22 papers, including 13 empirical research and 9 non-empirical papers (e.g., commentaries). Their review is a valuable contribution to the literature, in particular the authors' attention to both theoretical and applied work in this area. Our review builds upon this work by conceptualizing KT more broadly, thus allowing for the inclusion of a wider range of relevant research to inform IPV and CM decision-making. This approach is in keeping with Mitton et al. [46], authors of a highly-cited KT review, who acknowledged that work labeled differently can still make valuable contributions to the KT literature.
The present research is designed to answer three key questions: 1) What is the extent of IPV- and CM-specific KT research? 2) What KT strategies effectively translate IPV and/or CM knowledge? and 3) What are the barriers and facilitators relevant to translating IPV- and CM-specific knowledge? Integrative review methodology [73, 74] was used because it systematically summarizes and synthesizes literature to generate new knowledge in an area of study and can reveal gaps in the literature to highlight future research priorities [75]. This type of review is also amenable to diverse forms of research evidence (quantitative and qualitative studies) and can be used for large or small bodies of literature [74].
Discussion
To our knowledge, this review is the most comprehensive synthesis of the IPV and CM KT literature to date, and takes a sufficiently broad definition of KT to provide guidance across a range of potential interventions targeting multiple types of users/audiences when compared to related reviews e.g., [
72
]. Similar to previous reviews, however, we found multiple gaps in the literature; we review these gaps below according to each research question. Taken together, these gaps make it challenging for future KT implementers to choose modes of delivery, essential components to include, the required level of complexity and frequency of engagement, and, importantly, to know whether a given strategy will actually result in better outcomes for IPV or CM victims. However, to assist in these crucial processes, we provide a guiding framework, described below and presented in Figure
2
, regarding key factors and processes found to be promising in this evidence base.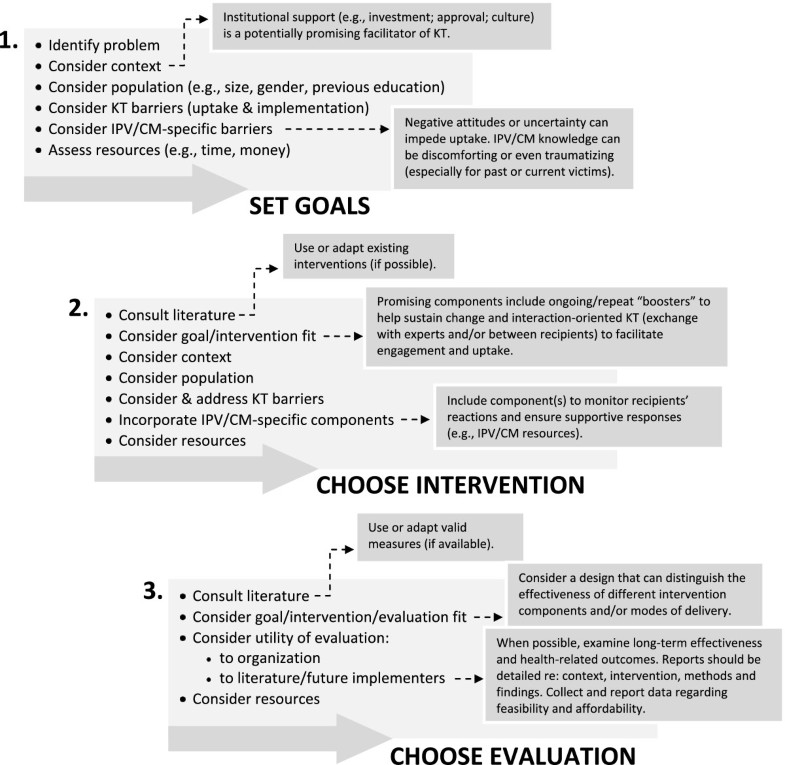 Conclusion
Although further research is needed, especially in community-based settings [53], we are encouraged by the number of studies conducted in this area and take it as an indication that the importance of improving methods to identify, address, and prevent IPV and CM is recognized by many. Our guiding framework provides a clear starting place for those wishing to implement and evaluate KT in this area. We hope that the development of partnerships and increased communication amongst interested parties (violence researchers, advocates, program planners, etc.), in combination with thorough reporting of evaluation efforts, may result in a more useful literature highlighting effective interventions and, ultimately, better outcomes for victims of violence. We also encourage those working in the field to consider the intersection of CM and IPV research and KT efforts in several respects. First, children's exposure to IPV is a recognized form of maltreatment, and strategies are required to generate, translate and use evidence to prevent and respond to this form of violence in the home – both for the abused caregiver, as well as to reduce the negative consequences for the exposed child(ren) [31–33]. Second, these forms of violence are often intergenerational (e.g., victims of CM are more likely to grow up to be victims and/or perpetrators of all forms of interpersonal violence), and the consequences of exposure to violence occur across the lifespan, especially in terms of mental health outcomes [124–126]. These more nuanced understandings of IPV and CM as phenomena, combined with appropriate use of a health equity lens and embedded in KT strategies for educating a broad range of health and social service actors, will be of greatest benefit to those experiencing violence and its consequences.
Endnotes
aInsufficient intervention detail is relatively rare in our sample given that this feature tended to be present in articles of overall poor quality which were excluded from this review.
bIt should be noted that although normally discussed separately, each barrier can be framed as a facilitator, and vice versa – for example, organizational support facilitates KT, but a lack of organizational support may impede it.
cReports of feasibility and affordability were rare in our sample.
dIn a systematic review of RCTs of IPV educational interventions for health care providers published following the present analysis, Zaher et al. [127] noted similar patterns for identification and referral, supporting our decision to include such research.
Abbreviations
CM:

Child maltreatment
EBM:

Evidence-based medicine
IPV:

Intimate partner violence
KT:

Knowledge translation
NGO:

Non-governmental organization
RCT:

Randomized controlled trial.
Declarations
Acknowledgements
We are grateful to Carolynne Gabriel, Jill McTavish, and Nazi Torabi for sharing their expertise in database searching. This work was supported by a seed grant from the PreVAiL Research Network (http://www.PreVAiLResearch.ca), a Centre for Research Development in Gender, Mental Health and Violence across the Lifespan funded by the Canadian Institutes of Health Research's (CIHR) Institute of Gender and Health and Institute of Neurosciences Mental Health and Addictions. Kothari is supported by a CIHR New Investigator Award.
Authors' Affiliations
(1)
Faculty of Information & Media Studies, The University of Western Ontario, London, Canada
(2)
Faculty of Health Sciences, The University of Western Ontario, London, Canada
(3)
Schulich Interfaculty Program in Public Health, The University of Western Ontario, The Western Centre for Public Health and Family Medicine, London, Canada
(4)
Lab for Knowledge Translation in Health, The University of Western Ontario, Arthur and Sonia Labatt Health Sciences Building, London, Canada
Copyright
© MacGregor et al.; licensee BioMed Central Ltd. 2014
This article is published under license to BioMed Central Ltd. This is an Open Access article distributed under the terms of the Creative Commons Attribution License (http://creativecommons.org/licenses/by/4.0), which permits unrestricted use, distribution, and reproduction in any medium, provided the original work is properly credited. The Creative Commons Public Domain Dedication waiver (http://creativecommons.org/publicdomain/zero/1.0/) applies to the data made available in this article, unless otherwise stated.