Study protocol

Open Access

Open Peer Review
This article has Open Peer Review reports available.
Design of a multi-site multi-state clinical trial of home monitoring of chronic disease in the community in Australia
BMC Public Health
2014
14:1270
Received: 5 November 2014
Accepted: 5 December 2014
Published: 15 December 2014
Abstract
Background
Telehealth services based on at-home monitoring of vital signs and the administration of clinical questionnaires are being increasingly used to manage chronic disease in the community, but few statistically robust studies are available in Australia to evaluate a wide range of health and socio-economic outcomes. The objectives of this study are to use robust statistical methods to research the impact of at home telemonitoring on health care outcomes, acceptability of telemonitoring to patients, carers and clinicians and to identify workplace cultural factors and capacity for organisational change management that will impact on large scale national deployment of telehealth services. Additionally, to develop advanced modelling and data analytics tools to risk stratify patients on a daily basis to automatically identify exacerbations of their chronic conditions.
Methods/Design
A clinical trial is proposed at five locations in five states and territories along the Eastern Seaboard of Australia. Each site will have 25 Test patients and 50 case matched control patients. All participants will be selected based on clinical criteria of at least two hospitalisations in the previous year or four or more admissions over the last five years for a range of one or more chronic conditions. Control patients are matched according to age, sex, major diagnosis and their Socio-Economic Indexes for Areas (SEIFA). The Trial Design is an Intervention control study based on the Before-After-Control-Impact (BACI) design.
Discussion
Our preliminary data indicates that most outcome variables before and after the intervention are not stationary, and accordingly we model this behaviour using linear mixed-effects (lme) models which can flexibly model within-group correlation often present in longitudinal data with repeated measures. We expect reduced incidence of unscheduled hospitalisation as well as improvement in the management of chronically ill patients, leading to better and more cost effective care. Advanced data analytics together with clinical decision support will allow telehealth to be deployed in very large numbers nationally without placing an excessive workload on the monitoring facility or the patient's own clinicians.
Trial registration
Registered with Australian New Zealand Clinical Trial Registry on 1st April 2013. Trial ID: ACTRN12613000635763
Keywords
Telehealth
Home telehealth
Home telemonitoring
Chronic disease management
Experimental protocol
BACI design
Case matched control design
Background
In industrialized nations approximately 70-78% of healthcare budgets are spent on the management of chronic disease or its exacerbation [1–3] and as the population ages the burden of chronic disease increases and places healthcare budgets under increasing strain.
A strong primary health care system has been acknowledged as critical to the sustainability of health care systems both in developing and industrialised nations and it has emerged as a recurrent theme in recent years [4–6]. The management of chronic disease, much of which could occur in home and community settings, often unnecessarily burdens hospital-centric public health system. As a consequence policy makers and health service managers seek innovations that deliver the same or improved health services using proportionately fewer resources.
Telehealth services have been demonstrated internationally to be one such innovation [7, 8], but there are low levels of evidence from Australian studies [9]. This study will evaluate whether the introduction of in-home telemonitoring services to the management of chronic disease in the community reduces patient use of the health system and improves healthcare outcomes and their quality of life.
We will also explore the extent to which real-time risk stratification of these patients is of value to health professionals and the issues and challenges in deploying telemonitoring services in the community.
Telehealth and telecare technologies and services for the management of chronic disease at home and in the community have been of intense interest in developed western economies because of unprecedented growth rates of the aged population and increasing morbidity as population ages. These factors place unsustainable stress on established health care services, and will result in increasing deficits in clinical human resources, expanding disease management programs and patient demand for greater self-management.
Telehealth services, delivered through home tele-monitoring, have been demonstrated to deliver cost effective, timely and improved access to quality care [7, 9–12]. They also reduce social dislocation and enhance the quality of life and the sustainability of these communities by allowing chronically ill and aged members to stay in their homes and communities longer.
However experience in Australia with the deployment of Telehealth services is extremely limited [13], with most deployments of small scale and lacking detailed analysis of key success factors such as:
 Health care outcomes

 Health economic benefits

 Impact on clinical work force availability and deployment

 Human factors (acceptability, usability by patients, carers, nurses, GPs and administrators)

 Workplace culture

 Capacity for organisational change management and business processes
The development of a robust business case and business models for large scale commercial deployment of Telehealth services, based on reliable socio-economic evidence, is therefore essential if these services are to be deployed nationally to mitigate the escalating costs of health service delivery and the increasing deficit in clinical work force.
This trial will seeks to create a robust evidence base for these key success factors and demonstrate an effective and scalable model for an internet-enabled Telehealth services in Australia. Armed with the insights provided by this evidence base, policy makers may have much of the data they require to implement funding models and create a sustainable Telehealth services sector in Australia.
Despite large national investments in health IT, very little policy work has been undertaken in Australia in deploying Telehealth in the home as a solution to the increasing demands and costs of managing chronic disease. In contrast in the UK, the first report from the Department of Health (DH) on this subject was published in 2000 [14] and many others have followed since [15–17]. The DH's Preventative Technology Grant (PTG) from 2006–08 provided £80 M to local authorities and their partners for investment in assistive technology [18] and most recently £31 m of funding for a Whole System Demonstrator (WSD) program which had Telehealth as an integral part for the management of long-term conditions [11, 19].
The Litan report [7] provides a comprehensive review of the international evidence that Telehealth services for the management of chronic disease can reduce admission to Accident and Emergency (A&E) from between 20-60%. In one report quoted, Strategic Healthcare Programs, LLC (2004), Physiological monitoring of Heart and lung disease and diabetes reduced A&E visits by 49% for Congestive Heart Failure (CHF) patients, 66% for Chronic Obstructive Pulmonary Disease (COPD) patients, and 83% for diabetes patients.
Most recently the Whole System Demonstrator [11] Headline Findings released by the UK Department of Health in December 2011, demonstrated;
 15% reduction in A&E Visits

 20% reduction in emergency admissions

 14% reduction in elective admissions

 14% reduction in bed days

 8% reduction in tariff costs and

 45% reduction in mortality rates
This was the largest randomised control trial of telehealth and telecare in the world, involving 6191 patients and 238 GP practices across three sites, Newham, Kent and Cornwall. Three thousand and thirty people with one of three conditions (diabetes, heart failure and COPD) were included in the telehealth trial [19].
The most large scale example of Telehealth use is in the US by the Veterans Health Administration (VHA). VHA mainstreams clinical care within its Coordinated Care and Home Telehealth (CCHT) project [12]. Routine analysis of data obtained for quality and performance purposes from a cohort of 17,025 CCHT patients shows the benefits of a 25% reduction in numbers of bed days of care, 19% reduction in numbers of hospital admissions, and mean satisfaction score rating of 86% after enrolment into the program. VHA's experience is that an enterprise-wide home telehealth implementation is an appropriate and cost-effective way of managing chronic care patients in both urban and rural settings.
Most recently [20] the US Department of Veterans Affairs announced that 690,000 US veterans received care in the 2014 fiscal year via telehealth, with 2 million telehealth visits scheduled. That means that 12 percent of all veterans enrolled in VA programs received telehealth care of some kind in 2014.
Aims and objectives
This study was designed with the aim of demonstrating how telehealth services for chronic disease management in the community can be deployed nationally in Australia in a range of hospital and community settings and to develop advanced modelling and data analytics tools to risk stratify patients on a daily basis to automatically identify exacerbations of their chronic conditions.
The following research questions will be addressed;
 Effect of telemonitoring on health service utilisation

Unscheduled visits to hospital, visits to GPs and Nurse visits

Cost and frequency of consultations, laboratory tests and other clinical procedures

 Effect of telemonitoring on patients outcomes

Quality of life, progression of chronic condition, wellbeing, medication adherence

 Service implementation and deployment

Existing model of care, service design, adoption and appropriation

 User experience and service implementation

Satisfaction, useability, acceptance, workload, anxiety and strain among study participants including health professionals, administrators, patients and carers

 Service implementation issues

How the new home monitoring service is implemented at each site. What impact has this had on the process and outcomes of normal care delivery?

How are existing service practices evolving as a result of the new service?

What can be learnt from different implementation approaches?

 Cost effectiveness analysis

Analysis of reductions/increases in costs borne by patients as a result of telehealth

Analysis of reductions/increases in costs borne by the commonwealth and on-the-ground service providers for patients as a result of the deployment of telehealth services
The Project Objectives are to:
 Demonstrate and document how telehealth services can be successfully deployed across Australia, by piloting services in five different settings across five states with a range of health service provider's, including Local Health Districts, Medicare Locals and not for profit community organisations. This will be demonstrated by deploying and demonstrating the operation of Telehealth monitoring in a multi-site multi-state case matched control trial (Before-After-Control-Impact (BACI) design) of chronically ill patients living in their own homes in the community. This has never previously been attempted in Australia.

 Provide the clinical and health economic evidence on how Telehealth services can be scaled up nationally to provide an alternative cost effective health service for the management of chronic disease in the community.

 Provide evidence that at home telemonitoring has the potential to reduce unscheduled admissions to Accident and Emergency (A&E) compared to the control group.

 Provide evidence for an impact on hospital admissions, mortality, clinical events and symptoms and improvements in functional measures and patients' and carers' experiences with care.

 Evaluate health economic benefits

 Evaluate impact on clinical work force availability and deployment

 Evaluate impact of human factors (acceptability, usability by patients, carers, nurses, GPs and administrators, impact on workplace culture)

 Evaluate impact of workplace culture

 Evaluate impact of organisational change management and business processes

 Develop a new evidence based data analytical technique for the risk stratification of patients' health status daily and demonstrate that this facilitates the management of large numbers of patients by orchestrating an optimal and timely allocation of resources to avoid unnecessary hospitalisation
For each of the above objectives, operation of the trial at five different sites representing a range of different models for the management of chronic disease in the community will allow the identification and analysis of site specific differences in workplace culture, organisational change management and staff and management capabilities that contribute to differences in measured health, social and economic outcomes.
Methods/Design
Immediately following granting of funds for the project in December 2013, Ethics Approval was sought and granted by the CSIRO CAFHS Human Research Ethics Committee, on the 25
th
March 2013 (approval # 13/04). Subsequently, ethics approval was also obtained from health authorities at each of the test sites as well as from the Commonwealth Department of Health and Ageing and the Department of Human Services. The latter two were necessary in order to be granted access to national patient data stored in the Medicare MBS and PBS archives.The trial sites are located over widely dispersed regions of the Eastern Seaboard of Australia as shown in Figure
1
. They were selected on the basis of three criteria, (i) early participation in the rollout of the National Broadband Network, (ii) geographical location and demographics and (iii) variations in models of care used to manage Chronic disease to be generally representative of the variety of models of care for the management of chronic disease existing in Australia.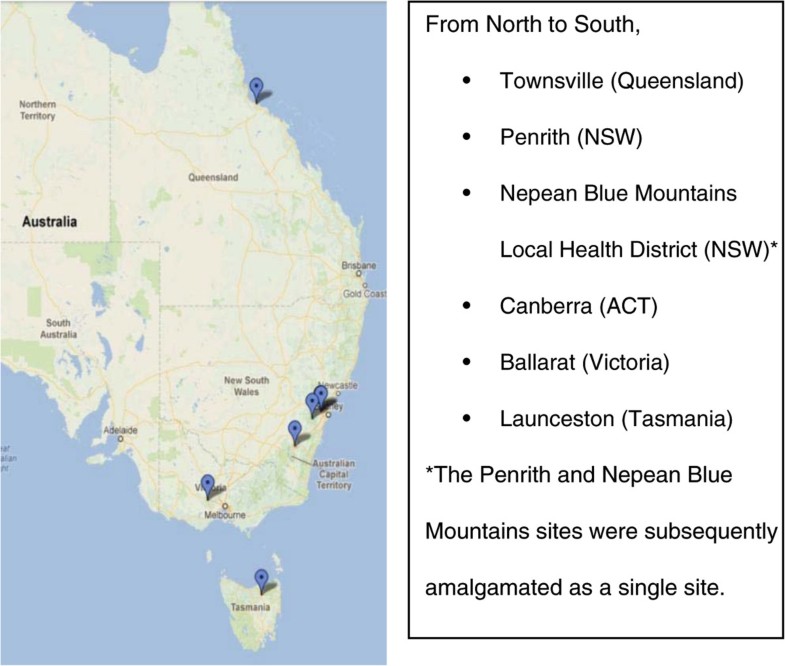 Discussion
There are many clinical benefits associated with remote patient monitoring with a large range of chronic conditions [9]. Some of the evidence for this includes an increase in mean survival time in a sample of 387 diabetic patients who undertook daily monitoring of vital signs [41], a significant improvement in glycemic control in diabetic patients who transmitted blood glucose and blood pressure data to a telehealth nurse [42], a 71% reduction in Emergency Room (ER) admissions in respiratory patients who had oxygen saturation measured by pulse oximetry and monitored daily [43], a reduction in the number of hospital readmissions in patients with angina [44], significant improvements in health related quality of life and a decrease in mortality in COPD patients using home monitoring [45], a 43% reduction in hospitalizations and a 68% reduction in bed days of care in cardiac patients who transmitted daily ECG and blood pressure data [46] and a 50% reduction in the risk of heart failure related readmission and 55% reduction in cardiovascular mortality in chronic heart failure patients monitored at home [8].
The evidence therefore appears overwhelming that at home telemonitoring can deliver significant patient health benefits at lower cost and with a high level of acceptance by patients and their carers. Deployment of telehealth services however is far from widespread. Broadly speaking telehealth services has been embraced most enthusiastically in the US with uptake in Australia and the rest of the western industrialised nations patchy, tentative and on a small scale rarely proceeding past the trial stage.
Outside of the USA, the United Kingdom has the most evolved infrastructure and government policy framework for supporting at home telemonitoring, and is now promoting a Public-Private Partnership to deploy telehealth services to three million chronically ill patients. In Australia, Government has been preoccupied with the funding of national eHealth infrastructure through the establishment of the National eHealth Transition Authority (NeHTA) [47], and with the development of the national Personally Controlled Electronic Health Record (PCEHR) [48] which is now being slowly deployed and is receiving limited acceptance from clinicians.
Telehealth video consultations between specialists and patients in Residential Care Facilities or remote area community health services are now being funded through the Medicare system and the Consumer Directed Care Program [21] which is replacing the existing Federally funded care packages known as Home and Community Care Packages (HACC), Community Aged Care Packages (CACP) and Extended Aged Care in the Home (EACH), also has provision for the supply of at home tele-monitoring services.
With these initiatives in place it is probable that Australia, will begin to implement large scale at home telemonitoring services over the next few years. However there are significant uncertainties and impediments that need to be resolved before large scale deployment of telehealth services will become routine. These include the following;
 Concern over funding models. The National Health Insurance system has historically funded provider – patient clinical consultations. There are concerns that telehealth services may lead to cost blowouts in essentially uncapped federal and state healthcare budgets.

 State and Federal Government cost shifting. In Australia the Federal Government funds primary care and aged care and the State Governments fund hospital services. If the Federal Government funds telehealth to reduce unnecessary hospitalisation of those with chronic conditions, the primary beneficiaries will be the state governments. Hence there is a mis-alignment of those that pay and those that benefit!

 Limited awareness and support for telehealth services among clinicians, service providers and patients.

 Varying levels of organisational readiness within State Governments, local health districts and not for profit health service providers for the deployment of telehealth services.

 A lack of data on how to identify those patients that would benefit most from at home telemonitoring for their chronic conditions, and a robust process for allocating tele monitoring resources throughout the disease life cycle from early intervention for early stage disease conditions such as Type II diabetes, through to complex chronic conditions with multiple co-morbidities such as CHF patients with COPD and CHD.

 A robust process for selecting competitive at home telemonitoring services that provide the best quality patient data and opportunity for clinical diagnosis. Ensuring that systems are inter operable and standards based and can automatically transfer data securely to either provider controlled or national electronic health records.
The clinical trial design for this national trial was formulated to provide statistically robust evidence, valid across a number of existing healthcare settings in Australia to inform Government policy and funding frameworks as well as to provide a template for the adoption of telehealth services by a range of private and public healthcare service delivery organisations.
Abbreviations
ADSL:

Asymmetric digital subscriber line
ADSL2:

Asymmetric digital subscriber line - 2nd specification
CCC:

Clinical Care Coordinator
CDM:

Clinical Data Management
CHD:

Coronary heart disease
CHF:

Congestive heart failure
CMU:

Clinical Monitoring Unit
COPD:

Chronic obstructive respiratory disease
CSIRO:

Commonwealth Scientific and Industrial Research Organisation
CTC:

Clinical Trial Coordinator
EDC:

Electronic data capture
HREC:

Human Research Ethics Committee
LHD:

Local Health District
MBS:

Medical benefits scheme
NBN:

National broadband network
PAS:

Patient administration system
PBS:

Pharmaceutical benefits scheme
PCEHR:

Personally controlled electronic patient record
PO:

Project Officer
SEIFA:

Socio-economic indexes for areas
TMC:

Telemedcare telemonitoring devices/services
VDSL:

Very-high-bit-rate digital subscriber line.
Declarations
Acknowledgements
The authors wish to acknowledge the Australian Government for its funding of this project through its Telehealth Pilots Program, the CSIRO eHealth Research Program and the Digital Productivity Flagship (Health Services Theme) for the provision of additional funds to support the scientific objectives of the project and the clinical partners for their in-kind contribution to the successful completion of the project. The Authors also wish to acknowledge the significant in-kind support provided by Telemedcare Pty Ltd and iiNET Pty Ltd for the provision and operation of the at home telemonitoring service and internet services respectively.
Funding
Funding was provided by the Australian Commonwealth Government under the National Broadband Network (NBN) Enabled Telehealth Pilots Program and the CSIRO eHealth Research Program, Health Services Research Theme. In-kind support from participating health service organizations and industry partners was also provided.
Authors' Affiliations
(1)
DPAS FlagshipeHealth Research Program, Marsfield, Australia
(2)
CSIRO eHealth Research Program, Marsfield, Australia
Copyright
© Celler et al.; licensee BioMed Central. 2014
This article is published under license to BioMed Central Ltd. This is an Open Access article distributed under the terms of the Creative Commons Attribution License (http://creativecommons.org/licenses/by/4.0), which permits unrestricted use, distribution, and reproduction in any medium, provided the original work is properly credited. The Creative Commons Public Domain Dedication waiver (http://creativecommons.org/publicdomain/zero/1.0/) applies to the data made available in this article, unless otherwise stated.