Research article

Open Access

Open Peer Review
This article has Open Peer Review reports available.
A systematic review to identify areas of enhancements of pandemic simulation models for operational use at provincial and local levels
BMC Public Health
2012
12:251
Received: 19 May 2011
Accepted: 30 March 2012
Published: 30 March 2012
Abstract
Background
In recent years, computer simulation models have supported development of pandemic influenza preparedness policies. However, U.S. policymakers have raised several concerns about the practical use of these models. In this review paper, we examine the extent to which the current literature already addresses these concerns and identify means of enhancing the current models for higher operational use.
Methods
We surveyed PubMed and other sources for published research literature on simulation models for influenza pandemic preparedness. We identified 23 models published between 1990 and 2010 that consider single-region (e.g., country, province, city) outbreaks and multi-pronged mitigation strategies. We developed a plan for examination of the literature based on the concerns raised by the policymakers.
Results
While examining the concerns about the adequacy and validity of data, we found that though the epidemiological data supporting the models appears to be adequate, it should be validated through as many updates as possible during an outbreak. Demographical data must improve its interfaces for access, retrieval, and translation into model parameters. Regarding the concern about credibility and validity of modeling assumptions, we found that the models often simplify reality to reduce computational burden. Such simplifications may be permissible if they do not interfere with the performance assessment of the mitigation strategies. We also agreed with the concern that social behavior is inadequately represented in pandemic influenza models. Our review showed that the models consider only a few social-behavioral aspects including contact rates, withdrawal from work or school due to symptoms appearance or to care for sick relatives, and compliance to social distancing, vaccination, and antiviral prophylaxis. The concern about the degree of accessibility of the models is palpable, since we found three models that are currently accessible by the public while other models are seeking public accessibility. Policymakers would prefer models scalable to any population size that can be downloadable and operable in personal computers. But scaling models to larger populations would often require computational needs that cannot be handled with personal computers and laptops. As a limitation, we state that some existing models could not be included in our review due to their limited available documentation discussing the choice of relevant parameter values.
Conclusions
To adequately address the concerns of the policymakers, we need continuing model enhancements in critical areas including: updating of epidemiological data during a pandemic, smooth handling of large demographical databases, incorporation of a broader spectrum of social-behavioral aspects, updating information for contact patterns, adaptation of recent methodologies for collecting human mobility data, and improvement of computational efficiency and accessibility.
Keywords
Mitigation Strategy
Pandemic Influenza
Reproduction Number
School Closure
Antiviral Prophylaxis
Background
The ability of computer simulation models to "better frame problems and opportunities, integrate data sources, quantify the impact of specific events or outcomes, and improve multi-stakeholder decision making," has motivated their use in public health preparedness (PHP) [1]. In 2006, one such initiative was the creation of the Preparedness Modeling Unit by the Centers for Disease Control and Prevention (CDC) in the U.S. The purpose of this unit is to coordinate, develop, and promote "problem-appropriate and data-centric" computer models that substantiate PHP decision making [2].
Of the existing computer simulation models addressing PHP, those focused on disease spread and mitigation of pandemic influenza (PI) have been recognized by the public health officials as useful decision support tools for preparedness planning [1]. In recent years, computer simulation models were used by the Centers for Disease Control and Prevention (CDC), Department of Health and Human Services (HHS), and other federal agencies to formulate the "U.S. Community Containment Guidance for Pandemic Influenza" [3].
Although the potential of the exiting PI models is well acknowledged, it is perceived that the models are not yet usable by the state and local public health practitioners for operational decision making [
1
,
4
–
6
]. To identify the challenges associated with the practical implementation of the PI models, the National Network of Public Health Institutes, at the request of CDC, conducted a national survey of the practitioners [
1
]. The challenges identified by the survey are summarized in Table
1
.
Table 1
A summary of the survey results on the challenges of practical use of PI models, as perceived by public health practitioners
| Challenge | Description of the challenge |
| --- | --- |
| A1. Validity of data support | Model parameters need to be derived from updated demographical and epidemiological data |
| A2. Credibility and validity of assumptions | Models need to use credible and valid assumptions |
| A3. Represent human behavior | Models need to incorporate human behavior |
| A4. Accessibility | Models need to be easily accessible and run on personal computers |
| A5. Scalability | Models need to be scalable to population specific data from regions of all sizes |
| A6. Awareness | Available models and best practices need to be disseminated among the practitioners |
| A7. Action plan | Need to translate models into uniform preparedness and response action plans |
| A8. Lack of resources | Need to fund staff allocation and specialized training for model implementation |
| A9. Political implications | Models need to consider second and third tier social implications of containment strategies |
| A10. Lack of mandates for models | State and federal agencies need to develop mandates for use of model-based strategies |
We divided the challenges (labeled A1 through A10 in Table 1) into two categories: those (A1 through A5) that are related to model design and implementation and can potentially be addressed by adaptation of the existing models and their supporting databases, and those (A6 through A10) that are related to resource and policy issues, and can only be addressed by changing public health resource management approaches and enforcing new policies. Although it is important to address the challenges A6 through A10, we consider this a prerogative of the public health administrators. Hence, the challenges A6 to A10 will not be discussed in this paper.
The challenges A1 through A5 reflect the perspectives of the public health officials, the end users of the PI models, on the practical usability of the existing PI models and databases in supporting decision making. Addressing these challenges would require a broad set of enhancements to the existing PI models and associated databases, which have not been fully attempted in the literature. In this paper, we conduct a review of the PI mitigation models available in the published research literature with an objective of answering the question: "how to enhance the pandemic simulation models and the associated databases for operational use at provincial and local levels?" We believe that our review accomplishes its objective in two steps. First, it exposes the differences between the perspectives of the public health practitioners and the developers of models and databases on the required model capabilities. Second, it derives recommendations for enhancing practical usability of the PI models and the associated databases.
Methods
In this section, we describe each of the design and implementation challenges of the existing PI models (A1-A5) and present our methods to examine the challenges in the research literature. In addition, we present our paper screening and parameter selection criteria.
Design and implementation challenges of pandemic models and databases
Paper screening criteria
The initial set of articles for our review was selected following the PRISMA reporting methodology, as applicable. We used the PubMed search engine with the keyword string "influenza" AND "pandemic" AND "model" in English language. A total of 640 papers were found which were published between 1990 and 2010. We filtered those using the following selection criteria (also depicted in Figure
1
).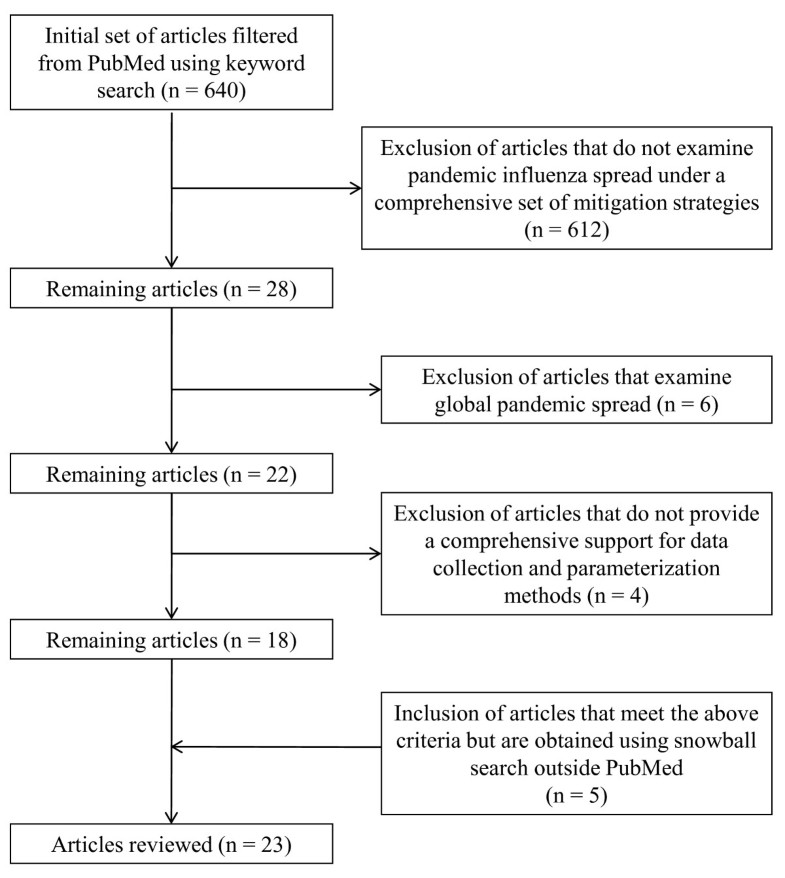 Articles that evaluate one or more strategies in each of the mitigation categories: social distancing, vaccination, and antiviral application. We limited the paper (by excluding models that do not consider all three categories) to contain the scope of this review, as we examined a large body of related papers from which our selected articles drew their parameters (see additional tables).

Articles with single-region simulation models. We defined single-region for the purpose of this review as either a country or any part thereof. Models presenting disease spread approaches without mention of any regional boundary were included, as these approaches can directly support decision makers at provincial and local levels. There exists a significant and important body of literature that is dedicated to global pandemic influenza modeling that aims at quantifying global disease spread [17–20], assessing the impact of global vaccine distribution and immunization strategies [18–20] and assessing the impact of recommended or self-initiated mobility behaviors in the global disease spread [21, 22]. As these overarching aims of the global models do not directly impact operational decisions of provincial and local policy makers during an evolving pandemic, we have not included them in our final selection of articles.

Articles that include data sources for most model parameter values and, when possible, specify the methods for parameter estimation. We included this criterion in order to evaluate models with respect to the challenge of "validity of data support." See Table 2 where we outline our evaluation plan. Clearly, models not satisfying this criterion would not support our review objectives.
Using the above filtering criteria, an additional snowball search was implemented outside PubMed, which yielded 5 additional eligible papers [
14
,
23
–
26
]and bringing the total number of papers reviewed to twenty-three. We grouped the twenty-three selected articles in eleven different clusters based on their model (see Table
3
). The clusters are named either by the name used in the literature or by the first author name(s). For example, all three papers in the Imperial-Pitt cluster use the model introduced initially by Ferguson et al. [
27
]. In each cluster, to review the criteria for the design and implementation challenge (A1), we selected the article with the largest and most detailed testbed (marked in bold in Table
3
). As stated earlier, credibility and validity of model assumptions (A2), were examined via two most commonly cited models in the pandemic literature [
14
,
15
]. The challenges A3-A5 were examined separately for each of the selected articles.
Table 3
Clustering of selected review articles based on model type
| Model cluster | Selected articles for review |
| --- | --- |
| Imperial-Pitt | Ferguson et al. 2005 [27], Ferguson et al. 2006 [14], Halloran et al. 2008 [28] |
| Wu | Wu et al. 2006 [29] |
| Ciofi | Ciofi et al. 2008 [30] |
| Arino | |
| UW - LANL | Longini et al. 2004 [33], Longini et al. 2005 [34], Germann et al. 2006 [15], Sander et al. 2009 [35], Chao et al. 2010 [23], Halloran et al. 2008 [28] |
| Gojovic | Gojovic et al. 2009 [36] |
| LOKI - INFECT | Glass et al. 2006 [24], Davey et al. 2008 [37], Davey et al. 2008 [38], Perlroth et al. 2010 [39] |
| Nuno - Gumel | |
| Roberts | Roberts et al. 2007 [42] |
| Influsim | Eichner et al. 2007 [43] |
| USF | |
Out of the ten model clusters presented in Table 3, eight are agent-based simulation models, while the rest are differential equation models. Also, while most of the models use purely epidemiological measures (e.g., infection attack rates and reproduction numbers) to assess the effectiveness of mitigation strategies, only a few use economic measures [26, 35, 39].
In our review, we examined epidemiological, demographical, and social-behavioral parameters of the pandemic models. We did not examine the parameters of the mitigation strategies as a separate category since those are functions of the epidemiological, demographical, and social-behavioral parameters. For example, the risk groups for vaccine and antiviral (which are mitigation parameters) are functions of epidemiological parameters such as susceptibility to infection and susceptibility to death, respectively. Another example is the compliance to non-pharmaceutical interventions, a mitigation strategy parameter, which can be achieved by altering the social behavioral parameters of the model.
Results and discussion
In this section, we present the results of our review of the models that evaluate at least one strategy from each mitigation category (social distancing, vaccination and antiviral application). We also identify areas of enhancements of the simulation based PI models for operational use.
Conclusions
Though the literature on pandemic models is rich and contains analysis and results that are valuable for public health preparedness, policy makers have raised several questions regarding practical use of these models. The questions are as follows. Is the data support adequate and valid? How credible and valid are the model assumptions? Is human behavior represented appropriately in these models? How accessible and scalable are these models? This review paper attempts to determine to what extent the current literature addresses the above questions at provincial and local levels, and what the areas of possible enhancements are. The findings with regards to the areas of enhancements are summarized below.
Enhance the following: availability of real-time epidemiological data; access and retrieval of demographical and epidemiological data; translation of data into model parameter values.
We analyzed the most common epidemiological and demographical parameters that are used in pandemic models, and discussed the need for adequate updating of these parameters during an outbreak. As regards the epidemiological parameters, we have noted the need to obtain prompt and reliable estimates for the IAR and R, which we believe can be obtained by enhancing protocols for expedited and representative specimen collection and testing. During a pandemic, the estimates for IAR and R should also be obtained as often as possible to update simulation models. For the disease natural history and the fraction of asymptomatic cases, estimation should occur every time viral evolution is confirmed by the public health laboratories. For periodic updating of the simulation models, there is a need to develop interfaces for (semi)automatic data access and retrieval. Algorithms for translating data into model parameters should not delay model execution and decision making. Demographic data are generally available. But most of the models that we examined are not capable of performing (semi)automatic access, retrieval, and translation of demographic data into model parameter values.
Examine validity of modeling assumptions from the point of view of the decisions that are supported by the model.
By referring to two of the most commonly cited pandemic preparedness models [15, 27], we discussed how simplifying model assumptions are made to reduce computational burden, as long as the assumptions do not interfere with the performance evaluation of the mitigation strategies. Some mitigation strategies require more realistic model assumptions (e.g., location based antiviral prophylaxis would require models that track geographic coordinates of individuals so that those within a radius of an infected individual can be identified). Whereas other mitigation strategies might be well supported by coarser models (e.g.,"antiviral prophylaxis for household members") would require models that track household membership). Therefore, whenever validity of the modeling assumptions is examined, the criteria chosen for the examination should depend on the decisions supported by the model.
Incorporate the following: a broader spectrum of social behavioral aspects; updated information for contact patterns; new methodologies for collection of human mobility data.
Some of the social behavioral factors that have been considered in the examined models are social distancing and vaccination compliance, natural withdraw from work when symptoms appear, and work absenteeism to care for sick family members. Although some of the examined models attempt to capture social-behavioral issues, it appears that they lack adequate consideration of many other factors (e.g., voluntary vaccination, voluntary avoidance to travel to affected regions). Hence, there is a need for research studies or expert opinion analysis to identify which social-behavioral factors are significant for disease spread. It is also essential to determine how the social behavioral data should be collected (in real-time or through surveys), archived for easy access, retrieved, and translated into model parameters. In addition, operational models for pandemic spread and mitigation should reflect the state of the art in data for the contact parameters and integrate recent methodologies for collection of human mobility data.
Enhance computational efficiency of the solution algorithms.
Our review indicates that some of the models have reached a reasonable running time of up to 6 h per replicate for a large region, such as the entire USA [14, 23]. However, operational models need also to be set up and replicated in real-time, and methodologies addressing these two issues are needed. We have also discussed the question whether the public health decision makers should be burdened with the task of downloading and running models using local computers (laptops). This task can be far more complex than how it is perceived by the public health decision makers. We believe that models should be housed in a cyber computing environment with an easy user interface for the decision makers.
Declarations
Acknowledgements
The authors wish to thank Doctor Lillian Stark, Virology Administrator of the Bureau of Laboratories in Tampa, Florida, for providing valuable information on the problems faced by the laboratory during the H1N1 pandemics. The authors also wish to thank the reviewers of this manuscript for providing valuable suggestions and reference material. We appreciate the support of Dayna Martinez, a doctoral student at USF, in providing some literature information on social-behavioral aspects of pandemic influenza.
Authors' Affiliations
(1)
Department of Industrial and Manufacturing Engineering, Western Michigan University, Kalamazoo, USA
(2)
Department of Industrial and Management Systems Engineering, University of South Florida, Tampa, USA
(3)
Department of Radiation Oncology, University of California - San Diego, La Jolla, USA
(4)
College of Public Health, University of South Florida, Tampa, USA
Copyright
© Prieto et al; licensee BioMed Central Ltd. 2012
This article is published under license to BioMed Central Ltd. This is an Open Access article distributed under the terms of the Creative Commons Attribution License (http://creativecommons.org/licenses/by/2.0), which permits unrestricted use, distribution, and reproduction in any medium, provided the original work is properly cited.