Research article

Open Access

Open Peer Review
This article has Open Peer Review reports available.
Australia's National Bowel Cancer Screening Program: does it work for Indigenous Australians?
BMC Public Health
2010
10:373
Received: 19 March 2010
Accepted: 25 June 2010
Published: 25 June 2010
Abstract
Background
Despite a lower incidence of bowel cancer overall, Indigenous Australians are more likely to be diagnosed at an advanced stage when prognosis is poor. Bowel cancer screening is an effective means of reducing incidence and mortality from bowel cancer through early identification and prompt treatment. In 2006, Australia began rolling out a population-based National Bowel Cancer Screening Program (NBCSP) using the Faecal Occult Blood Test. Initial evaluation of the program revealed substantial disparities in bowel cancer screening uptake with Indigenous Australians significantly less likely to participate in screening than the non-Indigenous population.
This paper critically reviews characteristics of the program which may contribute to the discrepancy in screening uptake, and includes an analysis of organisational, structural, and socio-cultural barriers that play a part in the poorer participation of Indigenous and other disadvantaged and minority groups.
Methods
A search was undertaken of peer-reviewed journal articles, government reports, and other grey literature using electronic databases and citation snowballing. Articles were critically evaluated for relevance to themes that addressed the research questions.
Results
The NBCSP is not reaching many Indigenous Australians in the target group, with factors contributing to sub-optimal participation including how participants are selected, the way the screening kit is distributed, the nature of the test and comprehensiveness of its contents, cultural perceptions of cancer and prevailing low levels of knowledge and awareness of bowel cancer and the importance of screening.
Conclusions
Our findings suggest that the population-based approach to implementing bowel cancer screening to the Australian population unintentionally excludes vulnerable minorities, particularly Indigenous and other culturally and linguistically diverse groups. This potentially contributes to exacerbating the already widening disparities in cancer outcomes that exist among Indigenous Australians. Modifications to the program are recommended to facilitate access and participation by Indigenous and other minority populations. Further research is also needed to understand the needs and social and cultural sensitivities of these groups around cancer screening and inform alternative approaches to bowel cancer screening.
Keywords
Cancer ScreeningIndigenous PeopleFaecal Occult Blood TestTorres Strait IslanderGeneral Practitioner
Background
Australia has one of the highest rates of bowel cancer in the world [1]. It is currently the second most commonly diagnosed cancer in men and women, and the third leading cause of cancer-related deaths in the country [2]. While mortality from bowel (also known as colorectal) cancer in the general population has declined in recent years, the situation among Aboriginal and Torres Strait Islanders (hereafter Indigenous) is not so encouraging, with some data showing that bowel cancer is increasing as a significant cause of premature death [3, 4]. Similar patterns have been observed in Indigenous populations across the world including Inuit and First Nations in Canada and Maori in New Zealand (N.Z), generally attributed to an increasingly westernised lifestyle [5–7].
Cancer screening aims to identify unrecognized disease in individuals at average risk who are asymptomatic. Only 40% of bowel cancers are detected in their early stages primarily because very few if any symptoms manifest until the cancer reaches an advanced stage, thus making screening an invaluable tool for cancer prevention [2]. Early diagnosis and intervention can substantially improve treatment outcomes and survival in patients diagnosed with bowel cancer.
Commencing with Phase 1 in 2006, Australia implemented a large, nation-wide organized screening program for the prevention and early detection of bowel cancer. Population screening programs require high uptake by the target group in order to make an impact on health and benefit the population being screened [8], however, participation by Indigenous Australians in the program has been poor [9, 10]. By recognising and addressing barriers to screening uptake, significant changes were made to the national cervical cancer screening program to accommodate for Indigenous women's needs, and we argue that a similar approach is necessary for the National Bowel Cancer Screening Program (NBCSP) [11].
This review provides a descriptive and critical analysis of Australia's NBCSP in order to identify key characteristics of the program that could inadvertently exclude and impact on participation by Indigenous people and other ethnic minorities. Specifically, it examines organizational aspects and socio-cultural barriers facing Indigenous Australians in accessing and engaging in a program which does not take into account their social and cultural diversity, and healthcare access inequities.
While our focus is on characteristics of the program that may discourage and hinder participation by Indigenous Australian, the issues highlighted are also relevant to other ethnic minority and disadvantaged groups and people living in remote locations. Such issues need open discussion in order to catalyse policy and program changes to ensure a more equitable and accessible program for all Australians.
Methods and Results
Search strategy and approach
This review draws upon the existing literature to identify problematic areas in the Australian NBCSP that need to be addressed to optimize the program for Indigenous people. The dearth of information available on Indigenous populations in relation to bowel cancer screening particularly in Australia, required that we broaden our examination to studies with minority and ethnic groups and also take lessons from breast and cervical screening studies which have been more extensively studied in Indigenous populations.
We undertook a search of the literature for material relevant to the following research questions:
What is the current state of bowel cancer and bowel cancer screening among Indigenous Australians?

How is the NBCSP disseminated and what may be influencing Indigenous participation?

Are there any aspects of the program which appear problematic and which could be modified to improve participation?
Similar to the critical interpretive synthesis approach, the process of literature searching was dynamic and reflexive with themes emerging as the literature was searched. This served to shape the content of the review [12]. In contrast with systematic reviews, where inclusion and exclusion criteria are defined at the outset, our approach was more appropriate in the context of limited availability of literature. Yet, our critique drew upon elements of a systematic review, including an initial methodical and structured search of the literature using electronic databases to synthesise and appraise the information available.
Peer reviewed journal articles were selected following a search of electronic databases including Proquest, Science Direct, Google Scholar, PubMed, Medline, Informit and ISI Web of Knowledge. Key search terms used included a combination of the following: Indigenous or Aboriginal with cancer screening, bowel cancer, colorectal cancer, colon cancer with screening; ethnic or racial minorities and disparities in colorectal or bowel cancer screening. Other search terms included, Native American and Alaska Native, Maori, First Nations, Inuit and Metis, ethnicity or ethnic minorities with colorectal or bowel cancer screening. Additional articles were obtained through citation snowballing. The Australian Indigenous Health InfoNet, the Australian Institute of Health and Welfare, the Australian Bureau of Statistics, Australian and State Cancer Council websites and published and unpublished government reports also provided useful information and links.
Publications were considered for inclusion if they addressed at least one of the above research questions and contained information about colorectal cancer incidence, mortality and survival or colorectal cancer screening participation in Indigenous populations and racial/ethnic minority groups. Articles examining knowledge, attitudes, beliefs and barriers toward colorectal cancer screening uptake and interventions to improve screening uptake in these populations were also included. Literature was not limited to Indigenous Australians or Indigenous populations because of the dearth of studies available. As literature on colorectal cancer screening in Indigenous Australians was minimal, papers looking at breast and cervical screening practices were included to identify participation levels, barriers and interventions for increasing uptake. Papers that did not refer to an Indigenous, minority or disadvantaged group were excluded.
1. Descriptive review
1.1 Bowel cancer in Indigenous Australians- epidemiology and data quality
Although bowel cancer is rarely noted as a significant health issues for Indigenous Australians, it is the third most common cancer after lung and breast in women, and lung and prostate in men, accounting for about 10% and 9% of all cancers respectively [13]. However, the lack of national data has meant that little information is available surrounding the impact of bowel cancer on Indigenous Australians. The Australian Institute of Health and Welfare (AIHW) reports that incidence and deaths from bowel cancer are much lower than the non-Indigenous population [13], although the true magnitude of bowel cancer is not clear due to problems associated with under-ascertainment of Indigenous status in cancer data collection registries. The Australian Government recognizes three criteria as determining Aboriginal and Torres Strait Islander status: - Indigenous descent; self-identification as an Indigenous person and acceptance of the individual as Indigenous by the Indigenous community [14]. Administrative data collections generally focus on self-identification to classify an individual as Indigenous, and while ascertainment of Indigenous status is improving over time in Australia, under ascertainment is an acknowledged problem with gaps in the data that affect the accuracy of statistics recorded [14]. Consequently, Indigenous cancers are thought to be underestimated by up to 20% and mortality up to 35% [13, 15, 16].
The observed low incidence and mortality from bowel cancer may be influenced by a number of other factors, including the high rate of incomplete or inadequate death certification and the large proportion of cancers of undefined primary site in registered Indigenous cancer records [13, 17]. Additionally, as cancer risk increases with advancing age, the substantially lower life expectancy of Indigenous Australians means they may die from other chronic conditions prior to cancer diagnosis [18]. Lower participation in cancer screening and the possibility that Indigenous people with bowel cancer may avoid seeking medical care for symptoms or accessing treatment could also reduce ascertainment of disease [19–22].
Age-standardized incidence rates from 2002-2004 suggest that the rate of bowel cancer in Indigenous Australians is about half that of the non-Indigenous population (39.7 vs 76.4 per 100 000 in males and 36.6 vs 52.4 in females; rate ratios are 0.5 for males and 0.7 for females) [13]. Incidence data collected from cancer registries (2002-2006) in three Australian states which have the most reliable data collections gave a slightly lower overall age standardized rate of 29.9 per 100 000 among Indigenous people compared to 64.7 per 100 000 in non-Indigenous [16]. However, these figures mask higher rates that exist in younger Indigenous Australians. Age-specific rates show that incidence was similar in non-Indigenous and Indigenous people up until age 50. Notably, men in the 40-49 year age group were found to have higher rates of rectal cancer than non-Indigenous men, attributed to greater consumption of alcohol. Supporting the increased burden at a younger age are findings from the Northern Territory (NT) indicating that incidence rate ratios were higher in Indigenous Australians under 64 years compared to those over 64 years (0.6 vs 0.2; 1991-2001) [3, 4].
Colorectal cancer (CRC) mortality estimates vary in different jurisdictions. In a NT study (1987-95), age standardised mortality rates in Indigenous people were about half that of non-Indigenous people [22], while in rural and remote Queensland and in New South Wales mortality rates were not significantly different between Indigenous and non-Indigenous people [15, 23]. A more recent NT analysis showed mortality rates were similar in Indigenous compared to non-Indigenous people under 65 years, but substantially lower in older ages, suggesting an interaction between age and Indigenous status [24]. This was further supported by recent results from four Australian states, where despite somewhat lower age standardised death rates in Indigenous people (17.9 per 100 000 compared to 19.8 in the non-Indigenous population) age-specific mortality rates were actually higher in Indigenous people under 60 years compared to the non-Indigenous population [25].
Indigenous Australians generally have higher mortality following a cancer diagnosis compared to non-Indigenous Australians, especially for those cancers which are amenable to early diagnosis and treatment [22, 26]. Later staging at diagnosis means patients present with more advanced disease and experience poorer treatment outcomes; Indigenous people also appear less likely to undergo and comply with treatment [19, 21]. This has also been shown to be true for CRC [21]. Thus, once diagnosed, Indigenous people are more likely to die from CRC compared to their non-Indigenous counterparts as reflected in the poorer five year survival rate. Condon et al. [21] found that nearly 90% of Indigenous people with CRC in the NT presented with advanced disease at diagnosis as opposed to 68% of the non-Indigenous group, and that five year survival was only 31% compared to 55% in the non-Indigenous group [4]. This pattern is consistent with CRC mortality and survival observed in Maori, Native Americans, Native Hawaiians, First Nations and Inuit [6, 27–31].
Reasons behind late presentation and delayed diagnosis have been explored in studies examining breast and cervical cancer in Indigenous people and include a low awareness of symptoms, delay in seeking medical advice, reduced access to and low quality primary care, diagnostic and specialist services, and a disinclination to seek advice for symptoms because of certain beliefs regarding cancer and the chance of successful treatment [4, 32]. Late presentation and poor survival is also influenced by communication and cultural barriers which may impact the effectiveness and choice of treatment, as well as the decision to engage in preventive and diagnostic activities including cancer screening [19, 20, 33]. The presence of other chronic diseases or environmental conditions also limits provision of treatment due to the risk of complications [4, 21, 26, 34].
National cancer screening programs can partly address the survival discrepancy in Indigenous Australians by facilitating early diagnosis. If implemented in a culturally sensitive manner, cancer screening can aid in reducing mortality from the disease [26]. This has been demonstrated in the NT and WA where cervical cancer mortality declined substantially following the provision of a culturally appropriate holistic cancer screening services [35–37]. However, Australia's national bowel cancer screening program in its current form has not taken such an approach, reflected in the very low uptake by the Indigenous population.
1.2 Bowel cancer screening and Australia's National Bowel Cancer Screening Program
Bowel cancer screening is an effective means of reducing the mortality and burden of CRC in the community through the early detection of abnormal changes in the bowel [38, 39]. It is an ideal malignancy to target for population screening and fits the World Health Organisation's criteria for suitability for population based screening [38]. Importantly, it has an identifiable early precursor lesion, usually in the form of an adenomatous polyp which in most cases is asymptomatic; it has a long latency period (for a polyp to become cancerous), thus providing an opportunity for early diagnosis; and there is a high cure rate if found with available effective treatment. Five year survival rates can be almost 90% if a tumour is detected in the earliest stages (Stage A) while still asymptomatic and localized. Once cancer has proceeded through the bowel wall, to the lymph nodes and beyond, five year survival is reduced to only 7% [38, 40]. In South Australia (SA), a monitoring system showed that only 15% of bowel cancers were detected at Stage A indicating that substantial potential improvements in survival could be achieved with earlier diagnosis [41].
Australia is one of a few countries implementing a formal, government funded, population-based CRC screening program - others include the UK, Canada, France, Italy and Finland [42–44]. Following a bowel cancer screening pilot program in 2002-2004 which examined the feasibility, acceptability and cost-effectiveness of the program in the Australian community, the first phase of the National program was rolled out in 2006 and was offered to people turning 55 and 65 years of age. The second phase began in July 2008 and expanded eligibility to all men and women turning 50, 55 or 65. The program targets only specific ages due to limited funding and to ensure that health services can cope with the increased service demands [9]. The target population age range was chosen based on the National Health and Medical Research Council guidelines which indicated the risk of developing bowel cancer increases significantly over the age of 50 years, with over 90% of those diagnosed with CRC in Australia aged over 50 [25].
Funding for the NBCSP has been secured only until 2011, allowing for once-off testing of the population - despite the fact that the mortality benefit associated with screening depends on regular participation [45]. The program is freely available to people aged 50, 55 and 65 years only and no plans have been announced for second yearly screening. If fully implemented to a broader age range and with ongoing screening rounds, the program could potentially save up to 2,000 lives per year in Australia [46]. Furthermore, sequential screening can also provide an estimation of incidence (new disease) since last screen, as opposed to the initial screening round which cannot differentiate between new and old cases.
The Bowel Cancer Screening Implementation Committee chose the faecal occult blood test (FOBT), a simple non-invasive test that detects small amounts of blood in the bowel motion, as the test of choice for population screening in Australia. The presence of blood in faeces is a sign that abnormalities such as a precancerous lesion or cancer may be present in the bowel. Landmark trials have shown that regular population screening using FOBT can reduce the risk of death from CRC by up to 33% in those who (regularly) participate [39, 45, 47]. FOBT is the only screening test for CRC where evidence from RCTs demonstrated a reduction in mortality [48], although the trials used the guaiac FOBT (gFOBT) as opposed to immunochemical FOBTs (iFOBT), the test used in Australia. One recently completed RCT using the iFOBT demonstrated increased detection and compliance, although long-term mortality benefits have yet to be demonstrated [49].
The screening pathway is shown in Figure
1
. Screening test kits are mailed to individuals following identification of eligible program participants from enrolment in the national healthcare insurance scheme (Medicare). Kits are completed at home by taking samples of two consecutive bowel motions and mailed back to a pathology laboratory for testing without cost to the patient. Results are sent back to participants and their nominated GP (if one has been nominated). For positive tests, a letter advises participants to visit their GP to discuss a follow-up procedure, namely colonoscopy. A bowel cancer screening register has been established within Medicare to assist in follow-up of those with positive tests not undergoing colonoscopies, rescreening of participants, and to aid data collection, monitoring and evaluation [
9
]. The data obtained are collected via forms filled in by the individual, their GP, colonoscopist and others involved. As completion of the forms is not compulsory, a large amount of information is incomplete or missing [
25
].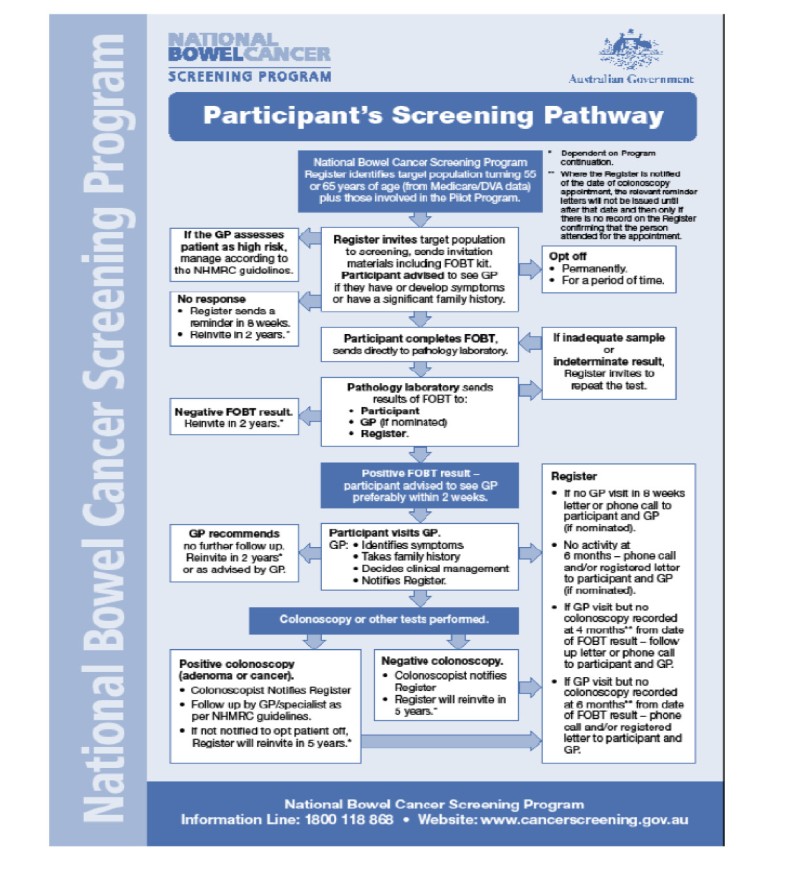 The sensitivity and specificity of FOBT varies by test type and manufacturer. Sensitivity is in the order of 60-85% for iFOBTs when used regularly within a program, although with once-off testing this drops to 30-50% [48]. The iFOBT (MagStream 1000/Hem SP) currently used in the Australian program has a sensitivity of 66% for cancer and 20% for polyps over 1 cm [50–52]. Hence, many false positives occur, resulting in high numbers of follow-up colonoscopies. Of those who have a positive FOBT, about 5-10% will have CRC, and 20-35% will have an adenoma identified [41]. Test outcomes and the ability of the test to identify CRC are not usually fully understood or made apparent to the public, yet are important when weighing up the risks and benefits associated with participation in the program [53].
In 2009, nearly half a million testing kits were recalled and the program was temporarily suspended for six months after an unusual decline in the number of positive test results, assumed to be due to faulty kits. Testing resumed in November 2009 with a new kit that was initially distributed to re-screen those who received the faulty kits [54]. However, the new kit is recommended for use only up to 30 degrees Celsius creating potential problems for many regions, particularly in the north of Australia where a large proportion of Indigenous people reside. The new screening kit will not be sent to these regions initially, creating even further inequities in access. Much greater thought and effort needs to be put into the problem of differential access to the program.
1.3 Indigenous participation and test profile - results of National Bowel Cancer Screening Program monitoring reports, 2006-2008
Adequate levels of participation are essential for the success of a screening program in reducing mortality from CRC and for population benefit equating to that attained in randomized controlled trials [8]. It is also an important contributor to the cost-effectiveness of the program in terms of number of lives saved and costs saved by averting a cancer diagnosis [8, 55]. Monitoring reports completed in 2007, 2008 and 2009 details performance of the program from 2006-2008 [10, 25, 56].
Overall participation in the Australian NBCSP was 37.6% by the end of 2008 however, participation was lower than that observed during the pilot (45.4%). The average positivity rate was 6.6%, significantly higher among men than women which is reflected in higher incidence rates [
25
]. Table
1
details variation in participation, positivity rate and proportion of correctly completed tests according to demographic factors.
Table 1
Participation in the NBCSP according to Indigenous status, gender, SES, geographic location and language spoken
Participation rate

Gender

Males

Females

Total

Females 1.2 times more likely to participate than males

36.2 *(2008)

43.3* (2008)

39.7

36.0 (2009)

42.6 (2009)

39.3

Indigenous Status#

Non-Indigenous

Indigenous

Total

Indigenous people are 2.3 times less likely to participate Than non-Indigenous people

38.6 (2008)*

17*(2008)

38.3

37.0*

17.0*

45.4 (Pilot)

SES

Lowest SES

Highest SES

Participation significantly lower in the most disadvantaged quintile compared to any other quintile

37.5*(2008)

41* (2008)

Geographic Location

Very Remote

Remote

Outer Regional

Inner Regional

Cities

Total

Proportion of those who participate was significantly lower in remote and very remote compared to the national level. Participation was significantly higher in inner regional compared to other areas.

25.6*(2008)

35.5

40.9

43.7

38.4

39.7*

25.0(2009)

39.1

40.1

Spoken language

English as preferred language

Other language preferred

Those whose preferred correspondence language was English were 1.6 times (2008) and 2.9 times (2009) more likely to participate

42.2* (2008)

27.0* (2008)

41.1* (2009)

14.0* (2009)

FOBT Positivity rate

Gender

Males

Females

Total

8.9*

6.4*

7.5 (2008)

7.7

5.7

6.6 (2009)

Indigenous Status#

Non-Indigenous

Indigenous

Not statistically significant difference due to small numbers

7.5 (2008)

8.6 (2008)

6.6 (2009)

8.1 (2009)

Geographic location

Very Remote

Remote

Outer Regional

Inner Regional

Cities

Total

8.7*(2008)

8.7*(2008)

8.6*

7.9*

7.2*

7.5

8.4 (2009)

7.8 (2009)

7.3 (2009)

6.4 (2009)

SES

Low SES

Highest SES

7.8 (2009)

5.5 (2009)

Proportion of correctly completed tests

Indigenous status#

Non-Indigenous

Indigenous

Significantly lower in Indigenous compared to non-Indigenous participants. Indigenous females aged over 65 have lowest correctly completed tests

96.3 *

93.9 *

Preferrred language

English

Other

Total

Significantly lower number of correctly completed tests among those whose preferred language is not English

96.7*

91.7 *

96.2

Disability status/activity limitation#

Severe or profound

None

Total

Significantly lower number of correctly completed tests in those with activity limitation

90.6*

96.5*

96.2

Geographic location

Very Remote

Remote

Outer regional

Inner regional

Major cities

Total

96.0

97.4*

96.8*

96.9*

95.8*

96.2

Primary Practitioner visits after a positive test

Indigenous status#

Indigenous

Non-Indigenous

Total

No significant difference

46.4

43.7

43.2

Preferred language

English

Other language

Those with a preferred language other than English were significantly less likely to visit a GP after a positive test result.

43.6*

40.0*

SES

Lowest SES

Highest SES

Those in the most disadvantaged quintile were significantly more likely to see a GP following a positive test result

43.9*

40.4*
Analyses up until mid-2008 showed Indigenous participation was 17% - less than half the non-Indigenous rate [10]. In the 2009 monitoring report which documented results from 2008 only, Indigenous people were 2.2 times less likely than non-Indigenous to participate in the screening program [25]. However, Indigenous identification of participants in the program was through self-report and was completed by only 63% of participants. Another important finding from the 2008 report was that Indigenous people were significantly less likely to complete the FOBT correctly, with Indigenous females aged over 65 years having the lowest rate of correctly completed tests [10]. Indigenous people also had higher FOBT positivity rates although this was not significant due to the small sample size [25]. The proportion of correctly completed tests was also significantly lower for people who nominated a language other than English as their preferred language [10]. Significant differences were also observed according to geographic location, with inner regional areas having the highest rates of participation while those in remote and very remote areas (where 26% of Indigenous Australians reside) were significantly less likely to participate. Participation also fell with lower SES [10], and those in the most disadvantaged lowest quintile of the population were significantly less likely to follow up a positive result with their GP. Indigenous Australians are disproportionately represented in this quintile.
Substantial numbers of unreturned health provider forms make it impossible to determine how many Indigenous (or other) people with positive FOBTs went on to complete a colonoscopy. For the entire program, only 42% of participants with a positive FOBT had a colonoscopy recorded. The remaining participants either did not have a colonoscopy or the colonoscopy report was not returned [25]. Lack of quality surveillance information compromises the assessment of actual population benefits and the impact on the incidence and mortality from CRC, particularly on population subgroups. Despite this, a recent analysis by Ananda et al [57] assessing the initial impact of the NBCSP from mid 2006 to mid-2008, reported its success in identifying CRC at an earlier stage. This study utilised linked data from hospitals across Australia to gather information on CRC cases reported by surgeons and found that 40% of cancers identified through the NBCSP (N = 40) were at Stage 1- the most treatable stage, compared to 14% among individuals who presented with symptoms to their doctor [57].
Critical Review and Interpretation
Discussion and Conclusion
Bowel cancer screening can provide important benefits and reduce mortality from bowel cancer. However, organised nationwide screening programs such as that introduced in Australian may overlook the needs and beliefs of minority groups, including Indigenous Australians, given their focus on what is most cost effective for the country as a whole. Strategies and interventions at several levels are needed to improve CRC screening uptake and reduce access inequities. These range from policy and program changes to remove many of the structural barriers, to targeting individual, behavioural and attitudinal variables and enhancing provider knowledge and incentives.
There is a need to understand the reasons behind the low participation of Indigenous and CALD groups in greater depth. Research and consultation with Indigenous populations is needed to elucidate the barriers most impacting on participation and to better understand what will work for Indigenous people and other minority groups in Australia - to date, largely unexplored. Results from pilot studies in Queensland and Victoria investigating alternative mechanisms for delivering the screening kits to Indigenous populations will be informative when available, and should shed some light on effective strategies to improve participation. However, as it is unlikely that the screening test of choice will be changed in the near future, several modifications to the current program can be made in the shorter term to enhance access to the program for Indigenous Australians and are detailed in Table
6
.
Table 6
Recommendations for alterations to Australia's NBCSP to improve access and participation for Indigenous Australians
Recommendations
1) Alternative means of distribution of FOBT test kits
Provide an alternative mechanism of delivery and return of kit (to target those who may not have a post box or Medicare enrolment). This could entail supplying hospitals and AMSs with kits to distribute to increase opportunistic screening.
2) Dedicated health personnel for follow-up and support
Ensure there is a dedicated health worker knowledgeable about the program to follow-up individuals receiving a kit and to provide personalised advice, education and assistance with completing the test. Intensive support of Aboriginal people will be necessary for increasing screening uptake.
3) Integration of screening into primary care/general chronic disease management
GPs have an important role in actively encouraging participation in screening [96], however many GPs are neither supportive of or knowledgeable enough about the program nor do they have time to discuss screening with patients [138, 139]. Their key role in the program means that whether a patient has a regular GP or not can affect participation and attendance to follow up procedures. (If an individual receives a positive test but has not nominated a GP, then is it is up to the individual to follow up their test result)
The key role of the GP in activating post screening diagnostic and follow up requires reconsideration of alternative approaches using either dedicated health professionals or centralised screening centres to support a greater number of people having access to the screening kit and opportunities for referral. Opportunistic screening through file tagging is also another potential way in which to improve participation [140].
Completion of forms by GPs and colonoscopists should be mandatory as should identification of Indigenous status in order to attain greater quality data that will give an indication of the burden of bowel cancer and how the program impacts on incidence and mortality, and levels of follow-up and treatment. This is also important for the general population. Perhaps greater incentives for health professionals may be needed for this as presently GPs receive $7.70 for each form submitted [95].
The administrative role of GPs in the program is poorly defined and needs attention with accountability and responsibilities clarified, and appropriate interventions implemented to increase GP's awareness of their roles and responsibilities [95].
4) Improve health promotion and availability of culturally relevant educational materials
Greater coverage of bowel cancer screening in health promotion campaigns and the media is needed to increase general knowledge and awareness in the population. This will also help to remove the shame and stigma associated with discussing bowel cancer. Promotional activities should occur prior to individuals receiving the kit so that there is some awareness and expectation of the test.
Increase the availability of culturally appropriate, Indigenous-specific educational resources, if possible in local languages and including local terms for main parts of the body. Translated materials were available in 13 languages for CALD groups during the pilot therefore it should be possible to make information and brochures available in Indigenous languages.
To overcome the literacy barrier, greater emphasis on pictorial methods of education including videos and diagrams should be included with the screening kit.
5) More community-based participatory research into Indigenous understandings and perceptions of bowel cancer
Further research into Aboriginal understandings and perceptions of CRC and CRC screening, including knowledge, beliefs and attitudes is necessary to inform appropriate approaches for intervention and resources. This includes a greater emphasis on participatory methods of health promotion.
6) Implement ongoing annual or biennial screening for CRC
Currently the NBCSP is offering only once of testing to the Australian population and only to those in the specified age brackets. Provision of funding for ongoing rounds of screening are necessary for not only targeting a greater number of people and enhancing opportunities for screening uptake, but allowing time for familiarization with the program[141].
7) Ensure Indigenous Australians have access to FOBT kits from the age of 45 years
Given the younger age at which CRC is occurring among Indigenous people, consideration should be given to ensuring screening kits are available to Indigenous Australians from the age of 40-45 years.
The nature of the NBCSP may exacerbate the wide disparities in cancer outcomes that exist between Indigenous and non-Indigenous Australians; the programme design favours participation by the majority and unintentionally excludes disadvantaged and remote populations, perpetuating prevailing health inequities. This review provides evidence that the program needs to be modified to facilitate access to and participation by Indigenous people and other minority populations through a more community-based, people-friendly approach, better integrated into primary health care. Modifications such as those we have described are needed, taking into account epidemiological differences, life circumstances, and specific participation barriers experienced by Indigenous people.
Declarations
Acknowledgements
This work was undertaken with financial support from the Western Australian Department of Health. We thank Gloria Sutherland and Kathleen O'Connor for support to identify how the national bowel cancer screening might be improved for Indigenous people.
Authors' Affiliations
(1)
Centre for International Health, Curtin University of Technology, Perth, Australia
(2)
Combined Universities Centre for Rural Health, University of Western Australia, Geraldton, Australia
Copyright
© Christou et al; licensee BioMed Central Ltd. 2010
This article is published under license to BioMed Central Ltd. This is an Open Access article distributed under the terms of the Creative Commons Attribution License (http://creativecommons.org/licenses/by/2.0), which permits unrestricted use, distribution, and reproduction in any medium, provided the original work is properly cited.