Research article

Open Access

Open Peer Review
This article has Open Peer Review reports available.
Improving heart health among Black/African American women using civic engagement: a pilot study
BMC Public Health
BMC series – open, inclusive and trusted
2017
17:112
Received: 2 June 2016
Accepted: 20 December 2016
Published: 24 January 2017
Abstract
Background
Despite increased risk for cardiovascular disease (CVD) and related conditions, evaluations of health interventions indicate that Black/African American women are less likely to benefit than their white counterparts and are not as likely to engage in behaviors that reduce CVD risk. The purpose of this study was to test the feasibility and effectiveness of civic engagement as an intervention strategy to address heart health in Black/African American women.
Methods
Using a quasi-experimental pre-post study design, civic engagement was tested by convening a convenience sample of self-identified Black/African American women, ages 30–70 years, English-speaking, and BMI ≥25.0 (n = 28) into "Change Clubs" in four churches. Feasibility was examined through adherence, satisfaction, retention, and ability of Change Clubs to meet at least 50% of self-identified action steps for community change. Effectiveness data included: dietary intake, measures of physical activity, cardiorespiratory fitness, blood pressure, and anthropometrics. Psychosocial factors hypothesized to serve as the mechanisms by which civic engagement enacts behavior change were also assessed.
Results
At baseline, the study sample (n = 28) had a mean age of 50.5 y; 53.6% had an associate degree or higher; 60.7% had an income of $35,000 or higher; and 57.4% were employed full time. At the conclusion of the study, all participants were satisfied with the progress of their Change Club and with the overall experience and Change Clubs met their self-identified action steps for community change. The intervention had a significant effect on finish time on the cardiorespiratory fitness test (p < 0.001) and systolic blood pressure (p < 0.001).
Conclusions
Study results suggest feasibility and evidence of preliminary effectiveness of using a civic engagement approach to address behavior change in a way that is appealing and acceptable to Black/African American women.
Trial registration
Keywords
Cardiovascular disease
Blacks/African Americans
Lifestyle behaviors Socioecological model
Health disparities
Background
The prevalence of diet- and behavior-related diseases and conditions, such as overweight and obesity, hypertension, and cardiovascular disease (CVD), are higher among Black/African Americans in comparison to other racial groups [1]. For example, 82% of Black/African American women age 20 years or older are overweight or obese, compared to 61% of white women, and few Black/African American women meet dietary or physical activity guidelines [1]. According to the American Heart Association, the prevalence of hypertension and CVD among Black/African American females (≥20 years) is 46% and 48%, respectively [1].
Despite increased risk for CVD and related conditions, Black/African American women are not as likely to engage in behaviors that reduce CVD risk [1], and evaluations of health interventions indicate that Black/African American women are less likely to benefit than their white counterparts [2–5]. These differences in effectiveness could be due to a variety of factors including, cultural appropriateness of interventions, time constraints and adherence to interventions, and resources [2–5]. The relatively few interventions developed specifically for Blacks/African Americans indicate that it is possible to achieve significant improvements in risk behaviors and biological parameters when culture, values, beliefs, and unique barriers are taken into account [6–14]. Despite this evidence and the large disparities in CVD risk, few gender- and culture-specific CVD prevention interventions exist [8, 11–15].
The African American Collaborative Obesity Research Network (AACORN)—a collaboration of U.S. researchers, scholars, and community-based research partners dedicated to addressing weight-related concerns in Black/African American communities—emphasizes the importance of engaging community members in the planning and implementation of interventions [16]. Specifically, the AACORN research paradigm recommends an eco-social, community-engaged approach to behavior change as most appropriate and effective in Black/African American communities [16]. AACORN further asserts that recognizing the historical and social contexts, cultural and psychosocial processes, and the physical and economic environments that influence health behaviors among the Black/African American population is essential to effective health promotion in this population. Interventions should therefore not only embody the culture of Black/African American communities (i.e., values of interconnectedness, religiosity, and importance of family), but also be framed in the context of environmental and policy-level factors [17]. An additional critical consideration noted by AACORN is the heterogeneity (i.e., ethnicity, socioeconomic status, and education) among the Black/African American population and how an understanding of and responsiveness to this multidimensionality of the study population must underlie the development of programs and interventions if they are to be effective [4].
The objective of this pilot study is to test the operationalization of the AACORN paradigm through a civic engagement approach. Civic engagement, defined as "individual and collective actions designed to identify and address issues of public concern" [18], is an innovative approach to behavior change. In 2011, several members of the research team conducted a preliminary project examining this strategy for health promotion among predominantly white women [19]. Participants gathered in "Change Clubs" (also referred to as the civic engagement approach), and engaged in a community audit designed to increase awareness about their food and physical activity environments. They then self-identified a specific community change objective, such as improving snacks in after school programs or advocating for traffic calming measures to improve community walkability. Through the Change Club curriculum, groups were led through a process of setting action steps and monitoring progress. Seven of eight clubs were successful in meeting at least half of their benchmarks [19]. Although not evaluated in that project, this process may also lead to change in individual health behavior.
Informed by the AACORN paradigm, our study framework (Fig.
1
) depicts the mechanisms by which civic engagement may affect behavior change at each level of the eco-social model (i.e., individual, interpersonal, organizational, community, public policy) [
20
]. At the individual level, civic engagement fosters self-regulation (goal-setting and monitoring) and self-efficacy, which are associated with healthier dietary behaviors, regular physical activity, and weight status [
21
–
27
]. The study framework also suggests civic engagement will decrease perceived stress through empowerment, or acting in a self-determined manner to effect change in the public sphere [
28
]. At the group/collective level, by identifying and changing environmental factors affecting community health, the group gains a sense of collective efficacy to create collective change [
29
]. The group itself provides social support, known in the literature to positively affect health behaviors [
30
,
31
]. It is also anticipated that there is a positive interaction between individual-level changes and collective efficacy of the group by which changes at each level reinforce the other [
29
]. At the community/environment level, civic engagement is designed to promote environmental and policy changes that further support personal and collective efficacy and behavior change through reciprocal determinism [
29
]. Per the AACORN paradigm, the civic engagement process reveals community strengths that can be leveraged for health promotion [
16
].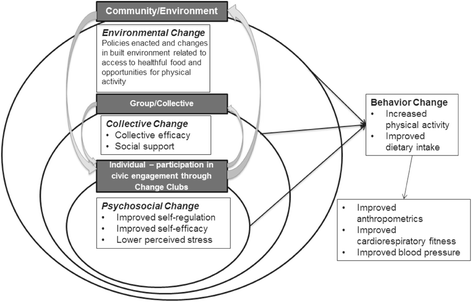 It is hypothesized that the Change Club civic engagement approach would be culturally appropriate for Black/African American women, since it places the focus on collective health and builds on cultural strengths such as interconnectedness, importance of community, and care for others. The purpose of this study was to determine feasibility and preliminary effectiveness of civic engagement as a way to affect changes in CVD-related behaviors and outcomes in this population. The study also aims to determine trends and obtain data to allow calculation of an adequately powered sample in a larger study.
Discussion
The findings suggest that a civic engagement approach to behavior change among Black/African American women demonstrates a level of feasibility and preliminary effectiveness. There are notable strengths and weaknesses of the study. One strength is the demonstration of feasibility via several indicators. Observed rates of adherence and retention were comparable and in some cases better than in previous weight loss interventions that only included Black/African American women. For example, in a review by Fitzgibbon et al., retention rates ranged from 72% to 80%, and adherence was 83% in the one quasi-experimental study that included this metric [2]. In comparison, retention and adherence rates among Black/African American women subjects in interventions including multiple races were as low as 37% and 41%, respectively [2]. Our study therefore further supports the literature suggesting that interventions may be most acceptable to Black/African American women if they are culturally appropriate and tailored. The results should be interpreted with caution, however, given that adherence was not measured for the last 3 months of the intervention (discussed more below). Additionally, the somewhat higher financial inventive designed to compensate for the participant burden may have influenced the response rate, and the feasibility of sustaining this incentive amount in future large studies should be re-examined. Post-intervention results from both the quantitative and qualitative sources indicate that the study participants were highly satisfied with their Change Club experience. For example, a key theme of the KIIs was that the overall experience was described as being positive. The KIIs suggested that the participants believed they were successful in inspiring and motivating their communities suggesting a positive influence of the empowerment and civic engagement. Study results also indicate preliminary effectiveness, with pre-post improvements in dietary intake, physical activity levels, cardiovascular fitness, and blood pressure. Considering the prevalence of hypertension among Black/African American women, the significant decrease in systolic blood pressure is promising. While changes in blood pressure are often seen with weight loss, interestingly these changes were present independent of changes in weight. Physical activity is considered an independent contributor to lowering blood pressure, and may have contributed to the reductions in systolic blood pressure among study participants [55–57].
Despite the promising results, there are limitations that should be discussed. It was not feasible to obtain attendance data for the final 3 months of the intervention after the research facilitator stepped away. Additionally, while the intervention was originally designed for the Change Clubs to advocate for policy changes within their communities, a study finding worthy of further investigation is the domain of influence and impact chosen by the Change Clubs. Each Change Club identified a community-level, programmatic intervention to implement over the 6-month study instead of reaching the (arguably) more impactful policy-level domain. This finding could be attributed to a greater confidence within the Black/African American community of grassroots community processes and neighborhood-based programs rather than political advocacy and engagement with historically disenfranchising political structures [58, 59]. For example, none chose to try to enact broader change by engaging in political advocacy. The curriculum may need to be enhanced to bolster the aspect of political engagement and activism. The Change Clubs, however, decided on manageable programs to implement within the timeframe, and realized success at meeting their action steps. This is supportive of the study framework, in that setting and achieving realistic goals may have increased self-regulation and self- and collective-efficacy, leading to behavior change. Although not adequately powered to see changes in the psychosocial outcomes, pre-post changes in these factors are consistent with the study framework. Anticipated future work will include a larger, randomized, controlled trial adequately powered for mediation analysis to best evaluate the hypothesized mechanisms.
Another noteworthy unanticipated outcome included the increase in perceived stress post intervention, although the change was not statistically significant. This was unexpected given the anticipated increase in empowerment, as well as the increase in social support and camaraderie through group interactions. A possible explanation for this finding is that stress increased due to the additional obligation of being a part of the Change Club. This explanation is supported by the qualitative data, in which the participants described time constraints, uneven participation by group members, and conflicting commitments. Creative strategies to overcome barriers and the stress of participation should therefore be explored in future studies. These might include the facilitation of off-site participation through conference calls and video conferencing.
There is a growing body of evidence on culturally adapted interventions specifically designed to improve diet and weight outcomes for Black/African American women. In a systematic review of interventions with culturally adapted strategies for this at-risk target population, the authors categorized culturally adapted strategies as peripheral (targeted recruitment of Black/African Americans in the media and community), constituent–involving (engagement of the community in the planning and implementation of the intervention), socio-cultural (address themes such as spirituality, religiosity, faith, traditional and cultural foods, social support, barriers, and body image), and evidential and linguistic (consideration of scientific evidence and participant literacy levels) [60]. The review found more significant changes in behavior and weight when constituent-involving strategies were used, which is the strategy utilized in the Change Club civic engagement curriculum.
A finding also noted by Kong et al. and in the AACORN paradigm is the need to consider ethnic diversity among the Black/African American population and further examination of how this will influence the development of future interventions [16, 60]. In this study, recruitment of foreign-born women was somewhat reflective of the state's Black/African American population (21.4% foreign-born in the study vs. 32.8% in the state) [61]. Although data are not shown, score on the African American Acculturation Scale was not found to be associated with place of birth. However, other results from this study suggest the importance of place of birth in predicting changes in weight, body fat percentage, diastolic blood pressure, and total accelerometry counts. As Kong et al. described, involving the community in the development and implementation of interventions is particularly critical to better understand the target population and recognize the heterogeneity among the group [60]. Future studies with larger sample size should pay greater attention to how cultural variables and ethnicity relate to study outcomes and possible mediation of the influence of the intervention.
The intent of this pilot study was to determine trends and obtain data that would allow for calculation of an adequately powered sample in a larger study, should results prove promising. By design, the sample size was small with a goal of recruiting 40 participants from four churches. Due to unanticipated recruitment challenges, however, the sample size was smaller, which is another study limitation. Recruitment strategies, therefore, needed to be tailored for each church based on church culture, internal systems, and leadership structure. Church leadership and potential study participants were nearly universally enthusiastic about the study, however recruitment required more steps than anticipated, such as development of several different forms of recruitment materials and presentation to and approval by the church's governing body or health ministry. It therefore required more time than anticipated, a key learning for future studies.
Overall, study results suggest the cultural appropriateness and efficacy of civic engagement as an approach to behavior change of Black/African American women. Significant improvements in behavioral outcomes such as self-reported physical activity, cardiovascular fitness, and systolic blood pressure were realized. The small sample size suggests that the results should be interpreted with caution, however these noteworthy and promising results provide justification for a larger study. Interestingly, subjective measures of physical activity improved significantly, objective accelerometry-based physical activity data changed in the expected direction but was not significant. This could be due to an increased awareness in physical activity habits as a result of participating in the study. As shown in the significant decreases in their pre-post walk times, the study participants also improved their cardiorespiratory fitness. Overall, the study demonstrated positive impacts on dietary intakes, which counters the (albeit non-significant) pre-post increases in weight. One possible explanation supports the fit and fat concept, in which study participants became fitter throughout the intervention, despite not losing weight [62]. There was also an unexpected pre-post increase in waist circumference, which was statistically significant. A growing body of literature suggests an association between abdominal adiposity, obesity, and stress through the action of increased cortisol, which could provide a possible explanation for the observed results of increased perception of stress and waist circumference [63, 64]. Future larger scaled studies may explore this possibility given the prevalence of stress and stress-related diseases in this population.
A major consideration in the interpretation of the results of this pre-post feasibility study is the lack of a comparison group and the small sample size. The changes found therefore cannot be definitively attributed to the intervention itself, given other possible contributing factors. Furthermore, participants received both the Change Club civic engagement curriculum as well as nutrition education based on an effective heart health program for women [33]. However, only education was provided and behavioral components such as skill-building and actual physical activity were not included. It is therefore unlikely that the education alone was responsible for changes in outcomes. A larger, randomized, controlled trial with three study arms (control, nutrition education only, and the Change Club civic engagement intervention) would fully resolve this question.
Conclusions
Overall, this novel behavior change intervention involving civic engagement shows promise as an effective, culturally-appropriate approach not only to implement individual-level changes of the study participants but also individuals of the broader community in order to address heart disease among Blacks/African Americans overall.
Abbreviations
AACORN:

African American Collaborative Obesity Research Network
IPAQ MET:

International Physical Activity Questionnaire Metabolic Equivalent
PAR:

Physical activity recall
Declarations
Acknowledgments
We wish to acknowledge the Tufts Clinical and Translational Science Institute (NIH CTSA award UL1TR001064) for assistance with preparation of the grant proposal, the participating churches, study participants, and research assistants (Deena Altschwager, Claire Anglim, Maria Berrone, Nicole Chenard, Rich Fair, Cailin Kowaleski, Shenglin Zheng).
Funding
Boston Nutrition Obesity Research Center, Tisch College of Citizenship and Public Service, and Aviva Must, PhD.
Availability of data and materials
While the data are de-identified, these data come from a highly targeted population in a limited geographic area. Therefore, to prevent the possibility of identity disclosure, the data are not available in a public repository. However, data will be made available to other researchers via a data-sharing agreement.
Authors' contributions
AB contributed to the development and implementation of the intervention curriculum, managed the data collection and analysis processes, and helped to draft and edit the manuscript. LH assisted with the study design and theoretical framing, facilitated aspects of the intervention, and provided critical input on important intellectual content of the manuscript. KC conducted all analyses for the pilot intervention study, assisted with the development of the analysis plan, and provided critical input on the development of the manuscript. NT conducted the qualitative analysis and contributed to the manuscript preparation and editing. RS contributed to the development of the intervention curriculum and provided critical input the development of the manuscript. SF conceived of the study design and theoretical framing, guided the data analysis process, and helped to draft and edit the manuscript. All authors read and approved the final manuscript.
Competing interests
The authors declare that they have no competing interests.
Consent for publication
All participants signed a consent form confirming consent for publication.
Ethics approval and consent to participate
The Tufts University Health Sciences Institutional Review Board approved all study procedures (IRB # 11244). All subjects provided consent and permission to participate in the research study.
Open AccessThis article is distributed under the terms of the Creative Commons Attribution 4.0 International License (http://creativecommons.org/licenses/by/4.0/), which permits unrestricted use, distribution, and reproduction in any medium, provided you give appropriate credit to the original author(s) and the source, provide a link to the Creative Commons license, and indicate if changes were made. The Creative Commons Public Domain Dedication waiver (http://creativecommons.org/publicdomain/zero/1.0/) applies to the data made available in this article, unless otherwise stated.
Authors' Affiliations
(1)
Department of Public Health and Community Medicine, Tufts University School of Medicine, Boston, USA
(2)
Moakley Center for Public Management, Suffolk University, Boston, USA
(3)
Tufts University Friedman School of Nutrition Science and Policy, Boston, USA
(4)
Cornell University College of Human Ecology, Ithaca, USA