Debate

Open Access

Open Peer Review
This article has Open Peer Review reports available.
Strategies to increase demand for maternal health services in resource-limited settings: challenges to be addressed
BMC Public Health
2015
15:870
Received: 23 March 2015
Accepted: 4 September 2015
Published: 8 September 2015
Abstract
Background
Universal health access will not be achieved unless women are cared for in their own communities and are empowered to take decisions about their own health in a supportive environment. This will only be achieved by community-based demand side interventions for maternal health access. In this review article, we highlight three common strategies to increase demand-side barriers to maternal healthcare access and identify the main challenges that still need to be addressed for these strategies to be effective.
Discussion
Common demand side strategies can be grouped into three categories:(i) Financial incentives/subsidies; (ii) Enhancing patient transfer, and; (iii) Community involvement. The main challenges in assessing the effectiveness or efficacy of these interventions or strategies are the lack of quality evidence on their outcome and impact and interventions not integrated into existing health or community systems. However, what is highlighted in this review and overlooked in most of the published literature on this topic is the lack of knowledge about the context in which these strategies are to be implemented.
Summary
We suggest three challenges that need to be addressed to create a supportive environment in which these demand-side strategies can effectively improve access to maternal health services. These include: addressing decision-making norms, engaging in intergenerational dialogue, and designing contextually appropriate communication strategies.
Keywords
Antenatal Care
Maternal Health
Maternal Death
Institutional Delivery
Maternal Health Service
Background
Maternal death is defined as "the death of a woman while pregnant or within 42 days of termination of pregnancy, irrespective of the duration and site of the pregnancy, from any cause related to or aggravated by the pregnancy or its management but not from accidental or incidental causes" [1]. Maternal death is a good indicator of the utilisation of health services. It is the 'tip of the iceberg' that reveals the magnitude of pregnancy-related conditions, near-miss events, other potentially devastating consequences after birth, and the long-term psychological, social, and economic consequences [2].
There has been marked progress and positive changes in maternal health in some low-income countries [3, 4], however, many campaigns have failed to improve maternal health in the last three decades [5]. This is mainly because of neglected health systems [6]. The Safe Motherhood Initiative, launched in Kenya in 1987 by international agencies [7], is an example of a failure to generate a broad-based improvement in this area of public health because of the inability to translate recommendations into local practice [5, 8].
Lack of knowledge of the importance of seeking medical attention during pregnancy and labour is commonly believed to negatively influence health behaviour and decision making processes. The choice of seeking healthcare is embedded and intertwined with cultural and social practices especially for women in remote rural villages [9, 10]. Women's education, employment, and affordability are the most commonly identified factors affecting antenatal care uptake [11].
A meta-synthesis of qualitative studies [12] identified important key issues of why women do not use antenatal services in low- and middle-income countries. These include community belief systems that consider pregnancy as socially risky and physiologically healthy that limits the initial access to maternal healthcare. Uptake is also impacted by financial constraints and other physical limitations surrounding patient transfer in conditions of extreme poverty.
The majority of maternal deaths occur at homes in rural areas, among poorer communities and during the peripartum period - the last three months of the pregnancy to the first week after the end of the pregnancy [13]. A peak in maternal mortality occurs during the intrapartum period around childbirth and the first day post-partum [14]. Hence Filippi et al., in the editorial of The Lancet series on maternal survival [2], called for a clear strategic vision that prioritises the intrapartum period in order to reduce maternal mortality.
Sufficient data is available on maternal health to inform global action, yet the poorest and most fragile countries have the poorest data to monitor and measure maternal health [13]. Designing a health system that addresses the local situation requires knowledge of the context. The lack of publically available data and limited published literature limit contextually based interventions to improve maternal health in low-income countries.
The main reasons for maternal deaths within the health system are the lack of skilled birth attendants, remoteness, delay in referral for emergency obstetric care [14], delay or poor implementation of interventions at the facility level, and vertical delivery of care in which single elements of care are implemented without connection with the comprehensive care [15].
Maternal health services are dependent on the complex interdependent functioning of the entire health system [16]. The links between inputs, process and outcomes are subject to multiple influences and confounding factors, and each country's context determine many factors that influence the outcomes of maternal health and the performance of the service [17]. The intermittent nature of demand, the difficulty in accessing quality maternal health services, and the wide range of powerful stakeholders with different priorities and agendas make the health system extremely complex [18]. In addition, international donors may influence the conditions of a country's health programmes to satisfy their own agenda [6].
Many strategies have been suggested to reduce maternal mortality, including contraception, antenatal care, referral systems that include basic and comprehensive emergency obstetric care, and postnatal care. A recent review of the evidence shows the significant and successful role of family planning as a preventative strategy in reducing maternal mortality [19]. Antenatal care that includes provision of Misoprostol for prevention of postpartum haemorrhage at home births has been proven to be one of the most cost effective interventions to reduce maternal deaths [20].
However, it is now evident that high coverage of essential interventions in healthcare facilities does not necessarily reduce maternal mortality [15] largely due to services not being utilised. Universal health access will not be achieved unless women are cared for in their own communities. Additionally women need their capacity and capabilities strengthened so that they can take ownership of the decisions about their care at the right time and without having to rely or be expected to rely on others to make these decisions for them. Thus a strong focus in attaining universal maternal healthcare access is to overcome demand side barriers.
The aim of this review article is to identify the existing common strategies that have been implemented to overcome demand-side barriers to maternal healthcare access, as well as debating their limitations and challenges. The finding of this review will help to inform the global conversations around universal health coverage and universal health access and to help develop appropriate and sustainable strategies at community level to enhance demand for maternal care. Based on the articles reviewed we can group the main demand-side approaches to improving maternal health service access into: (i) Financial incentives/subsidies; (ii) Enhancing patient transfer, and; (iii) Community involvement (Fig.
1
). The main challenges in assessing the effectiveness or efficacy of these interventions or strategies is the lack of quality evidence on their outcome and impact [
21
–
23
], as well as the lack of a system-wide interventions or interventions not integrated into existing systems for likely sustainability [
24
]. However, what is also noted, though not highlighted as much as the above, is the lack of knowledge about the context in which these strategies are to be implemented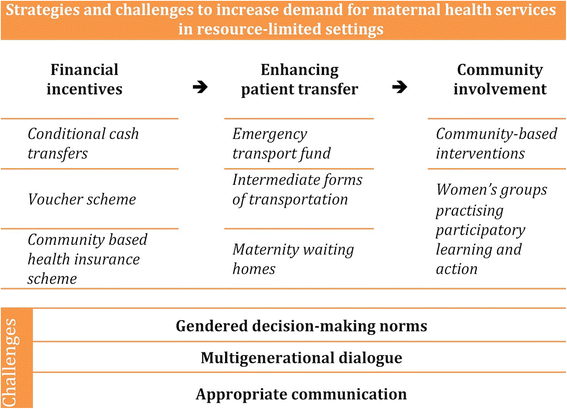 Methods
The initial review was focused on identifying the most common demand side strategies in resource poor settings to improve maternal health services in the published literature. Medline PubMed was initially searched using a combination of the terms: maternal health service; demand or demand-side; low-income/low and middle income/developing country; interventions or strategy. A review of Google Scholar also identified additional articles. In total 26 articles were obtained from an initial 307 articles in PubMed (6 systematic reviews and 20 articles on specific interventions and strategies). An additional 17 articles (2 reviews) were added from Google Scholar. Three Cochrane reviews were also included.
Endnote was used to generate reports listing basic bibliographic data such as title, authors and journal name. Titles were reviewed and screened on the basis of their relevance to the study. After the initial title screen, abstracts were screened. Inclusion criteria were: described or reviewed specific strategies or interventions, as opposed to opinions or proposed strategies; focused on demand side strategies or interventions, and: were specific to maternal health service utilisation. Articles were to be available in English and a time limit of the last 20 years was adhered to. No geographic limitations were used. In total 44 articles were reviewed. However, the purpose of the review was not to be exhaustive in terms of all possible interventions or strategies, but to become familiar with the most common ones described in the published literature.
These documents were supplemented by additional sources identified through ongoing research scanning, reference lists of articles, searches to address gaps in the initial searches and expert recommendations. Web-based resources were searched to supplement the journal articles. The following websites were searched: WHO, World Bank, DFID, USAID, and relief web.
Summary
Most of the demand side interventions and strategies aim to increase appropriate care-seeking (including antenatal care and institutional delivery) and appropriate home prevention and care practices for mothers and newborns. A few include some form of community engagement to contextualise the intervention and to overcome specific challenges faced by that community. However, it is rare that communities' capacity and capability to be actively engaged in the planning, design and implementation of the intervention is described or discussed. Without this traditional decision-making practices will continue to disadvantage women, intergenerational conflict on best motherhood practices will not be addressed and inappropriate communication tools will be designed. There is a need to support pregnant women while embarking onto the motherhood journey, to harmonise the divergences maternal health practices, and to link pregnant women with younger generations. Context-friendly tools can assist in linking pregnant women with their peers, daughters, and with the frontline health worker and assist in strengthening community systems for improved maternal health. New mechanisms are also needed at community level to develop a more supportive maternal health environment that links with formal health system.
Declarations
Acknowledgements
This research was funded under the Programme of Strategic Cooperation, of Irish Aid and administered through the Higher Education Authority of Ireland. This research received fund from University of Medical Sciences & Technology UMST, Khartoum Sudan.
Open AccessThis article is distributed under the terms of the Creative Commons Attribution 4.0 International License (http://creativecommons.org/licenses/by/4.0/), which permits unrestricted use, distribution, and reproduction in any medium, provided you give appropriate credit to the original author(s) and the source, provide a link to the Creative Commons license, and indicate if changes were made. The Creative Commons Public Domain Dedication waiver (http://creativecommons.org/publicdomain/zero/1.0/) applies to the data made available in this article, unless otherwise stated.
Authors' Affiliations
(1)
Reproductive & Child Health Research Unit (RCRU), University of Medical Sciences & Technology, Khartoum, Sudan
(2)
Royal College of Surgeons in Ireland, Manama, Bahrain
(3)
National University of Ireland, Galway, Ireland
(4)
Royal College of Surgeons in Ireland, Dublin, Ireland