Research article

Open Access

Open Peer Review
This article has Open Peer Review reports available.
Climate-sensitive health priorities in Nunatsiavut, Canada
BMC Public Health
2015
15:605
Received: 10 June 2014
Accepted: 26 May 2015
Published: 2 July 2015
Abstract
Background
This exploratory study used participatory methods to identify, characterize, and rank climate-sensitive health priorities in Nunatsiavut, Labrador, Canada.
Methods
A mixed method study design was used and involved collecting both qualitative and quantitative data at regional, community, and individual levels. In-depth interviews with regional health representatives were conducted throughout Nunatsiavut (n = 11). In addition, three PhotoVoice workshops were held with Rigolet community members (n = 11), where participants took photos of areas, items, or concepts that expressed how climate change is impacting their health. The workshop groups shared their photographs, discussed the stories and messages behind them, and then grouped photos into re-occurring themes. Two community surveys were administered in Rigolet to capture data on observed climatic and environmental changes in the area, and perceived impacts on health, wellbeing, and lifestyles (n = 187).
Results
Climate-sensitive health pathways were described in terms of inter-relationships between environmental and social determinants of Inuit health. The climate-sensitive health priorities for the region included food security, water security, mental health and wellbeing, new hazards and safety concerns, and health services and delivery.
Conclusions
The results highlight several climate-sensitive health priorities that are specific to the Nunatsiavut region, and suggest approaching health research and adaptation planning from an EcoHealth perspective.
Keywords
CanadaClimate changeHealthInuitNunatsiavutEcoHealth
Background
Changes in climate and the resultant environmental alterations continue to be documented globally [1–3]. The consequences of these changes are broad and wide-ranging, and include direct and indirect impacts on health and wellbeing [4, 5]. While the health impacts of climate change are expected to be felt globally, some populations have been identified as particularly vulnerable to health-related climate change impacts, including Indigenous peoples and communities in Canada [6–12], Australia [13, 14], Uganda [15], Peru [16], Greenland [17], and United States [18–20]. For instance, in the Circumpolar North, the rapidly increasing atmospheric temperatures have drastic impacts on ice coverage, water systems, permafrost, flora, and fauna, all of which have important implications for the health and wellbeing of Inuit inhabiting the North [6–11, 20].
The impacts of climate change on health are often localized and dependent on geographical location, biophysical factors, social and environmental relationships, cultural practices, and traditional knowledge [10, 21]. Indeed, in the climate-health literature, vulnerability to climate change at the local scale can be defined as a function of "exposure to climate-related health risks, sensitivity to these risks, and adaptive capacity to address, plan for, or manage them" (Ford 2012 [10], pg. 1260). Local vulnerability assessments underpin efforts to prepare for and adapt to current and future climate change impacts on Inuit health [10, 12, 22–24]. While many frameworks are available to guide assessments of human health vulnerability to climate change, all share a common first step: to work with local populations and regional stakeholders to identify and describe the most important climate-sensitive health outcomes (i.e. health outcomes that are sensitive to climate change and variability) for a given population/region [22, 23, 25–31]. This step is necessary to identify and understand climate-sensitive health priorities at individual, household, community, and regional scales to guide health research and effectively inform the development of public health adaptation strategies and interventions [10, 22–24].
Responding to the need to work collaboratively with communities to examine health priorities, this study piloted a participatory process to characterize the climate-sensitive health priorities in Nunatsiavut, Labrador, Canada. The objectives of the study were to: (1) develop a baseline understanding of the climate-sensitive health outcomes currently affecting Labrador Inuit; (2) identify climate-sensitive health issues that are anticipated to affect Labrador Inuit in the future; and (3) prioritize climate-sensitive health issues to inform future research and adaptation strategy and policy development in the Nunatsiavut region.
Methods
Nunatsiavut, Canada
Inuit are one of the three constitutionally-recognized Indigenous groups in Canada, along with First Nations and Metis/Métis. There are approximately 55,000 Inuit living throughout Canada, primarily within the four settled Inuit land claim regions of Inuvialuit, Nunavut, Nunavik, and Nunatsiavut. Nunatsiavut (Fig.
1
) is located on the Northeast coast of Labrador, and contains five communities within the 72,520 km
2
land claim settlement area (from north to south): Nain, Hopedale, Postville, Makkovik, and Rigolet. All five communities are remote and only accessible by a commercial year-round plane service and a seasonal ferry service. To access cabins, traditional lands, and hunting grounds outside of the communities, residents travel by snowmobile over snow and ice in winter months, and over water in small personal boats in the summer months. Labrador Inuit continue to rely on the local ecosystem for livelihoods, cultural continuity, and wellbeing, and depend on hunting and gathering of caribou, seals, ducks, geese, eggs, fish, and berries for partial subsistence [
6
–
8
].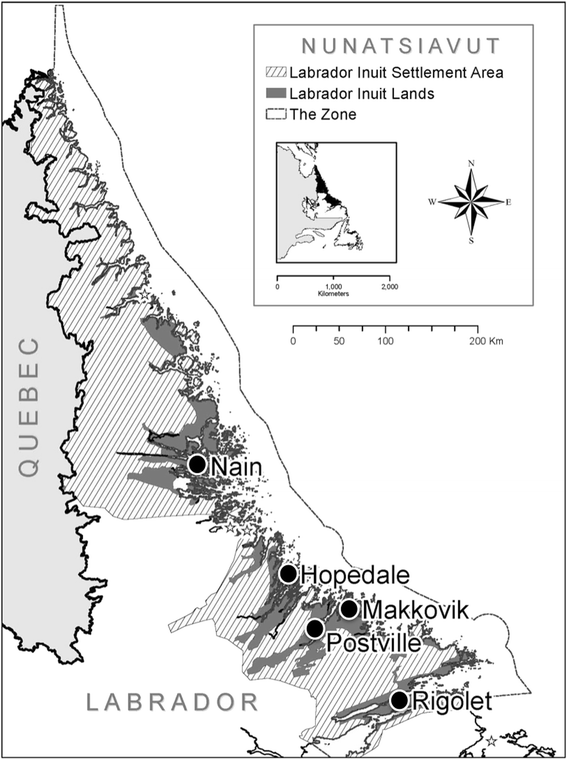 Healthcare provision in Nunatsiavut
Primary healthcare, pharmaceutical, and clinical mental health and addictions services are provided by the provincial government through the Labrador-Grenfell Health Authority, which manages community clinics, staffed with at least one nurse, and a physician who visits each community on a rotating basis. Residents travel by airplane to southern health centres for childbirth, some mental health counselling, addictions rehabilitation, medical emergencies, and for nearly all appointments with specialists or physicians that require diagnostic equipment. Public health, mental health, and some counselling and addiction services are provided by the regional Inuit government, the Nunatsiavut Government (Department of Health and Social Development), which has a Community Health Team in each community. The Nunatsiavut Government also administers the Non-Insured Health Benefits program for Nunatsiavut beneficiaries.
Research design
A concurrent mixed-methods research design was used, whereby qualitative and quantitative data at regional and local scales were collected and analysed concurrently and then descriptively combined and compared for convergent and divergent ideas and concepts [32–34]. This research was a part of a larger international initiative called the Indigenous Health Adaptation to Climate Change project (www.ihacc.ca), with the work reported here conducted to inform priorities for this research program as per principles of community-based participatory research [7, 15, 35–37]. Written informed consent was obtained from all participants and the research protocol was reviewed and approved by the Nunatsiavut Government Research Advisory Committee and the Research Ethics Boards at the University of Guelph and McGill University.
Regional data collection: interviews with government employees
In-depth interviews with government employees working within the Nunatsiavut region were conducted (
n
 = 11) in 2010, totalling 604 minutes of recorded discussion (Table
1
); the average interview lasted 50 minutes (range: 34–79 minutes). The semi-structured interview guide included open-ended questions aimed to identify and characterize health priorities and vulnerability to climate stressors in the Nunatsiavut region. The interview guide promoted a conversational interview format [
38
] and was pre-tested for content and context by academics and health practitioners. Individuals representing provincial, regional, and community levels were purposefully selected based on their job description and work experience, invited (via email) for a private and confidential interview, and interviewed in person at each participant's workplace. Then, all participants were invited to attend a focus group discussion to examine and verify the preliminary findings.
Table 1
Demographic information of government interviewees, community survey participants, and PhotoVoice participants in Rigolet, Nunatsiavut
Demographic Information

Government

PhotoVoice

Community Survey Participants (%)

Interviewees (%)

Participants (%)

CCI surveya

BPS surveyb

n=11

n = 11

n = 75

n = 112

Age

  Youth (0–20)

0 (0)

1 (9)

4 (5)

8 (7)

  Adult (21–50)

9 (82)

7 (64)

43 (57)

69 (62)

  Elder (Over 50)

2 (18)

3 (27)

28 (37)

30 (27)

  No response

5 (4)

Sex

  Male

2 (18)

6 (55)

44 (59)

52 (46)

  Female

9 (82)

5 (45)

31 (41)

60 (54)
Community data collection: PhotoVoice workshops and surveys
To provide community-level and individual-level perspectives to the research and contextualize the insights provided by regional stakeholders, PhotoVoice workshops and two community surveys were conducted in Rigolet, Nunatsiavut.
PhotoVoice workshops
PhotoVoice was used as a community-based participatory data collection technique, providing the opportunity for community members to take photos of areas, items, or concepts that expressed how climate change impacts their health. PhotoVoice is an interactive method that engages participants to take new photographs or gather already-taken photographs that reflect their ideas, thoughts, and feelings on a particular subject. These photos then become the foundation for group discussion and dialogue around the emergent themes, as well as for knowledge sharing beyond the group. This technique is considered to be a culturally-appropriate method for community-based participatory research in Indigenous settings [
39
], and has been used in other Inuit communities [
40
,
41
]. Two PhotoVoice (PV) workshops with all female participants (
n
 = 5) and one workshop with all male participants (
n
 = 6) were conducted in 2010 (Table
1
), with a total of 422 minutes of recorded discussion and 36 photos selected by participants (Fig.
2
). The PV workshops were co-facilitated and involved five steps: (1) PV participants discussed climate change and health using concept-mapping techniques to facilitate conversation [
42
]; (2) Over a 2-day period, PV participants took new photographs with digital cameras, as well as collected old photographs that related to the workshop topic; (3) The groups re-convened and (a) selected which photographs to share with the group, (b) explained the stories and messages behind their photos, and (c) collectively grouped the photos into common, re-occurring themes; (4) The community facilitators assisted PV participants through a reflective process, with numerous one-on-one follow-up consultations to select quotes or messages to accompany each photo; (5) PV participants decided how they wanted their photos used, and identified creating a photo-bank on the town website, printing a PhotoVoice book, and using photos in publications for researchers and policy makers.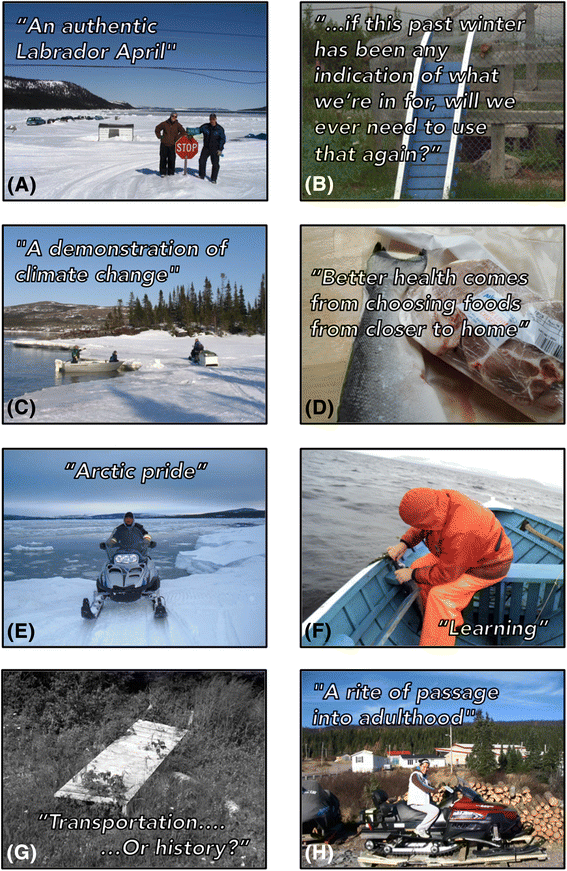 Community surveys
Two community surveys were conducted in Rigolet, Nunatsiavut to understand community-level trends and perceptions of climate-sensitive health priorities. Information about the survey development and administration are described elsewhere in detail [6, 7]; briefly, a member from every household who was in the community during the sampling period was invited to complete a short questionnaire that was administered by trained community personnel. The first survey (2009) collected data on the observations, beliefs, and attitudes about climate change impacts (CCI) on health ('CCI survey'); and the second survey (2010) collected data on perceived bio-psycho-social (BPS) impacts of climate change ('BPS survey') [6]. Of the 100 people available in the community during the study period to participate in the CCI survey, 75 participated (response rate = 75 %), and of the 117 people available in the community to participate in the BPS survey, 112 participated (response rate = 96 %) (Table 1).
Analysis
Qualitative analysis
All interviews and group discussions were recorded with permission, transcribed verbatim by a professional company, and hand-checked for accuracy. A systematic and iterative qualitative data analysis approach [43, 44] was used that included five iterative steps: data familiarization; identification of theory-driven/deductive and data-driven/inductive codes [45]; identification of themes by writing reflective memos and creating concept/thematic maps [46]; development of a codebook [47] and coding the transcripts by labeling the text; and, finally, review and discussion with the community research team and research participants to ensure accuracy, reliability, and authenticity of the analysis. Qualitative data analysis software (Atlas.ti, version 6) was used to assist in data organization and retrieval [43].
Quantitative analysis
The quantitative survey data for the CCI survey and BPS survey were analysed separately. The data were explored using descriptive statistics, then potential differences in climatic and environmental change observations (outcome variables) between age groups, gender, and perceived impacts on health, wellbeing, and lifestyle (predictor variables) were examined using univariable exact logistic regression using exact conditional score tests. Excel (version 14.3.6) was used to manage data and create graphs, and all statistical analyses were conducted using Stata IC (version 11.2).
Conclusions
This study used a participatory approach to identify and describe the climate-sensitive health priorities in Nunatsiavut, Labrador, Canada. Participants described the environment as being inextricably linked to several determinants of Inuit health, which increases sensitivity to climatic change related impacts on health. This view coincides with EcoHealth concepts, which posits that human health and wellbeing is a function of complex social and ecological interactions [103]. EcoHealth concepts not only explicitly link environmental and social determinants of health, but also provide a framework or "a mindset that orients a process of inquiry that is meant to lead to some action or change" (Charron 2012, pg. 32). Therefore, our results suggest that EcoHealth approaches could be mobilised to support health-related adaptations to climatic change in Inuit regions. For instance, past research has recommended enhanced, integrated, and community-led surveillance, warning systems, hazard epidemiology, harvester support, co-management of wildlife resources, land-skills training, food system enhancement, infrastructure protection, and emergency management, among others to respond to climate change impacts in the Canadian Arctic [12, 104–105]. To realize these benefits and plan for climate change impacts, adaptation policies, programs, and interventions need to build on and integrate EcoHealth principles of systems thinking, transdisciplinarity, community participation, social and gender equity, and knowledge-to-action. Integrating these principals into policy development and program planning has been proposed [106–109] and successfully used [7, 110–114] in other environmental health programs, and our research results suggest it could also be useful in a climate-health context.
Importantly, these priorities were identified through a participatory process that engaged health professionals, government decision makers, and community members. This process underpinned the local and cultural relevance and accuracy of the climate-sensitive health priorities identified, and places the priorities within an appropriate societal, cultural, environmental, political, and economic context for the Nunatsiavut region. Furthermore, engaging local stakeholders in the priority identification process is commonly recommended in climate change policy literature as it enhances policy uptake and applicability, increases legitimacy of priority areas, enables integration of Inuit knowledge, increases community representation in decision-making, and increases local capacity to respond to climate-related stressors [12, 22, 104–105, 115]. As such, the five priority areas (Fig. 5) identified by local stakeholders provides a reference point for local, regional, and provincial decision makers to assess and enhance existing, or create new climate change strategies, policies, and programing. For instance, in reviewing the Province of Newfoundland and Labrador climate change action plans and initiatives [116], some of the climate-sensitive health priorities identified in this study are being acted on (e.g. an aim to improve infectious disease surveillance, which, if implemented, could help reduce waterborne disease); however, other climate-sensitive health priorities do not have specific response plans, actions, or programming (e.g. mental health). By identifying and prioritizing climate-sensitive health priorities, this research provides the foundation and focus for future health-related climate change assessments, action plans, and adaptation plans in the region.
In summary, this study provided baseline understanding of the climate-sensitive health issues affecting Labrador Inuit, which included the following as top health priorities: food security, water security, mental health and wellbeing, new hazards and safety concerns, and health services and delivery. These climate-sensitive health issues were experienced through complex inter-relationships between environmental and social determinants of Inuit health. This work, in turn, has guided the development of a 5-year research program focusing on Indigenous health and climate change, including research focusing in greater depth on these priority areas in Rigolet. Several climate-sensitive health outcomes have been identified at national or global scales, and many of the climate-sensitive health priorities described in our study are not only Northern issues [18, 20, 41, 76, 117], but international issues [4, 27, 118–123]. Nonetheless, how climate change impacts are felt and responded to most often varies at local scales and is dependent on location-specific socioeconomic, cultural, and biophysical factors [10]. As such, local assessments and prioritization of current and future climate change impacts on health are required [10, 22, 25].
Declarations
Acknowledgements
Foremost, we would like to thank the residents of Rigolet for welcoming us into their community. Sincerest thanks to the dedicated community research coordinators, including Inez Shiwak, Marilyn Baikie, Ashley Shiwak, Candice Elson, Dinah Wolfrey, Tanya Pottle, and Barbara Pottle. Thanks to Bryn Wood for creating the map. All aspects of all authors' work were independent of the funding source. This project was funded by the Vanier Canada Graduate Scholarship (CIHR to SLH), Canada Graduate Scholarship (SSHRC to ACW), IRIACC initiative to JF (funded by IDRC, CIHR, NSERC, SSHRC), ArcticNet and the CIHR Applied Public Health Chairs program to JF, Nasivvik Centre to SLH, JF, VLE, SM, and Health Canada's First Nations and Inuit Health Branch to RICG.
Indigenous Health Adaptation to Climate Change Research Group: Lea Berrang-Ford, Cesar Carcamo, Alejandro Llanos, Shuaib Lwasa, Didacus Bambaiha Namanya.
Authors' Affiliations
(1)
Department of Population Medicine, University of Guelph, Guelph, Canada
(2)
Indigenous Health Adaptation to Climate Change Research Team: Lea Berrang-Ford, Cesar Carcamo, Alejandro Llanos, Shuaib Lwasa, Didacus Bambaiha Namanya, Montreal, Canada
(3)
Department of Geography, McGill University, Montreal, Canada
(4)
Department of Nursing, Cross-Appointed with Indigenous Studies, Cape Breton University, Sydney, Canada
(5)
Department of Health and Social Development, Nunatsiavut Government, Goose Bay, Labrador, Canada
(6)
Rigolet Inuit Community Government, Labrador, Canada
Copyright
© Harper et al. 2015
This article is published under license to BioMed Central Ltd. This is an Open Access article distributed under the terms of the Creative Commons Attribution License (http://creativecommons.org/licenses/by/4.0), which permits unrestricted use, distribution, and reproduction in any medium, provided the original work is properly credited. The Creative Commons Public Domain Dedication waiver (http://creativecommons.org/publicdomain/zero/1.0/) applies to the data made available in this article, unless otherwise stated.