Study protocol
Open Access
Investigating mosquito net durability for malaria control in Tanzania - attrition, bioefficacy, chemistry, degradation and insecticide resistance (ABCDR): study protocol
BMC Public Health
2014
14:1266
Received: 3 December 2014
Accepted: 9 December 2014
Published: 13 December 2014
Abstract
Background
Long-Lasting Insecticidal Nets (LLINs) are one of the major malaria vector control tools, with most countries adopting free or subsidised universal coverage campaigns of populations at-risk from malaria. It is essential to understand LLIN durability so that public health policy makers can select the most cost effective nets that last for the longest time, and estimate the optimal timing of repeated distribution campaigns. However, there is limited knowledge from few countries of the durability of LLINs under user conditions.
Methods/Design
This study investigates LLIN durability in eight districts of Tanzania, selected for their demographic, geographic and ecological representativeness of the country as a whole. We use a two-stage approach: First, LLINs from recent national net campaigns will be evaluated retrospectively in 3,420 households. Those households will receive one of three leading LLIN products at random (Olyset®, PermaNet®2.0 or Netprotect®) and will be followed up for three years in a prospective study to compare their performance under user conditions. LLIN durability will be evaluated by measuring Attrition (the rate at which nets are discarded by households), Bioefficacy (the insecticidal efficacy of the nets measured by knock-down and mortality of mosquitoes), Chemical content (g/kg of insecticide available in net fibres) and physical Degradation (size and location of holes). In addition, we will extend the current national mosquito insecticide Resistance monitoring program to additional districts and use these data sets to provide GIS maps for use in health surveillance and decision making by the National Malaria Control Program (NMCP).
Discussion
The data will be of importance to policy makers and vector control specialists both in Tanzania and the SSA region to inform best practice for the maintenance of high and cost-effective coverage and to maximise current health gains in malaria control.
Keywords
Long-lasting insecticidal netsLLINsDurabilityMosquito netHole indexBiological efficacyMalaria controlAnophelesSemi-fieldInsecticide resistance
Background
The recent successes in malaria control in sub-Saharan Africa (SSA), specifically in Tanzania where malaria deaths have reduced by 70% since 2003, has been largely attributable to the massive scale up of vector control tools, particularly Long Lasting Insecticidal Nets (LLINs) [1–3]. However, sustained malaria control is costly, and dependent on continuing political and donor support. As political commitment diminishes, the deliveries of life-saving control tools will slow down and risk the reversal of the huge achievements to date. Global commitments for malaria control in 2012 were approximately US$2.5 billion, far below the estimated sum of US$5.1 billion required for the task [4]. Global funding mechanisms are projected to decelerate even further in the coming years, leaving gaps of US$2.25 billion before achieving universal access to malaria interventions [1]. Therefore, maximising the impact of interventions through selection of the most cost effective and long lasting interventions is a health policy priority.
Despite the huge financial and logistical investments in the development, production and distribution of LLINs worldwide, there are still limited data available on the LLIN durability under user conditions. The World Health Organization (WHO) released specific guidance on LLIN durability monitoring [5, 6], which was incorporated into guidelines for laboratory and field-testing of LLINs [7] to support national governments with the design of standardised net monitoring and evaluation studies. Effective net life has been estimated to be 3-5 years [8], but some studies indicate that LLIN brands may last less than three years under operational conditions [9–12]. It is only recently that researchers have started to investigate net attrition, i.e. how long nets remain in use in a household, and constructed net survivorship curves [5, 13]. Durability of mosquito nets should thus be defined and measured by the whole process of net loss – from attrition and physical damage to the chemical loss of insecticide residue [5].
Net deterioration differs greatly between regions or cultures as care and repair behaviours, maintenance and net use vary from place to place. Thus, nation-wide evaluations of LLINs are required and called for by the WHO [6, 14]. Evaluation of PermaNet®2.0 retrieved from six countries [15] and Olyset® nets from seven countries [16] show large between-country variability of LLIN durability. Net products also vary in material, insecticide, or fibre impregnation technology. Such variations are still largely unknown and direct comparisons within sites are scarce [17] (but see [9, 11, 18]). Reliable data need to be collected by National Malaria Control Programs (NMCPs) to inform national procurement decisions for 1) selection of the most suitable net to plan timely replacement, 2) to understand factors associated with net durability to guide behaviour change communication including care and repair interventions, and 3) to assist industry in product improvement. NMCPs need to understand LLIN durability in their local settings because replacing nets too late puts people at risk of disease, but replacing them too often wastes limited resources.
Also, the dramatic increase in pyrethroid resistance in mosquitoes throughout SSA, including Tanzania [19], might be posing a threat to the sustainability of insecticidal control methods [20, 21]. A surveillance system to monitor emerging insecticide resistance, for example using Geographical Information Systems (GIS) [22, 23], would allow governments and national malaria control programmes to plan resistance control strategies [24]. Spatio-temporal analysis of malaria transmission to identify persistent transmission hotspots may maximise cost- and health-effectiveness of control programmes [23]. The determinants and risk factors for net loss and effectiveness vary spatially, but there is a lack of information of which factors play a role in the attrition and deterioration of LLINs.
Therefore, the current study is conducted in collaboration with the Tanzanian NMCP to inform their procurement decisions. The study will be conducted in eight districts in Tanzania, selected for their demographic, geographic and ecological representativeness of the country as a whole. There will be an initial retrospective evaluation of Olyset
®
nets distributed by the NMCP two-to-four years previously as part of both a targeted and a universal coverage campaign [
25
]. The same sampled households will then receive one of three LLIN products (Olyset
®
with the new knit pattern to improve fabric strength, PermaNet
®
2.0 or Netprotect
®
) by random allocation for a prospective follow up study. Effective life of the nets will be assessed at regular intervals for three years using the WHO-recommended set of net durability variables [
5
] (Table
1
) and a set of new methodologies (Figure
1
). We will also monitor insecticide resistance in mosquito vectors as an additional component for evaluating LLIN effectiveness to contribute to the growing knowledge within Tanzania, which will assist the NMCP on rational selection of insecticides for vector control. Spatial risk factors of insecticide resistance and LLIN durability, such as land use patterns, agriculture, altitude or distance to potential breeding sites, will be assessed to determine their usefulness in selecting appropriate malaria control strategies by identifying areas where a particular LLIN intervention may be more effective than another.
Table 1
LLIN durability components
Component

Definition

Response variables for analysis

Attrition

Net loss from household through discarding or use for alternative purpose

- Net presence.

Biological efficacy

Ability of net to incapacitate or kill anopheline mosquitoes after contact with insecticide

- Mosquito knockdown (%) 60 minutes post-exposure.

- Mosquito mortality (%) 24 hours post-exposure.

- Percentage of bloodfed mosquitoes.

Chemical residue

Amount of active ingredient in fibres

- Proportion of nets with active ingredient equal to WHO standard g/kg

Physical degradation

Physical state of the net defined through number, size and location of holes to estimate protection against mosquito bites

- Proportionate Hole Index (pHI) / hole area by location on net.

- Proportion of nets with a pHI exceeding ≥643 [6].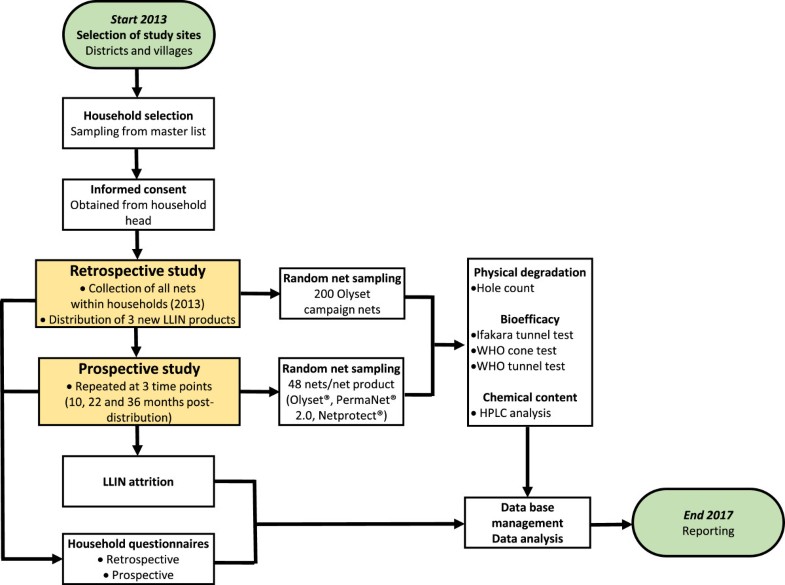 Discussion
In addition to following WHO durability guidelines [5], which will allow direct comparison between our study and other ongoing durability investigations in SSA, we are also developing new methodologies to fully assess to what extent physical degradation, chemical decay and biological efficacy actually determine the life of a net, i.e. the duration of its effective protection. LLINs act as a barrier against blood-feeding of anopheline mosquitoes on humans. We will determine the effectiveness of nets as transmission barriers by testing the whole net from the field protecting humans throughout the night against mosquito bites in semi-field Ifakara Tunnel Tests (ITT). This will give us a strong measure of the individual protective efficacy against human biting behaviour. In addition, it will allow us to estimate the mortality of mosquitoes exposed to LLINs under more natural conditions, a methodology that is commonly performed in experimental huts [49]. However, the ITT is designed to increase both data throughput and data power because it evaluates eight nets and two controls per night using mosquitoes of identical physiological status. In addition, the same number of mosquitoes can be released into each of the compartments so that the effect of the efficacy of the nets is measured in the same way in each compartment. In contrast, field tests require far greater numbers of replicates to achieve good statistical power due to both spatial and temporal heterogeneities in mosquito numbers [50]. We will also determine the WHO-recommended hole index (pHI) by location on the net, with the potential of influencing further net product design with strengthened material in the bottom quarter of the net.
National and international public health policy makers may therefore use the information provided by this, and other ongoing studies, to procure the most cost- and health-effective nets. Results will allow the selection of nets that provide protection against disease at optimum costs (trading off LLIN durability, price and insecticide resistance status of local mosquito populations), and to estimate the timing of repeated distribution campaigns to ensure that maximal health gains are maintained.
Current study status
At the time of submission of this manuscript (December 2014), the study had completed the retrospective data collection and random distribution of the three new LLIN products, the establishment of the return net data base, and the prospective household survey after 10 months.
Declarations
Acknowledgements
We thank the Global Health and Vaccination Research (GLOBVAC) program of the Research Council of Norway for funding this project (Project no. 220757). We acknowledge the LLIN manufacturers Sumitomo Chemical (Olyset®), Vestergaard Frandsen (PermaNet®) and BestNet (Netprotect®) for their donation of the LLINs free of charge. We thank NIMR for permission to publish this work. We would like to sincerely thank Dr Jo Lines (LSHTM), Dr Rose Nathan (IHI) and Dr Albert Kilian for their continued support and advice.
Authors' Affiliations
(1)
London School of Hygiene & Tropical Medicine, London, UK
(2)
Norwegian University of Life Sciences, Norway
(3)
Institut de Recherche pour le Développement (IRD), Maladies Infectieuses et Vecteurs, Ecologie, Génétique, Evolution et Contrôle, Montpellier, France
(4)
Department of Entomology, Kasetsart University, Bangkok, Thailand
(5)
Swiss Tropical & Public Health Institute, Basel, Switzerland
(6)
National Institute for Medical Research, Amani Research Centre, Muheza, Tanzania
(7)
Ifakara Health Institute, Bagamoyo, Tanzania
(8)
National Malaria Control Program, Ministry of Health and Social Welfare, Dar es Salaam, Tanzania
(9)
University of Basel, Basel, Switzerland
Copyright
© Lorenz et al.; licensee BioMed Central. 2014
This article is published under license to BioMed Central Ltd. This is an Open Access article distributed under the terms of the Creative Commons Attribution License (http://creativecommons.org/licenses/by/4.0), which permits unrestricted use, distribution, and reproduction in any medium, provided the original work is properly credited. The Creative Commons Public Domain Dedication waiver (http://creativecommons.org/publicdomain/zero/1.0/) applies to the data made available in this article, unless otherwise stated.