Research article

Open Access

Open Peer Review
This article has Open Peer Review reports available.
Effectiveness of community health workers delivering preventive interventions for maternal and child health in low- and middle-income countries: a systematic review
BMC Public Health
2013
13:847
Received: 1 February 2013
Accepted: 10 September 2013
Published: 13 September 2013
Abstract
Background
Community Health Workers are widely utilised in low- and middle-income countries and may be an important tool in reducing maternal and child mortality; however, evidence is lacking on their effectiveness for specific types of programmes, specifically programmes of a preventive nature. This review reports findings on a systematic review analysing effectiveness of preventive interventions delivered by Community Health Workers for Maternal and Child Health in low- and middle-income countries.
Methods
A search strategy was developed according to the Evidence for Policy and Practice Information and Co-ordinating Centre's (EPPI-Centre) guidelines and systematic searching of the following databases occurred between June 8 – 11th, 2012: CINAHL, Embase, Ovid Nursing Database, PubMed, Scopus, Web of Science and POPLINE. Google, Google Scholar and WHO search engines, as well as relevant systematic reviews and reference lists from included articles were also searched. Inclusion criteria were: i) Target beneficiaries should be pregnant or recently pregnant women and/or children under-5 and/or caregivers of children under-5; ii) Interventions were required to be preventive and delivered by Community Health Workers at the household level. No exclusion criteria were stipulated for comparisons/controls or outcomes. Study characteristics of included articles were extracted using a data sheet and a peer tested quality assessment. A narrative synthesis of included studies was compiled with articles being coded descriptively to synthesise results and draw conclusions.
Results
A total of 10,281 studies were initially identified and through the screening process a total of 17 articles detailing 19 studies were included in the review. Studies came from ten different countries and consisted of randomized controlled trials, cluster randomized controlled trials, before and after, case control and cross sectional studies. Overall quality of evidence was found to be moderate. Five main preventive intervention categories emerged: malaria prevention, health education, breastfeeding promotion, essential newborn care and psychosocial support. All categories showed some evidence for the effectiveness of Community Health Workers; however they were found to be especially effective in promoting mother-performed strategies (skin to skin care and exclusive breastfeeding).
Conclusions
Community Health Workers were shown to provide a range of preventive interventions for Maternal and Child Health in low- and middle-income countries with some evidence of effective strategies, though insufficient evidence is available to draw conclusions for most interventions and further research is needed.
Keywords
Community health workersMaternal and child healthLow-and middle-income countriesPreventionInterventionHuman resources for health
Background
There has been insufficient progress in many low- and middle-income countries (LMIC) towards reducing maternal mortality by 75% and under-5 deaths by two thirds – the targets for Millennium Development Goals 5 and 4, respectively. In 2010 alone 287,000 women and 7.6 million children under-5 died due to pregnancy related complications and a lack of adequate health care [1, 2]. Though evidence-based cost-effective interventions that are predicted to prevent up to one third of Maternal and Child Health (MCH) complications and deaths with universal coverage have been identified [3–6], over 50% of children in under-resourced areas do not have access to these simple interventions [7].
Ninety nine per cent of maternal and child deaths occur in low- and middle-income countries where there is a severe shortage of human resources for health (HRH), which is one of the most significant constraints to achieving Millennium Development Goals (MDGs) 4 and 5 [8–10]. Identified as a distinguishing feature of providing primary care for individuals in resource poor settings in the Alma-Ata Declaration 1978 [11], Community Health Workers (CHWs) act as a mitigating factor to the HRH crisis by providing essential MCH care at the household and community level, reducing inequalities in health care for marginalized populations, providing education and mainly curative health services, and having the essential role of liaising between the community and more skilled workers and facility-based services [12–14].
Systematic reviews examining CHW programmes worldwide found that these cadres are effective in reducing maternal, neonatal and child mortality in resource poor settings; however, evidence on the effectiveness of different programme types was recognised as lacking, particularly evidence from prevention programmes [14, 15]. An analysis of the success of CHW programmes delivering curative interventions for children in sub-Saharan Africa documented large mortality reductions with malaria [10], and indicated the need for further investigation into programme effectiveness in LMICs.
This article reports on findings from a systematic review of studies evaluating the effectiveness of exclusively preventive interventions for MCH delivered by CHWs in LMIC at the household level (Table
1
). Prior to the review, an advisory committee was formed as a means of ensuring quality and reducing bias throughout the stages of the review [
16
–
18
]. A global health professional, a Cochrane-trained researcher with expertise in identifying and disseminating information on evidence-based interventions and a Health Sciences Search Librarian were consulted for assistance in topic formulation and article screening, format and scope of review, and appropriate bibliographic databases and search terms, respectively.
Table 1
Definition of terms
| Term | Explanation |
| --- | --- |
| Maternal Health | Refers to the health of a woman during pregnancy or within 42 days of termination of pregnancy, due to pregnancy related issues [2] |
| Child Health | Refers to any health issues in children ages five years or less |
| Community Health Worker | Defined as "…members of the communities where they work, should be selected by the communities, should be answerable to the communities for their activities, should be supported by the health system but not necessarily a part of its organization, and have shorter training than professional workers" [19] |
| Prevention | Interventions or "measures adopted by or practiced on persons not currently feeling the effects of a disease [or negative health outcome], intended to decrease the risk that that disease [or negative health outcomes] will afflict them in the future" [20] |
Results
A total of 10,281 titles from 1990 to present were identified from the database search and other sources, of which 3,800 were duplicates. See Additional file
5
for the search log. Full texts of 87 studies were assessed (the full texts of 2 studies could not be retrieved) and 70 were excluded for a variety of reasons, see Additional file
6
for characteristics of excluded studies. Upon screening process completion, Figure
1
, seventeen articles comprising of 19 studies met the inclusion criteria. One paper, [
22
] examines an intervention across multiple countries (3) and reports results separately for each site. Therefore, a total of 19 primary studies are included in this review.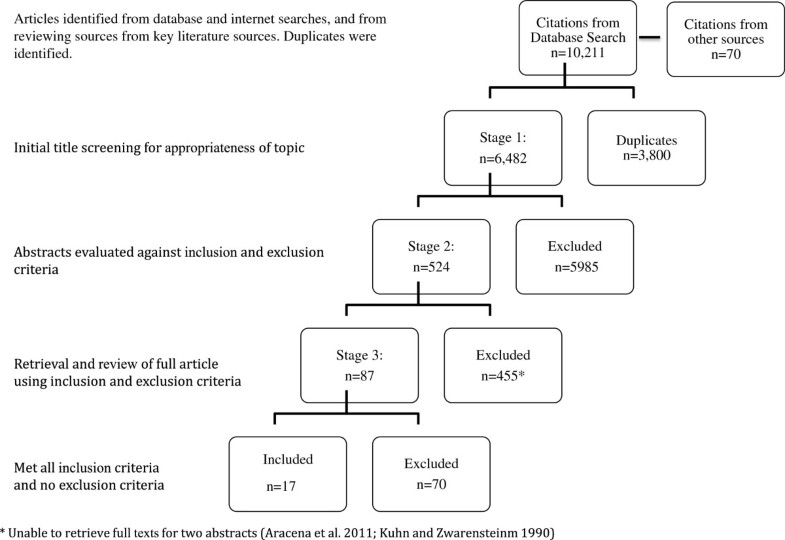 Study quality assessment
The quality of each included study was assessed using Effective Public Health Practice Project's (EPHPP) Quality Assessment Tool for Quantitative Studies. Studies were evaluated across eight categories (selection bias, study design, confounders, blinding, data collection methods, withdrawals and drops, intervention integrity, analyses) and given a score of 1 to 3 accordingly. Averaging the category rankings assigned an overall rating of weak, moderate or strong for 1, 2 or 3 respectively. Studies whose average was between two ratings were given a double-label to represent their standing. Seven studies were categorized as strong [22, 23, 30–32], four as moderate-strong [34–36, 38], five as moderate [24, 25, 29, 33, 37] one as weak-moderate [27] and two as weak [26, 28]. Articles were not excluded due to a low quality rating but this was considered with analysing effectiveness.
Narrative synthesis
Heterogeneity in intervention designs and outcomes made quantitative methods, including meta-analysis and effect size for synthesis impossible and inappropriate. Studies were therefore categorised and described as reported in the following narrative synethesis.
Discussion
This review, consistent with previous systematic reviews for MCH [10, 11, 15], found that there is a paucity of research from LMICs, especially in sub-Saharan Africa where the highest levels of both maternal and child mortality occur [42]. By allowing a greater variety of study designs to be included, as opposed to the traditional systematic review criteria of only randomized controlled trials, a larger number of studies were identified for inclusion in this review. The same scope of CHW's involvement in MCH prevention interventions identified in other reviews [11, 14, 15, 43, 44] was not identified here partially because of the often multidimensional role of a CHW, consisting of both prevention and curative activities, which excluded studies as this review was interested in exclusively preventive activities. This finding in itself warrants further investigation into CHW performance, motivation and retention – main obstacles facing CHW programmes – as there is debate whether single interventions or multifaceted interventions are best suited for CHWs [7, 45].
The operational definitions included in this review may have limited the results for some prevention interventions previously identified as being within the scope of a CHWs' ability [43]. The definition of CHWs chosen [39] "…members of the communities where they work, should be selected by the communities, should be answerable to the communities for their activities, should be supported by the health system but not necessarily a part of its organization, and have shorter training than professional workers" was difficult to operationalise in search terms and its comprehensive nature may have excluded community workers meeting some but not all of these criteria. We recognise that several studies of effective interventions by community members may have been excluded because of this. For example, a study assessing CHWs' effectiveness in delivering misoprostol to prevent postpartum hemorrhage in Afghanistan [46], that may have been suitable for this review, was not identified during the search due to title search limitations. Further research in this area with a more expansive search strategy to encompass prevention techniques that may not have been within the scope of this review is recommended to add to the existing literature.
Though an in-depth analysis of the best practices and main problems surrounding CHW programmes is not the purpose of this review, it is important to recognise the influencing factors for a successful strategy as identified throughout the literature. Community participation and ownership, leadership and adequate resources, appropriate selection, training, continual learning, support and supervision, as well as incentives to influence retention and motivation, are all essential considerations when designing and implementing CHW programmes [7, 11, 14, 43], though this list is not exhaustive. Each identified study's success or lack of, may be influenced by the aforementioned factors that can vary between contexts and should always be considered when investigating and initiating new programmes.
Limitations
Two major limitations of this study are the lack of a second reviewer for each of the stages and restricted time. Though efforts were taken to maintain rigor and thoroughness throughout the review, the time limitation may have also influenced the analysis and interpretation of results. Publication bias, the notion that studies with positive results are more likely to be published, may have lead to some conducted studies with negative results not being published and therefore being less likely to be identified through the search strategy. Bias may have also been introduced in the search terminology used. Efforts were taken to construct the search terms to be inclusive of all possible definitions and vocabulary; however, it is possible that certain terms were excluded and may have influenced the returned results. It is also recognised that since this review aimed to identify studies with CHWs preforming prevention only activities, other sources of evidence for their effectiveness in this area may have been excluded, especially within multiple intervention programmes. Other authors, for example Perry and Zulliger [43], have compiled a more broad list of CHW programmes for further reading.
Conclusions
This review found moderate evidence that community health workers are effective in delivering preventive interventions for maternal and child health in low- and middle-income countries. Further investigation into CHWs delivering preventive interventions should be conducted to strengthen support for this role, as well as the practically of scaling-up such initiatives under similar programme guidelines.
Evidence from this review suggests several strategies that should be further explored, including combining hygiene education with breastfeeding interventions with the prospect of reducing diarrhoea rates in infants, using visual aids, which can be left with the mother as educational tools, and specifically targeting health messages. Variations in interventions, training and outcomes make it difficult to compare all included studies, however some important findings emerged from this research:
1.

Community health workers are effective at increasing acceptability of mother-performed practices, such as skin-to-skin care and exclusive breastfeeding.

2.

Community health workers are capable of providing interventions beyond their traditional scope and with more intense training, such as those of a psychosocial nature or delivering scheduled intermittent preventive treatment for malaria. Further research into CHWs providing services for mental health issues is highly encouraged to provide services for these imperative, yet vastly under resourced, issues.

3.

Community health workers are effective in delivering health promotion or education, especially with simple, targeted messages. The use of visual aides may also be very valuable in relaying these messages.
It is recommended that policy makers explore the option of increasing CHW's responsibility in the prevention of maternal and child morbidity and mortality, though interventions need to be tailored to specific settings and contexts. Prevention services provided by CHWs may serve as a tactic against the HRH crisis, be cost effective in both training and provision due to lesser responsibility compared to curative interventions and may reach more households as many interventions are educational promotions and thus allow for knowledge transfer between households.
Abbreviations
ANC:

Antenatal Care
BCC:

Behaviour change communication
BNCP:

Birth and newbown care preparedness
CHW:

Community health worker
CKMC:

Community Kangaroo mother care
cRCT:

Cluster randomized controlled trial
EBF:

Exclusive breastfeeding
ENC:

Essential newborn care
EPHPP:

Effective public health practice project
EPPI:

Evidence for policy and practice information
HRH:

Human resources for health
IPT:

Intermittent preventative treatment
ITN:

Insecticide treated net
KMC:

Kangaroo mother care
LBW:

Low birth weight
LMIC:

Low – and middle-income countries
MCH:

Maternal and child health
MDG:

Millennium development goal
NBW:

Normal birth weight
STS:

Skin to skin
RCT:

Randomized controlled trial
WHO:

World health organization.
Declarations
Acknowledgements
The authors would like to acknowledge Dr. Bonnix Kayabu and Mr. David MacNaughton for their contribution as members of the advisory committee. We would also like to thank Dr. SA Lewin for permission to use the search terms in a relevant systematic review [15] to help assist in the design of our search strategy.
Authors' Affiliations
(1)
Centre for Global Health, Trinity College, Dublin, Ireland
Copyright
© Gilmore and McAuliffe; licensee BioMed Central Ltd. 2013
This article is published under license to BioMed Central Ltd. This is an Open Access article distributed under the terms of the Creative Commons Attribution License (http://creativecommons.org/licenses/by/2.0), which permits unrestricted use, distribution, and reproduction in any medium, provided the original work is properly cited.