Research article
Open Access
Open Peer Review
This article has Open Peer Review reports available.
Tobacco control in the Russian Federation- a policy analysis
BMC Public Health
2013
13:64
Received: 12 August 2012
Accepted: 20 December 2012
Published: 23 January 2013
Abstract
Background
The Russian Federation (Russia) has one of the highest smoking rates in the world. The purpose of this study is to analyze past and current trends of the tobacco epidemic in the Russian Federation, review current tobacco control policy responses, and identify areas of opportunity for policy priorities.
Methods
We used a policy triangle as analytical framework to examine content, context, and processes of Russian tobacco control policy. The analysis was based on secondary data on supply and demand sides of the Russian tobacco epidemic, tobacco-related economic and health effects during Russia's economic transition, and compliance of Russian tobacco policy with international standards and regulations.
Results
Tobacco-promoting strategies have specifically targeted women and youth. Russia's approval of a "National Tobacco Control Concept" and draft for a comprehensive tobacco control bill increasingly align national legislature with the WHO Framework Convention on Tobacco Control (FCTC). However, several structural and cultural factors represent substantial barriers to the policy process. The influence of transnational tobacco companies on policy processes in Russia has so far impeded a full implementation of the FCTC mandates.
Conclusions
Several strategies have been identified as having the potential to reduce the prevalence of tobacco use in Russia and decrease tobacco-related national health and economic burden: adjusting national tobacco policy by raising tobacco tax from the current lowest level in Europe to at least 70%; consequent enforcement of a complete smoking ban in public places; marketing restrictions; and smoking cessation interventions integrated into primary care. Russia's tobacco control efforts need to target women and youths specifically to efficiently counter industry efforts.
Keywords
Tobacco ControlRetail PriceTobacco IndustrySecondhand SmokeTobacco Control Policy
Background
Tobacco use is the single largest cause of preventable death globally, responsible for more than six million deaths each year, including more than 600,000 nonsmokers worldwide who die from secondhand exposure to tobacco smoke [1]. The Russian Federation (Russia) has one of the highest smoking rates in the world, particularly among men, with more than 39% or 44 million adults smoking in a country of 142 million [2]. 25% of Russian youth currently smoke [3].
These rates are higher than in any other European country. While tobacco use prevalence among males has been very high in the Russian Federation for the last 50 years, it has increased during the economic transition following the collapse of the Soviet Union in 1991. According to the Russia Longitudinal Monitoring Survey, tobacco smoking prevalence among males rose from 46-48% in the mid-1980s [4] to the current rate of over 60% [2].
Trends have increased even more among women, in whom rates before the transition had been historically low. Between 1992 and 2003, rates increased by 6% among men, but more than doubled from 6.9% to 15% among women (Figure
1
) [
2
,
5
]. Since the 2000s, rates have been relatively stable among men, but further increased among females to the current rate of 21.7% [
5
].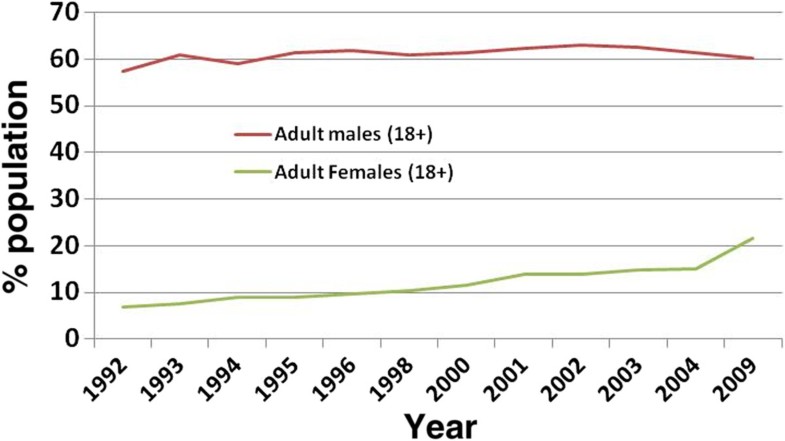 Studies examining tobacco control policies in Europe have shown that understanding health policies requires analysis of its context, including political, economic, social and cultural influences, as policy contexts determine form and content of a policy and the attention it receives in the political arena [6]. Given the immense burden of smoking and tobacco use in Russia, the goal of this review is to conduct a policy analysis in order to provide an understanding of current tobacco control responses in Russia and identify areas of opportunity for effective tobacco control policies.
Methods
We use the policy triangle analysis methodology [7] to examine Russia's tobacco control policy content, context, actors and processes in a conceptual framework. Our analysis is based on publicly available, secondary data covering the timeframe from 1990 to present. As has been suggested previously [8], data include not only published academic sources, but also important policy documents and other reports from government and public institutions in Russia, from international organizations, as well as from transnational tobacco companies and Russian industry lobby organizations.
Drawing from peer-reviewed and grey literature from diverse areas that use a variety of research designs, and on the background of our experiences framed by existing theories and models [7–9], we provide a summary of supply and demand sides of the Russian tobacco epidemic, discuss tobacco-related health effects since the country's economic transition, and analyze compliance of Russia's tobacco policies with international standards and regulations.
Conclusions
Russia's "National Tobacco Control Concept" and a recent MoHSD draft for a new tobacco control bill represent a formidable opportunity to effectively and efficiently reduce the country's tobacco burden. Our results suggest that strong tobacco industry influences risk to attenuate future tobacco control measures.
In order to implement the mandates of the FCTC and its "National Tobacco Control Concept" and to adopt its promising bill draft, Russia needs to strengthen national leadership for tobacco control through clear, evidence-based health messages on behalf of state and non-state actors. Although Russia has no domestic raw tobacco producers who will be deprived of their livelihood, it represents a global center of attention and interests from transnational tobacco companies; substantial policy resistance will originate primarily from cigarette producers and related marketing and distribution industries. Leaders can relate to the recent "National Tobacco Control Concept" to seek sustained political commitment and build strong coalitions to advance tobacco control in the country, with particular attention to tobacco use among women and youth.
Aligning the various stakeholders and harmonizing their collaboration has the potential to gain momentum beyond current policy resistance and industry influences. A successful tobacco control policy change with its positive changes can demonstrate Russia's capacity to improve public health and address the current health crisis. Robust research is needed to create a solid evidence-base on the effectiveness of tobacco control measures in Russia.
Declarations
Acknowledgments
We greatly appreciate the identification of data sources and critical revisions made by Nataliya Toropova and Oleg Storozhenko from the WHO country office in the Russian Federation in Moscow. We thank Candace Miller, Kojo Yeboah-Antwi, and Gene Declercq from the Boston University School of Public Health for their feedback for an earlier version of this manuscript, which was part of KL's comprehensive exam in that school's doctorate in public health (DrPH). At the Boston University School of Medicine, we thank Natalia Gnatienko for her feedback and critical revision of the manuscript, and Jane Liebschutz from the Preventive Medicine Residency Program for her support. This study did not receive any funding.
Authors' Affiliations
(1)
School of Medicine, Boston University, Boston, USA
(2)
WHO Russian Federation, Moscow, Russia
Copyright
© Lunze and Migliorini; licensee BioMed Central Ltd. 2013
This article is published under license to BioMed Central Ltd. This is an Open Access article distributed under the terms of the Creative Commons Attribution License (http://creativecommons.org/licenses/by/2.0), which permits unrestricted use, distribution, and reproduction in any medium, provided the original work is properly cited.