Study protocol

Open Access
A randomized trial to evaluate the effectiveness of an individual, education-based safe transport program for drivers aged 75 years and older
BMC Public Health
2013
13:106
Received: 20 December 2012
Accepted: 1 February 2013
Published: 5 February 2013
Abstract
Background
There are concerns over safety of older drivers due to increased crash involvement and vulnerability to injury. However, loss of driving privileges can dramatically reduce independence and quality of life for older members of the community. The aim of this trial is to examine the effectiveness of a safe transport program for drivers aged 75 years and older at reducing driving exposure but maintaining mobility.
Methods and design
A randomised trial will be conducted, involving 380 drivers aged 75 years and older, resident in urban and semi-rural areas of North-West Sydney. The intervention is an education program based on the Knowledge Enhances Your Safety (KEYS) program, adapted for the Australian context. Driving experience will be measured objectively using an in-vehicle monitoring device which includes a global positioning system (GPS) to assess driving exposure and an accelerometer to detect rapid deceleration events. Participation will be assessed using the Keele Assessment of Participation (KAP). Data will be analysed on an intention-to-treat basis; the primary outcomes include driving exposure, rapid deceleration events and scores for KAP. Secondary outcomes include self-reported measures of driving, socialisation, uptake of alternative forms of transport, depressive symptoms and mood. A detailed process evaluation will be conducted, including examination of the delivery of the program and uptake of alternative forms of transport. A subgroup analysis is planned for drivers with reduced function as characterized by established cut-off scores on the Drivesafe assessment tool.
Discussion
This randomised trial is powered to provide an objective assessment of the efficacy of an individually tailored education and alternative transportation program to promote safety of older drivers but maintain mobility. Trial registration: Australian New Zealand Clinical Trials Registry ACTRN12612000543886.
Keywords
DrivingAgeingNaturalistic drivingParticipationMobilitySafetyRoad traffic injuryEducation
Background
Older people are a large and growing sector of the driving population. Concerns over safety of older drivers have been raised due to increased crash involvement and vulnerability to crash injury [1–3]. Crash involvement per mile driven and likelihood for driver responsibility begins to increase from age 65 [4] and by age 85 likelihood of crash involvement is approximately 2.5 times higher than that of the younger drivers [5]. However, concerns over safety need to be tempered by the fact that driving is an important means to maintain independence and community participation for older people. Loss of driving privileges has been linked to depression and early admission to residential care [6].
Unlike younger drivers whose higher crash rate is attributed to inexperience and risky driving behaviour [4] the high crash rate for older drivers is explained by a different set of factors including visual, cognitive and functional decline, chronic conditions and medication. Compared with younger drivers, older drivers are over-involved in angle crashes, overtaking or merging crashes, and especially intersection crashes [4, 7–9].
Driver licensing systems regulate driving privileges and most jurisdictions have restricted licenses for drivers with functional limitations. These are designed to keep less competent drivers in low-risk driving situations. Screening programs to evaluate functional status have been pilot tested in Australia [10] and proposed in the US [11]. However, recent reviews of available evidence find that there was no off-road screening test of fitness to drive that could be justified as a determinant of licensing status.[12, 13] This was mainly due to concern about cost-effectiveness of screening all older drivers and limited effectiveness at identifying high risk drivers.
Self- regulation remains a central strategy for reducing crash risk amongst older drivers. Approximately 3-5%[14, 15] of older drivers retire from driving each year and one quarter to one third make at least one adaptation to the way they drive.[16–18] Self-restriction and giving up driving has consistently been linked to decline in vision,[15, 17, 19–23] cognition [17, 19, 22, 24, 25], physical strength[24] and poor health [15, 17, 21, 22, 25, 26]. Importantly, those drivers who self-regulate their driving have been shown to have poorer performance in on-road assessment.[18] An analysis of a case series of fatal crashes involving older drivers from the North American Fatality Analysis Rating System (FARS-2003) found that those who drive in the daylight were 28% (8 am-1 pm) and 37% (2 pm-8 pm) less likely to be injured in a crash [27]. Older drivers with a previous motor vehicle conviction, are 35% less likely to be injured in a crash presumably as these individuals acknowledge their limitations and take corrective action such as reducing their exposure to driving[27]. This epidemiologic evidence provides support for the use of self-restriction as a means to optimise the safety of older drivers.
While self-regulation is a promising tool to promote safety, external factors may over-ride considerations of driving ability and prevent an informed and timely decision [27]. It has been shown that a personal preference to be the driver (rather than a passenger) keeps drivers on the road [28]. The availability of alternate transportation[16] and another driver in the household [22] also increases the likelihood of stopping driving or limiting driving. Surveys find few current drivers have planned for retirement from driving [16].
We hypothesise that self-regulation can be optimised and propose to evaluate the effectiveness of an integrated program consisting of education about safe driving and alternative transportation, on driving exposure and safety. In recognition that loss of driving can negatively impact independent mobility, we will evaluate the impact on community participation and socialisation. Lastly, the cost-effectiveness of the program will be evaluated and provide important direction for policy makers and guide decisions about programs for older drivers to manage their driving and resource allocation to transportation schemes for older members of the community.
Methods
The study is a randomised trial, designed in line with the CONSORT statement [
29
], involving 380 drivers. As the greatest population of older drivers in Australia is in outer suburbs and semi-rural areas [
30
], we will recruit licensed drivers' aged 75 years and older, resident in two local government areas (LGA) on the suburban outskirts of Sydney, the Hills and Hornsby-Kuringai Shires. These areas were selected as they have greater than the national population median of seniors resident in the LGA (>17% aged 65 and over) and low availability of public transportation as defined by absent rail and irregular or no public bus services. Participants will be recruited through advertising in local media, seniors groups and through a mail-out to members of a motoring organisation in New South Wales (Figure
1
).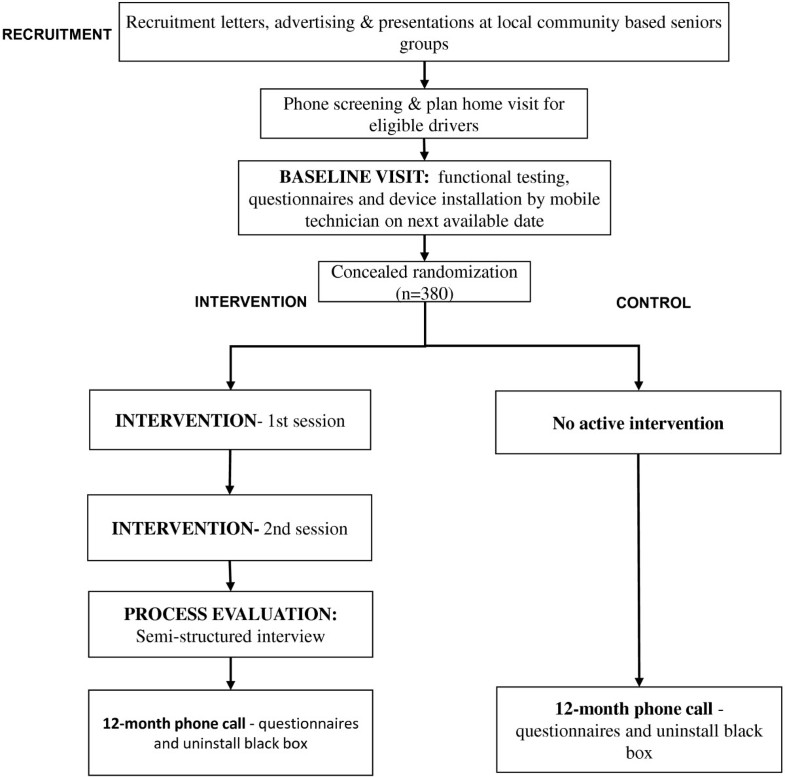 In late 2009 the investigators conducted a series of 3 focus groups with older drivers, who were members of a community-based seniors club in the Hills Shire. There was consensus that driving was essential to their independence, with participants citing lack of transport alternatives with no taxi service, sporadic private bus transport and strong personal preference for being able to continue driving. As reported elsewhere [16] few had planned for retirement from driving though loss of driving privileges was perceived as incompatible with continued living in this area. All participants felt there were significant safety issues for older drivers but that these issues were limited to only a few drivers, not well represented in the media and overestimated by the driving public. This consultation highlighted the importance of independent mobility and the need for objective data to inform policy in this area.
The study will be conducted in adherence with the Declaration of Helsinki and all participants will sign a record of informed consent. The study protocol has been approved by the University of Sydney Human Research Ethics Committee.
Discussion
Older drivers have high crash involvement and increased vulnerability to injury on the road, however driving is vital to independence for many older Australians. While programs to promote safe mobility are in place, there are few that have been evaluated for their effectiveness. Results from the small number of randomised trials evaluating interventions to promote safety but maintain mobility are mixed [76] and there are no proven strategies to protect older drivers but maintain their mobility [6]. Here we evaluate a safe mobility program which was developed in the United States but adapted for the Australian setting. The program has been adapted in consultation with the community, draws on existing seniors' mobility services in the local area and employs a validated educational programs for older, at-risk drivers. Therefore the program has the potential to be sustainable. Furthermore the program is based on robust behaviour change theory and delivery of the program will be individualised according to the stages of the precaution adoption model. While there are a number of initiatives from bodies such as motoring associations, local councils and seniors groups, many are not sustained, in part due to the lack of proof of their effectiveness. This randomised trial will provide credible evidence about the efficacy of a safe transport program, using objective measures of driving ability.
The results will have relevance to policy makers and advocates for older members of the community in high income countries internationally, where there is high reliance on private motor vehicles and an ageing population. If proven to be effective, this program could be made available to older members of the community to assist in the timely retirement from driving and continued independent mobility and community engagement. Findings from this research will provide high quality, policy relevant evidence regarding the potential to prevent crash injuries and maintain mobility during the transition to not driving. If proven, this integrated program will help older Australian live productively, independently and safely in the community.
Declarations
Acknowledgements
The research is funded by an Australian Research Council Discovery Project (DP110101740), a University of Sydney Equipment Grant and funding from the IRT Foundation. RI, JB and EC hold research fellowships funded by the NMHRC; LK holds a fellowship from the Australian Research Council and KC has an Australian Postgraduate Award.
Authors' Affiliations
(1)
The George Institute for Global Health, Camperdown, Australia
(2)
Sydney Medical School, The University of Sydney, Sydney, Australia
(3)
Sydney School of Public Health, The University of Sydney, Sydney, Australia
(4)
Neuroscience Research Australia, Randwick, Australia
(5)
University of New South Wales, Sydney, Australia
(6)
Kolling Institute, Building 6 Level 10, RNS Hospital, St Leonards, Australia
(7)
Transport and Road Safety (TARS) Research, The University of New South Wales Sydney, Sydney, Australia
(8)
Faculty of Health Sciences, University of Sydney, Lidcombe, Australia
Copyright
© Keay et al.; licensee BioMed Central Ltd. 2013
This article is published under license to BioMed Central Ltd. This is an Open Access article distributed under the terms of the Creative Commons Attribution License (http://creativecommons.org/licenses/by/2.0), which permits unrestricted use, distribution, and reproduction in any medium, provided the original work is properly cited.