Research article

Open Access

Open Peer Review
This article has Open Peer Review reports available.
Analyzing the spatio-temporal relationship between dengue vector larval density and land-use using factor analysis and spatial ring mapping
BMC Public Health
2012
12:853
Received: 19 April 2012
Accepted: 3 October 2012
Published: 9 October 2012
Abstract
Background
Dengue, a mosquito-borne febrile viral disease, is found in tropical and sub-tropical regions and is now extending its range to temperate regions. The spread of the dengue viruses mainly depends on vector population (Aedes aegypti and Aedes albopictus), which is influenced by changing climatic conditions and various land-use/land-cover types. Spatial display of the relationship between dengue vector density and land-cover types is required to describe a near-future viral outbreak scenario. This study is aimed at exploring how land-cover types are linked to the behavior of dengue-transmitting mosquitoes.
Methods
Surveys were conducted in 92 villages of Phitsanulok Province Thailand. The sampling was conducted on three separate occasions in the months of March, May and July. Dengue indices, i.e. container index (C.I.), house index (H.I.) and Breteau index (B.I.) were used to map habitats conducible to dengue vector growth. Spatial epidemiological analysis using Bivariate Pearson's correlation was conducted to evaluate the level of interdependence between larval density and land-use types. Factor analysis using principal component analysis (PCA) with varimax rotation was performed to ascertain the variance among land-use types. Furthermore, spatial ring method was used as to visualize spatially referenced, multivariate and temporal data in single information graphic.
Results
Results of dengue indices showed that the settlements around gasoline stations/workshops, in the vicinity of marsh/swamp and rice paddy appeared to be favorable habitat for dengue vector propagation at highly significant and positive correlation (p = 0.001) in the month of May. Settlements around the institutional areas were highly significant and positively correlated (p = 0.01) with H.I. in the month of March. Moreover, dengue indices in the month of March showed a significant and positive correlation (p <= 0.05) with deciduous forest. The H.I. of people living around horticulture land were significantly and positively correlated (p = 0.05) during the month of May, and perennial vegetation showed a highly significant and positive correlation (p = 0.001) in the month of March with C.I. and significant and positive correlation (p <= 0.05) with B.I., respectively.
Conclusions
The study concluded that gasoline stations/workshops, rice paddy, marsh/swamp and deciduous forests played highly significant role in dengue vector growth. Thus, the spatio-temporal relationships of dengue vector larval density and land-use types may help to predict favorable dengue habitat, and thereby enables public healthcare managers to take precautionary measures to prevent impending dengue outbreak.
Keywords
Rice Paddy
Dengue Hemorrhagic Fever
Dengue Infection
Tree Hole
Dengue Case
Background
Dengue is a vector-borne disease, estimated to affect millions of individuals each year in tropical and subtropical areas, and it is reemerging in areas that have been disease-free for relatively long periods of time. This expansion is creating new opportunities for viruses to propagate in new areas and is acting as a common cause of epidemics in what were Aedes (Ae.) free countries [1], and is associated with numerous problems at local and global scales. Dengue is endemic in tropical and subtropical regions as the viruses that cause it are transmitted through the bite of an already infected mosquito. Epidemics of this mosquito-borne illness are rising worldwide due to increased international travel and unplanned urbanization combined with lack of effective mosquito control measures in tropical developing countries [2]. In recent years, transmission of these viruses has increased predominantly in urban and semi-urban areas, and is a major international public health concern owing to its hold over approximately half of the world's population. According to estimates by the World Health Organization (WHO), there could be as many as 50 to 100 million dengue infections worldwide each year [3]. In the absence of an effective drug or vaccine, the only strategic options to control dengue are case management to prevent death and control of vectors to reduce viral transmission [4]. The appearance of numerous infectious diseases is strongly facilitated by environmental factors, such as climate or land-use change [5]. The spatial distribution of vector-borne diseases are typically determined by the geographical extent of the vector or reservoir hosts and their habitat priorities [6]. During immature stages, vector species differ in their priorities for habitat. Therefore, change in land-use permits the colonization of new habitats as well as the expansion or reduction of the range of the vector. This may also modify the composition of the mosquito vector community [7]. Agriculture is the largest driver for land-use change across the earth. Croplands and pastures together have become one of the largest terrestrial biomes on the planet, rivaling forest, and cover in extent of 40% of the land surface area [8, 9]. Land-use/land-cover patterns and socio-cultural practices have a strong relation with dengue incidence [10]. Vegetation and land-cover characteristics can influence the risk of contracting dengue as they modify mosquito population. Land-use change is a major constituent of global environmental change that can potentially affect human health in relation to mosquito-borne diseases by influencing the mosquito's habitat. The distribution and abundance of vectors concomitantly mediates human-mosquito interactions including biting rate [11].
Vector population estimates have been carried out by many researchers using dengue indices, i.e. house index (H.I.), container index (C.I.) and Breteau index (B.I.), as indicators that can be adopted to compare their individual relationships with each of the habitat parameters [4, 12]. The relationship between number of dengue virus infections (cases) and climatic factors has been reported by many researchers using several indices, and it has been concluded that climatic conditions have a strong influence on dengue infection [13–15]. However, drawbacks associated with the use of dengue case data include the occurrence of asymptomatic infections which cannot be used to support a real-time indication of a forthcoming disease scenario, as can be predicted using larval density data [16]. The dengue vector species mainly contributing to dengue outbreak include Ae. aegypti (L) and Ae. albopictus (L) [13]. Of both species, female mosquito mostly likes to feed on human blood, whereas male mosquito prefers nectar feeding [17]. The former does not fly far and the majority of the population remains within a 200 meter distance from the site of their emergence [3]. However, this type of mosquito uses a wide range of confined larval habitats, both natural and man-made. On the other hand, larvae of the later species have been found not only in natural containers, i.e. tree holes, plant axils, cut bamboo stumps and opened coconuts, but also in outdoor artificial containers, i.e. rubber tyres, water storage barrels, glass and plastic bottles, and jars located up to one-kilometer diameter [15, 18].
Spatial epidemiology is the study of spatial variation in disease risk or incidence. Several ecological processes can result in strong spatial patterns of such risk or incidence, e.g. pathogen dispersal might be highly localized, vectors or reservoirs for pathogens might be spatially restricted, or susceptible hosts might be clumped [19]. In addition to the reported relationship between climatic conditions and dengue infection [13, 15], understanding the contribution of land-use type to dengue vector breeding ability is directly required to unveil the underlying scenario comprehensively. A few previous studies have emphasized the analysis of land-use and land-cover types due to their relevance with mosquito breeding habitat and people's living style. It was pointed out by many researchers that the land-cover can be an important risk determinant for dengue infection [20, 21], therefore it demands a comprehensive analysis of surrounding landscape and its possible relationship with the dynamics of mosquito population for subsequent dengue incidence.
The present study was conducted to predict the suitable potential habitat for dengue-transmitting mosquitoes, integrating dengue indices and land-use types using spatial epidemiology and statistical approaches. Moreover, the extent to which land-use types influence dengue-transmitting mosquito growth was also investigated.
Methods
Study area
Phitsanulok is a province of Thailand, located in its lower northern region (16.78 N, 100.20 E), 377 km from Bangkok (Figure
1
). The province has a population density of 77.99 (people km-2) and has nine amphoes (districts), ninety-three tambons (sub-districts) and more than one thousand muban (villages) [
22
]. Villages are considered the smallest unit under Thailand's public health system. The study area has diverse land-use and land-cover types, e.g. urban, field crops, orchards, mountains, river, waterfalls, swamps, forests, grasslands, caves, reservoirs and an extensive network of canals. The major land-use classes in the study area are urban and crop land, as most people have adopted farming as an occupation. A major outbreak of dengue was witnessed during 2008 when 1385 patients were admitted to hospitals (Figure
2
). It was declared the worst outbreak in the history of Phitsanulok Province. The outburst prompted Phitsanulok's government agencies to study the behavior and pattern of the disease, and also to ascertain possible causes contributing to favorable habitats for its spread. This was done in order to cope with and prevent future outbreaks of such magnitude at the national level, considering Phitsanulok Province on a priority basis.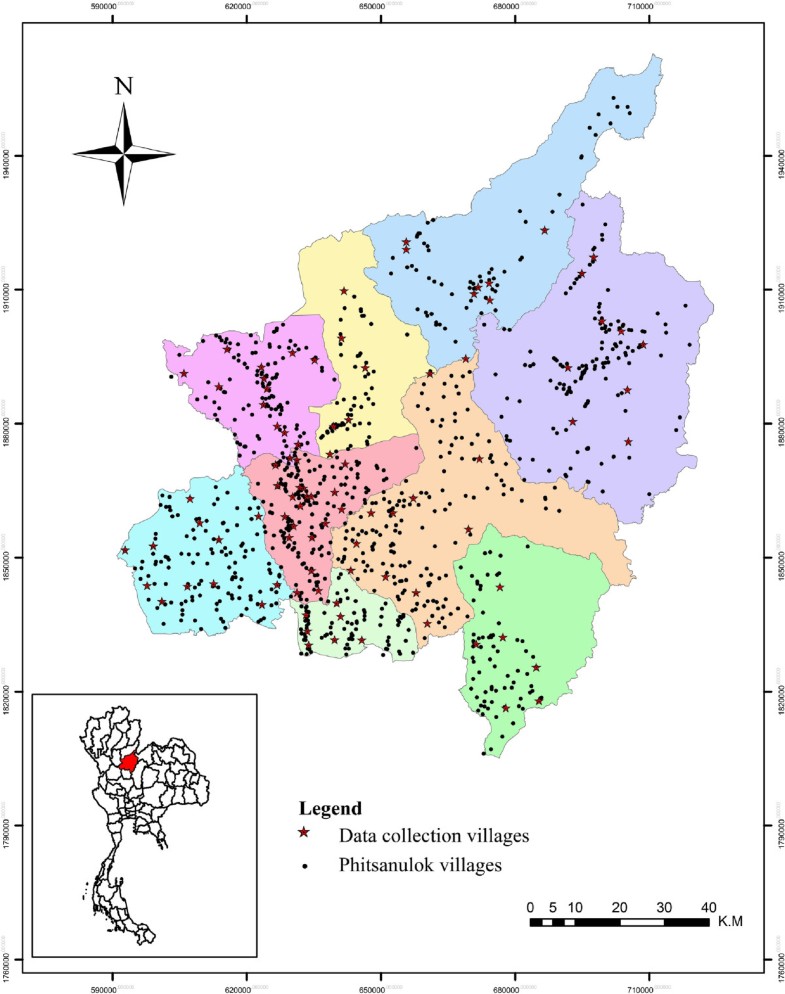 Climatic conditions
The climate of the province is hot tropical with an annual rainfall of approximately 1800 mm. However, at higher altitudes the weather is cool with a maximum temperature of around 25.0°C and at lower altitudes it is around 33.0°C. During the study period (2009), the mean temperature, humidity and rainfall recorded were 28.0°C, 75.0% and 112.0 mm, respectively (Figure
3
).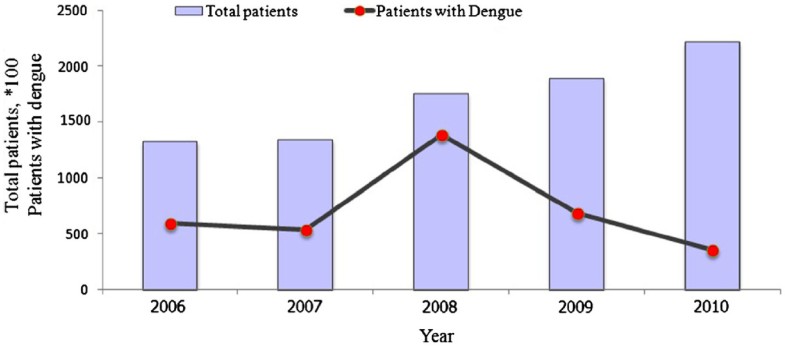 Health facilities
The province has good numbers of registered medical treatment units, i.e. 145 health centers and 270 clinics, for its residents [22]. Still there are constant health issues faced by the citizens in the province, with a dramatic increase in the rate of annual in-patients suffering from various kinds of diseases. Dengue fever (D.F.) and dengue hemorrhagic fever (D.H.F.) are among the top five leading diseases in the province.
Data sources
Data of dengue-transmitting mosquitoes, i.e. house index (H.I.), container index (C.I.) and Breteau index (B.I.), were collected according to WHO standards by the Ministry of Public Health (MOPH), Division-9th, Phitsanulok, Thailand for the year 2009.
Dengue indices were calculated using the following formulas:
Information about land-use and land-cover was obtained from the Land Development Office, Phitsanulok. Data for the administrative boundaries was acquired from the Royal Thai Survey Department of Thailand.
Data sampling and conversion to GIS
Dengue indices were observed by trained staff of the Ministry of Public Health (MOPH) in Phitsanulok during the study period. They were well-trained in mosquito species identification and sampling methods. Samples were collected from 92 villages, where dengue cases were reported, and in 2009 sampling were done on three separate occasions in the months of March, May and July. On average 78 houses per village were randomly sampled. Covered indoor and outdoor areas of the selected premises, containing water, also sampled. The different lifestyles of the people and diversity of the surrounding environment were also considered. Out of 92 sampled villages, in 11 villages a total of 29 houses were found locked during revisits; where houses were locked adjacent house was sampled instead, as the neighboring house had almost similar structure and surrounding environment, i.e. land-cover types. Large stagnant ponds, running water and open areas, such as parks and playgrounds were ignored because
Aedes
mosquitoes do not prefer open areas [
20
,
23
]. Generally, the peak season for dengue breeding in the study area ranges from April to June and the level of rainfall in the months of April, May and June has a positive effect on dengue larvae; whereas, after July, heavy rains usually start and flush away eggs, larvae and pupae of the dengue vector [
24
]. May was explored as it was considered to be the peak of the dengue breeding season. Sampled villages were marked with GPS and all the point data was converted into shape files and shifted to GIS layers for spatial epidemiological analysis. Inverse Distance Weighted (IDW) interpolation was performed to indicate the overall situation of C.I. (Figure
4
), H.I. (Figure
5
) and B.I. (Figure
6
) in the study area. ArcGIS 10 ArcMap software was used for GIS analysis, which provides powerful functionality for GIS data and is usually used and recommended by public health professionals [
2
].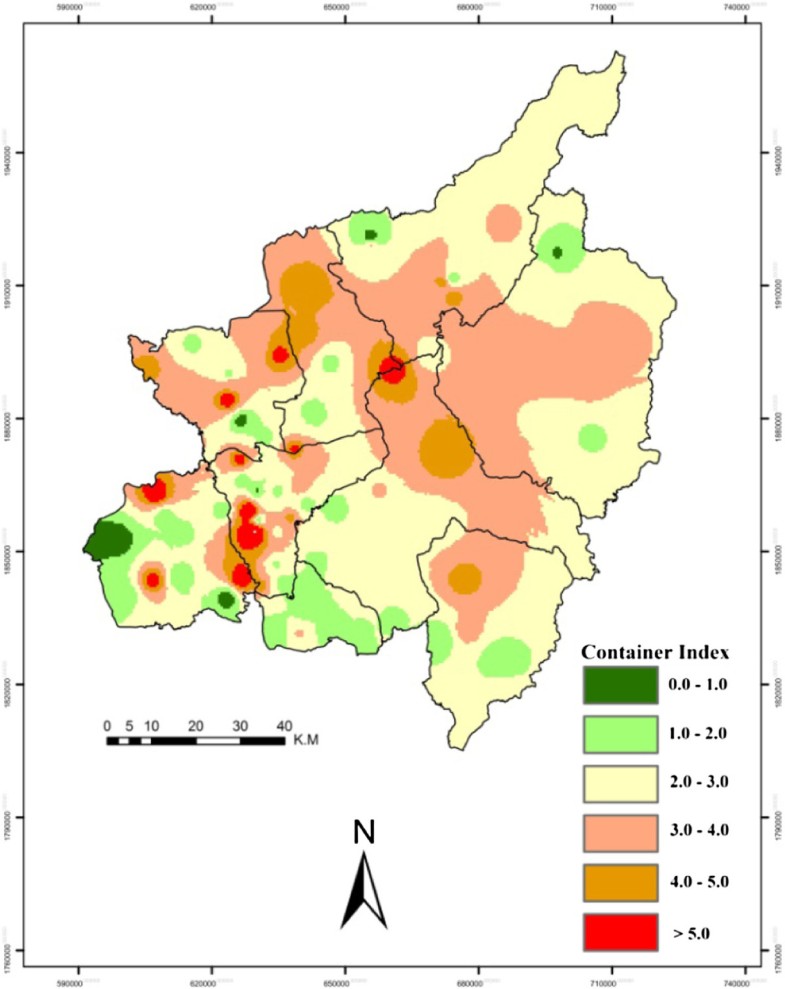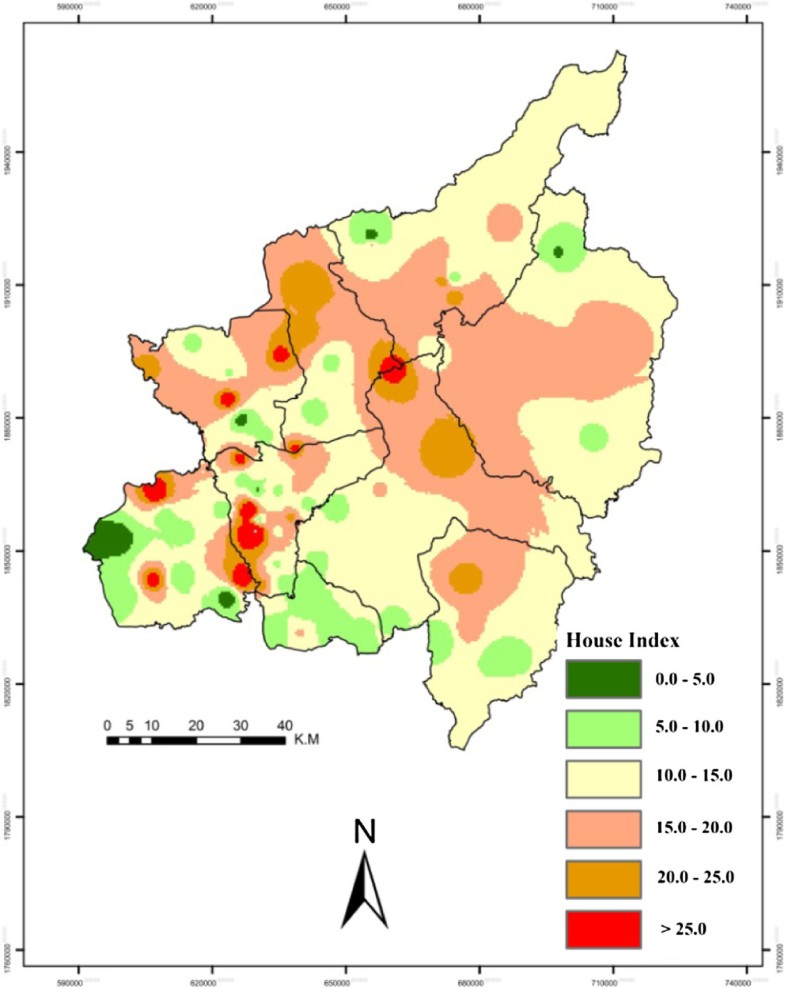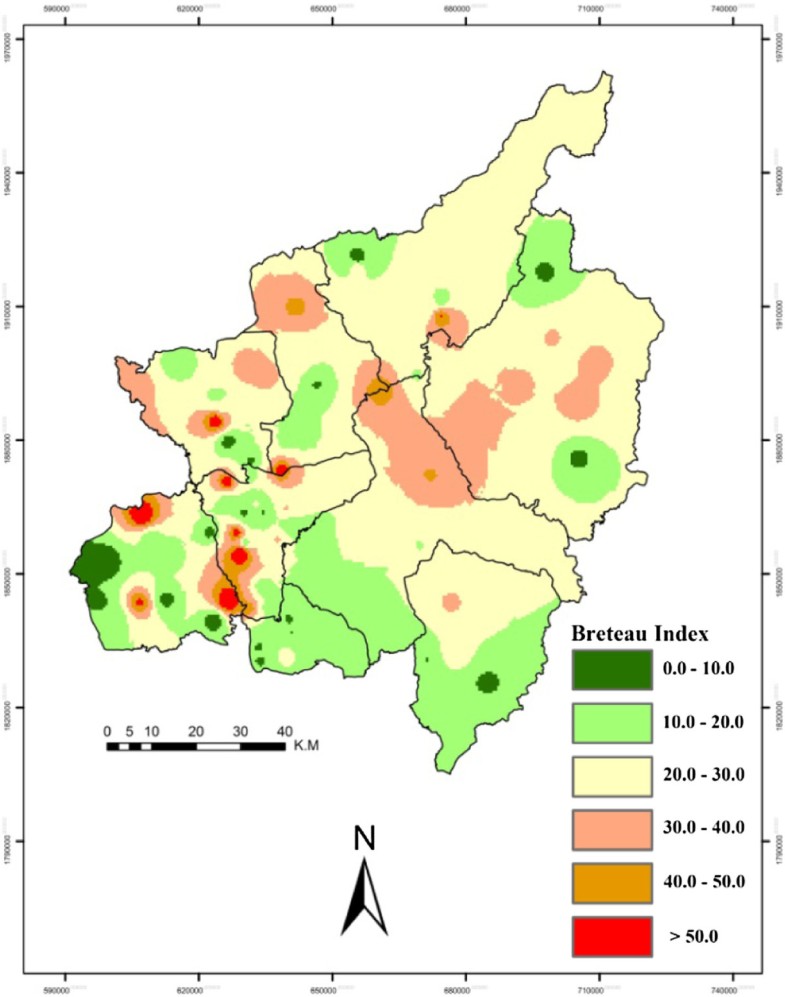 Spatial and statistical analysis
Locations sampled were overlaid on a detailed land-cover map to examine the geographically related environmental conditions around villages having different ranges of B.I. Land-cover for 1860 classes was merged into 171 classes following Land Development Department Thailand rules of classification codes, based on similar class structures. The resultant classes were further contracted to 27 classes representing all types of major and mixed classes, as reported in the literature about the relationship of dengue with land-use type [
7
,
11
,
15
] (Figure
7
). Successive contractions of land-cover classes were carried out to reduce the redundancy of similar patterns to clearly determine the comprehensive phenomena of vector-borne disease (dengue). Considering the maximum mosquito flight range during its life span around the village, a buffering operation of one-kilometer was performed using GIS software for the 92 villages [
15
]. This helped to indicate the environmental conditions around the observed locations, i.e. type of trees, crops, fruits and built-up areas, together with all the other factors that play a role in increasing or decreasing dengue indices values. Bivariate Pearson's correlation analysis was conducted to find out the relationship between mosquito density-related indices and land-use/land-cover classes, which were investigated to explore factors potentially contributing to favorable habitats that facilitate the life-cycle development of dengue-transmitting mosquitoes.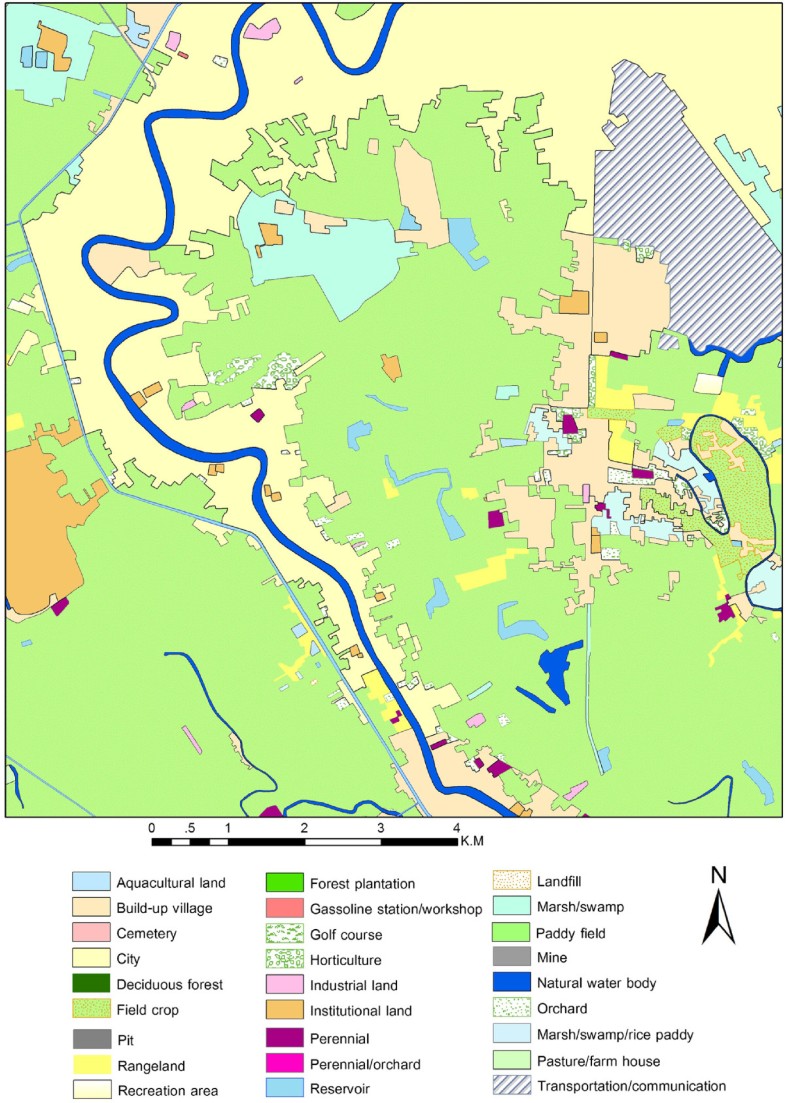 Factor analysis
Factor analysis, using principal component analysis (PCA) with the varimax rotation method, was performed to explain variance among the land-cover classes to understand the habitat ecology. The factors were analyzed to determine the unique dimensions existing in the data. Prior to conducting the factor analysis procedure, cleaning of data was done, i.e. removal of outlier, verification of data with raw data. Rotation in factor analysis produced results in a more interpretable form and helped to scrutinize the land-cover classes based on their contribution to dengue indices, i.e. B.I., C.I., and H.I. values, either individually or when associated with one or more land-cover classes. Factor analysis is often used to generate hypotheses regarding causal mechanisms and to screen variables for subsequent analysis [25, 26].
The factor score is a linear combination of observed variables weighted by eigenvectors. Generation of factor scores is a transformation of observed variables (c
1
=
β
11
x
1
+
β
12
x
2
+....... +
β
1p
x
p
). Where c
1
is the score of the first component,
β
1p
is coefficient of regression for observed variable, i.e. its weight and x
p
is observed variable p. The higher weight of the score attached with observed variable (land-use type) represents the higher correlation with independent variable (dengue index). For example, in case of deciduous forest positive loads are given below in equation extracted using rotated component matrix.
Where, x1, x2, x3 and x4 are land types, and from all these land type x2 has high loading and x4 has less loading. Land-use type x2 determines more of variance compared to other land-use types.
The factor model is given as:
Where, Y is a matrix of observed variables, X is matrix of scores for factors and B is matrix of eigenvectors (weights).
Twelve factors were identified using PCA having an eigen value equal to or above 1.0 (Additional file
1
). These factors were further grouped from rotated matrix having maximum amount of variance (Table
1
, Additional file
2
). Furthermore, Bivariate Pearson's analysis was conducted on score matrix calculating variables having unique dimensions (land-use classes) with respect to dengue indices. Strength of correlation is indicated in Table
2
. Statistical analyses were conducted in SPSS (version 16.0).
Table 1
Factors selected using principal component analysis
| Factor | Groups of variables having unique dimensions |
| --- | --- |
| 1 | Perennial, orchard and rangeland |
| 2 | Recreation area and golf course |
| 3 | Deciduous forest and mine |
| 4 | Reservoir and pasture/farm house |
| 5 | City and aquaculture land |
| 6 | Institutional land, build-up village and natural water body |
| 7 | Field crop and pit |
| 8 | Marsh/swap/rice paddy and gasoline station/workshop |
| 9 | Transportation/communication, horticulture and landfill |
| 10 | Industrial area and forest plantation |
| 11 | Perennial/orchard and cemetery |
| 12 | Marsh/swamp and paddy field |
Table 2
Correlation between group of land-use type and indices for the months of March, May and July and the study period mean values of each respective index
Indices

Month

Factor 1

Factor 3

Factor 8

C.I.

March

0.28 ns

0.21*

-0.15 ns

May

-0.01 ns

0.07 ns

0.29***

July

-0.07 ns

0.04 ns

0.18 ns

Mean

0.08 ns

0.11 ns

0.12 ns

H.I.

March

0.21*

0.25**

-0.15 ns

May

0.02 ns

0.06 ns

0.33***

July

-0.10 ns

-0.02 ns

0.29***

Mean

0.03 ns

0.08 ns

0.21*

B.I.

March

0.28 ns

0.21*

-0.14 ns

May

-0.01 ns

0.03 ns

0.35***

July

-0.06 ns

0.02 ns

0.19 ns

Mean

0.09 ns

0.09 ns

0.18 ns
Spatial analysis using ring maps
Ring map visualization has been explored as a mean of depicting spatially-referenced, multivariate data in single information graphic. A ring map shows multiple attribute datasets as separate rings of information surrounding a base map of a particular geographic region of interest. Huang et al. [
27
] used these techniques to map many variables for location specific data and presented a very good picture of temporal data in one graph instead of displaying them on multiple maps. In this study, ring maps were used to visualize spatio-temporal variations of B.I., and to indicate its relationship with respect to C.I. and H.I. Ring mapping provided a direct mean to explore multivariate and temporal data in a single map to evaluate spatio-temporal patterns. Ring maps were generated in Adobe Illustrator with MAPublisher and all attributes information was imported and reclassified according to indices values. In Figure
8
, the base map and inner ring represents the average B.I. calculated. Spokes around the base maps indicate village locations surveyed, while the inner ring values show average B.I. of the sampled villages. Extending to the outside from the inner ring, the outer layers represent the index variations during March, May and July, respectively. Every village sampled shows the spatio-temporal changes with respect to B.I. While Figure
9
shows the spatial variation among dengue indices (C.I., H.I. and B.I.) of each surveyed village.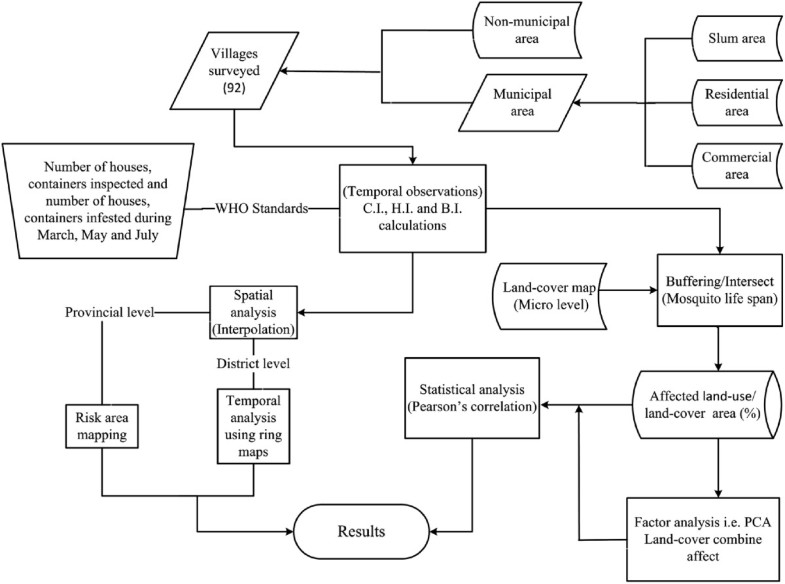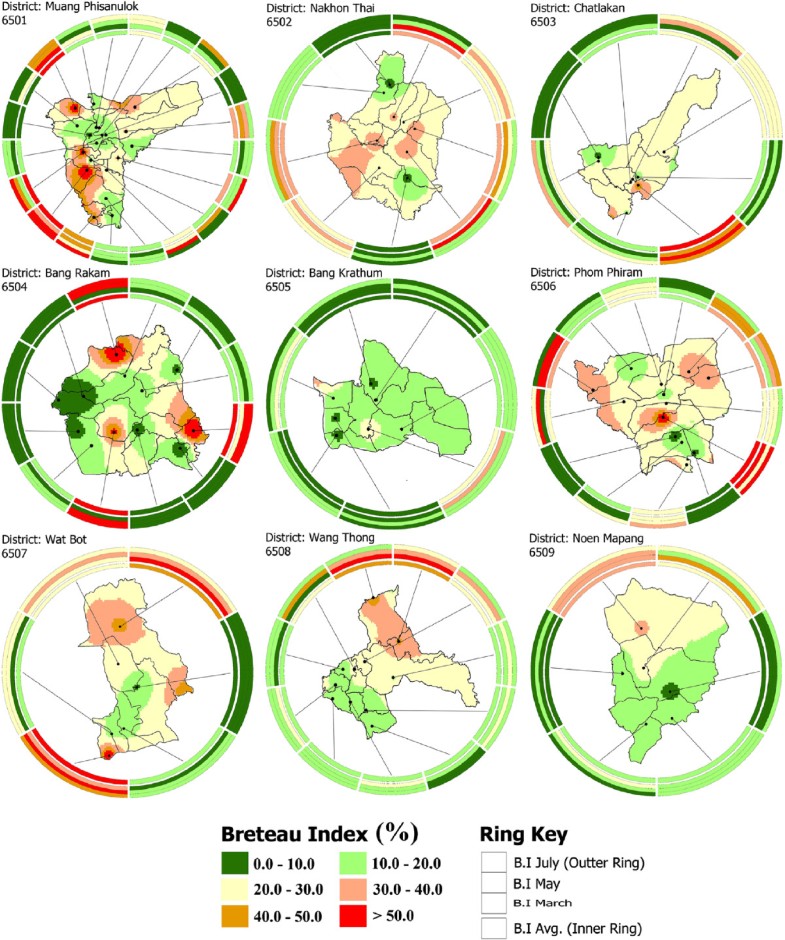 The overall flow-chart of methodology is shown in Figure
10
.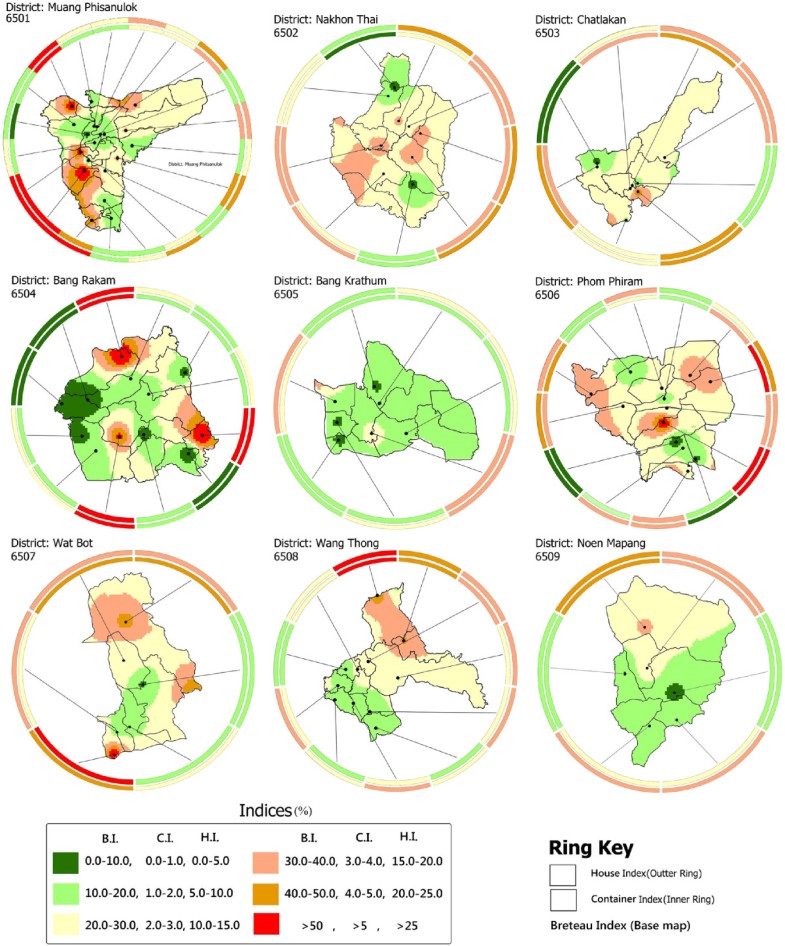 Conclusions
In the present study, settlements with a greater number of gasoline stations/workshops and institutional areas had higher B.I. values, suggesting that these factors significantly contribute to the favorable dengue vector habitats. Dwellings surrounded by marsh/swamp located near paddy fields proved suitable for the growth of dengue vector populations, especially during the rainy season. The strong relationship between deciduous forest, horticulture and perennial areas, and dengue indices indicates that such vegetation is potential habitat for Aedes. These findings show that the presented micro-level datasets created from analysis using statistical methods and spatial tools are beneficial in predicting dengue habitat to facilitate early public health responses. These findings along with reported climatic and demographic factors have special significance in minimizing or curbing the potential risk of dengue outbreak morbidity and mortality. However, these indices weakly predict dengue cases, but can present a fairly close scenario of suitability of dengue habitat. A clear understanding of the procedures for spatial factor assessment and temporal analysis facilitates identification and display of potential predictors for the incidence of dengue in the near future and the risk associated with this disease, and will provide a novel way to start investigations. In conclusion, the use of integrative technologies can enable the healthcare mangers to take early decisions to prevent the spread of dengue outbreak.
Author's contributions
MSS, TT and PK participated in data collection with the collaboration of Ministry of Public Health, Thailand team. MSS carried out the analysis and drafted the initial manuscript while Dr. NKT, Dr. TT and Dr. MS designed the conceptual approach and also assisted in the analysis of data. All authors jointly contributed to the revision and approved the final manuscript.
Declarations
Acknowledgements
Authors would like to acknowledge the Office of Disease Prevention and Control's team (Dr. Sakchai Chaiyamahapurk, Dr. Niramon Pimnumyen, Ms. Sarinthorn Sontisirikit, Mr. Jirapat Ketkaew, Miss Saowanee Deemoon, and Mr. Worawit Tidtean), Municipality Office's team (Miss Chun Siriwan, Miss Patcharee Panudom and Miss Supaluk Klinyam) and Land Development Office of Phitsanulok for collaboration during survey and distribution of data. Authors' are also thankful for financial support provided by Higher Education Commission (HEC) of Pakistan, Bureau of Vector Borne Diseases, Phitsanulok, and Asian Institute of Technology (AIT) Thailand to complete this research. Authors would like to thanks Dr. Muhammad Arshad, Assistant Professor, Faculty of Life Sciences, Karakoram International University (KIU), Pakistan for technical assistance throughout the study.
Authors' Affiliations
(1)
Remote Sensing and GIS, School of Engineering and Technology, Asian Institute of Technology (AIT), Pathumthani, Thailand
(2)
The Office of Disease Prevention and Control, Bureau of Vector Borne Disease (9th), Ministry of Public Health, Muang Phitsanulok, Thailand
(3)
Institut de Recherche pour le Développement (IRD), UMR 190, Marseille, France
Copyright
© Sarfraz et al; licensee BioMed Central Ltd. 2012
This article is published under license to BioMed Central Ltd. This is an Open Access article distributed under the terms of the Creative Commons Attribution License (http://creativecommons.org/licenses/by/2.0), which permits unrestricted use, distribution, and reproduction in any medium, provided the original work is properly cited.