Research article
Open Access
Open Peer Review
This article has Open Peer Review reports available.
COPD uncovered: an international survey on the impact of chronic obstructive pulmonary disease [COPD] on a working age population
BMC Public Health
2011
11:612
Received: 18 March 2011
Accepted: 1 August 2011
Published: 1 August 2011
Abstract
Background
Approximately 210 million people are estimated to have chronic obstructive pulmonary disease [COPD] worldwide. The burden of disease is known to be high, though less is known about those of a younger age. The aim of this study was to investigate the wider personal, economic and societal burden of COPD on a cross country working-age cohort.
Methods
A cross-country [Brazil, China, Germany, Turkey, US, UK] cross-sectional survey methodology was utilised to answer the research questions. 2426 participants aged 45-67 recruited via a number of recruitment methods specific to each country completed the full survey. Inclusion criteria were a recalled physician diagnosis of COPD, a smoking history of > 10 pack years and the use of COPD medications in the previous 3 months prior to questioning. The survey included items from the validated Work Productivity and Activity Impairment [WPAI] scale and the EuroQoL 5 Dimension [EQ-5D] scale. Disease severity was measured using the 5-point MRC [Medical Research Council] dyspnoea scale as a surrogate measure.
Results
64% had either moderate [n = 1012] or severe [n = 521] COPD, although this varied by country. 75% of the cohort reported at least one comorbid condition. Quality of life declined with severity of illness [mild, mean EQ-5D score = 0.84; moderate 0.58; severe 0.41]. The annual cost of healthcare utilisation [excluding treatment costs and diagnostic tests] per individual was estimated to be $2,364 [£1,500]. For those remaining in active employment [n: 677]: lost time from work cost the individual an average of $880 [£556] per annum and lifetime losses of $7,365 [£4,661] amounting to $596,000 [£377,000] for the cohort. 447 [~40%] of the working population had retired prematurely because of COPD incurring individual estimated lifetime income losses of $316,000 [£200,000] or a combined total of $141 m [£89.6 m]. As the mean age of retirees was 58.3 and average time since retirement was 4 years, this suggests the average age of retirement is around 54. This would mean a high societal and economic impact in all study countries, particularly where typical state retirement ages are higher, for example in Brazil, Germany and the UK [65] and the US [65,66,67], compared to Turkey [58 for women, 60 for men] and China [60].
Conclusions
Although generalisation across a broader COPD population is limited due to the varied participant recruitment methods, these data nevertheless suggest that COPD has significant personal, economic and societal burden on working age people. Further efforts to improve COPD diagnosis and management are required.
Keywords
Chronic Obstructive Pulmonary DiseasePulmonary RehabilitationAnnual LossActive EmploymentHospital Inpatient Care
Background
Chronic Obstructive Pulmonary Disease [COPD] is one of the world's most common non-communicable health problems [1]. Approximately 210 million people are known to have the condition [2], although the true prevalence may well be higher due to under-diagnosis [3]. By 2020, COPD is predicted to become the third leading cause of death worldwide [4]. Prevalence is increasing both in developing and developed countries as a result of worldwide tobacco consumption [5, 6], environmental exposures such as biomass fuel smoke [7] and the growing elderly population [8]. It is recognised that comorbid diseases commonly occur with COPD [9–11]. Although COPD is considered to be a disease of later years, estimates suggest that 50% of those with COPD are less than 65 years old [12, 13], many of whom are likely to be in paid employment.
Although there is a wealth of epidemiological data on the global impact of COPD, data on its economic impact are limited, particularly in terms of how the condition directly affects younger sufferers' ability to work and maintain active productive lives. The World Health Organisation [WHO] has estimated that globally COPD results in an annual loss of productivity of 27,700 years [measured by disability adjusted life years [DALYs] [14]. This estimation places COPD eleventh as a worldwide cause of disease burden; by 2030 [15] it is predicted to be seventh highest.
It is important that we understand the true costs of chronic diseases such as COPD to inform healthcare policy and to target resources effectively [16]. Several studies in the US, UK and Europe have attempted to highlight the financial burden of COPD by estimating the direct costs of health care utilization [17, 18] or lost productivity [19, 20]. However, direct costs only account for a proportion of cost, and studies to date have not captured the full extent of the economic burden in terms of impact on younger individuals, their families and society as a whole.
Objectives
This cross-country cross-sectional survey aimed to expand current understanding of the impact of COPD and to demonstrate its wider potential costs in a working age population. It was designed as a hypothesis-generating exercise to identify the factors likely to influence the economic burden of the disease, which can be the subject of further research. Here we describe the observed effects of COPD on: income, employment, work productivity, healthcare utilization and quality of life.
Results
43,069 respondents were initially approached. Whilst 19,007 declined to partake, others did not meet the age; diagnosis, medication or smoking criteria [see Figure
1
].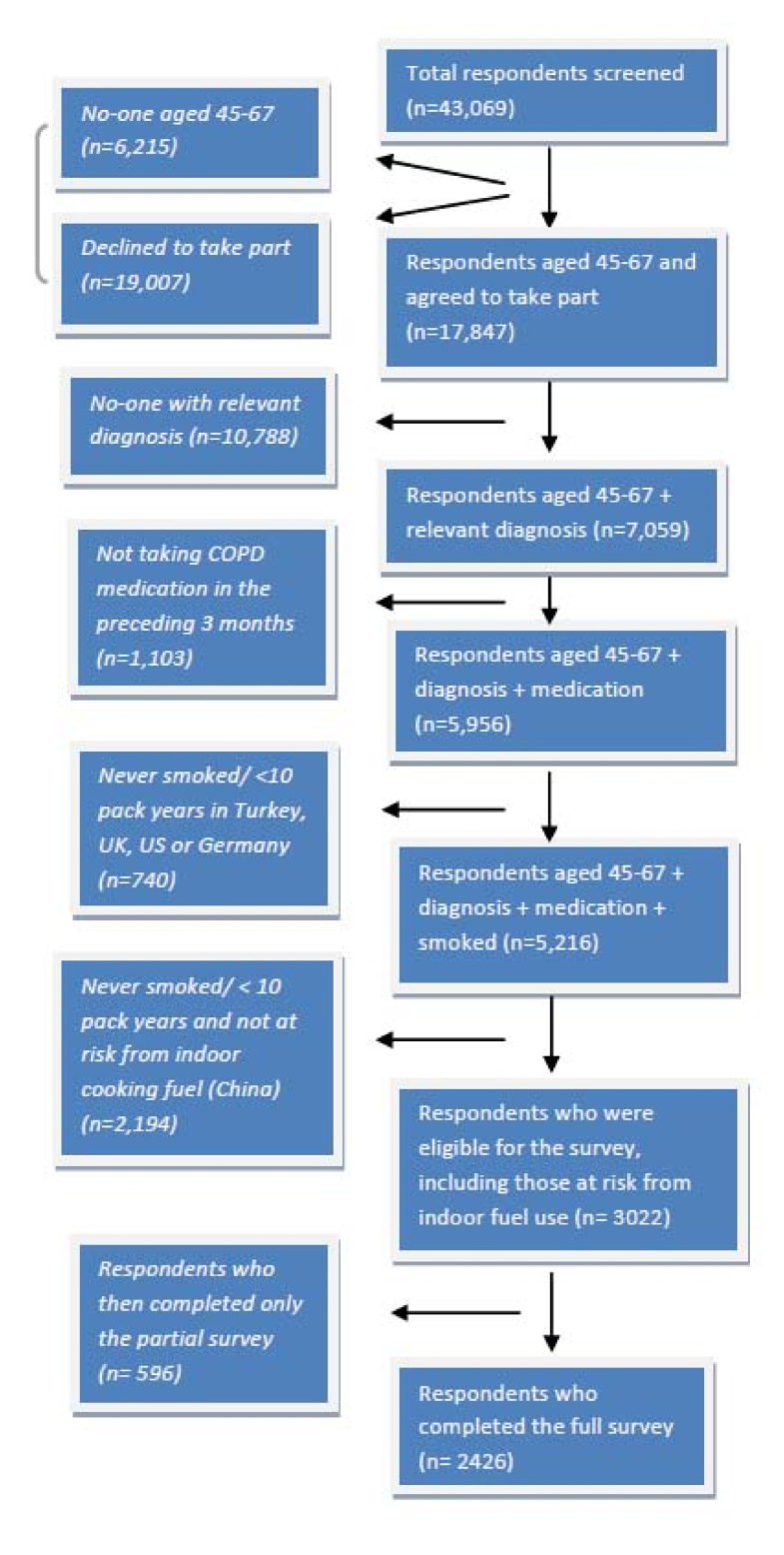 3022 then fulfilled the full inclusion criteria. 596 surveys were not included due to non-completion, leaving a total of 2426 in the study.
Discussion
The aim of this study was to measure the personal, economic and societal impact of COPD on an international younger, working aged population. The results in each country suggested a high level of impact of COPD in terms of personal quality of life, patient and carer commitments to work and utilisation of health care resources. Data varied between countries but many consistent patterns emerge overall.
The economic impact was revealed by the high percentage of people who had been forced to stop working due to their COPD [~40% n: 447/1157]. This supports the existing literature which has shown that approximately one in five people are likely to retire prematurely due to their COPD [20, 33, 34]. We conducted a sensitivity analysis which assumed a standard retirement age of 67 [rather than 65]; this raised the estimate of productivity loss from early retirement due to COPD to over $160 m [£101 m]. If, as has been proposed in many countries, retirement age is raised [35], the costs from premature retirement will rise.
Of those reporting to have retired early due to their COPD, 40% [n: 177/447] had severe disease compared to 9% [n: 62/710] with severe disease who remained in work. Disease severity at the point of retirement was unknown, however, 64% [n: 284] of retirees had retired at least 4 years before the study so their disease severity may have worsened. It is therefore not possible to state conclusively that disease severity is the main cause of early retirement. The ability to remain in work may well be dependent on other factors such as the type of employment and the flexibility of the employer, as some people with moderate disease do continue to remain actively employed [32%, n: 226/710] and yet many do not [52%, n: 231/447]. This would be worthy of further research and may help to find some of the solutions to keeping people with COPD in active work for longer.
There are several reasons, apart from their COPD, for a large number of the survey population not being in work [n: 1243] although still of working age. In this group there are likely to be people who had; actively decided not to work, already retired, were unemployed and those who had retired early for another personal or health reason. The ability to remain in active employment with COPD was an issue for all respondents from every country, who had reported concerns about their future earning capacity. As a result, they felt unable to maintain their previous lifestyles and had difficulty planning ahead in terms of financial commitments. Other respondents reported continuing to work despite their COPD, although it was noticeable that those with more severe disease were less likely to remain in employment. Those with moderate and severe disease were more severely affected in terms of productivity than those with mild disease. There were some inter-country differences, perhaps explained by differences in welfare and benefits systems. The absence of any or limited paid sick leave may pressurise individuals to decide between caring for their deteriorating health or potentially losing jobs and income. Therefore, the costs of presenteeism may extend beyond lost productivity, should COPD patients decide to continue working.
The survey was conducted during the summer months for all countries in the Northern Hemisphere [although this period was wintertime for Brazil]. COPD exacerbations are more common in the winter months [36], so there may have been some under reporting of the extent of the effects of COPD on work productivity and health care utilisation.
Many respondents reported difficulty maintaining their activity levels outside of work. The number of those remaining employed, and levels of presenteeism, suggest some significant efforts are made in terms of remaining employed. It is possible that as a result of the effort to remain in work, respondents were making sacrifices in terms of their capacity to maintain social activities. Many family members also reported having to give up work to care for relatives. As COPD predominately affects people on lower incomes [37] this potentially has serious consequences for families experiencing a dual loss of income from patient and carer employment limitations. When coupled with lack of clarity about prognosis and anticipated morbidity, patients with COPD and their families face a future of uncertainty [38].
In our study, there was considerable variation across countries in the volume, costs and type of health care utilisation, reflecting differing health systems and patterns of disease severity. Our findings, however, suggest that COPD patients are heavy users of health care and that the costs associated with this are high with an average healthcare utilisation cost of $2,364 [£1,500] per annum per capita leading to a total amount for this cohort of $5.74 m [£3.63 m;] per annum. Other studies have estimated the direct cost of COPD care to be significantly less, around $1234-1823 [£781-1154] per patient [39]. As in previous studies, the greatest costs were derived from hospital inpatient care [26, 40]; however in our study far more patients reported having visited their family practitioner at a substantially lower unit cost. Whilst it is difficult to draw conclusions between studies due to differences in measurement, healthcare utilisation costs are high across all studies. Although COPD is currently under-diagnosed [3], prevalence is increasing due to increasing numbers of people exposed to risk factors, the aging population, and earlier detection. Hence the total cost of healthcare for COPD is likely to increase, potentially placing further burden on primary care and hospital care. Whilst further research is needed to establish the complete picture in terms of cost effectiveness, skilled multidisciplinary teams in primary care may help to reduce COPD hospitalization rates [41]. A recent survey within UK general practice however suggested 52% of respondents lacked the appropriate training to manage people with COPD effectively [42]. As the majority of COPD care is delivered within primary care, this highlights the need for investment in sustained educational interventions that have been shown to improve the quality of life of people with long term conditions [43].
The impact of COPD on quality of life observed in our study has been previously reported using a variety of both generic and disease specific instruments [44]. Similarly, and in line with previous research [45], health- related quality of life [HRQOL] measured by EQ-5D was worse for those with more severe disease and higher numbers of comorbidities. The extent of comorbidity in this younger study population was considerable and would appear to be higher than reported before [48-52%] [17, 34]. From the results of this survey it is not known the extent to which comorbidity affected the ability to continue in active employment; however this would worthy of further investigation. It is recommended that patients with airflow limitation should routinely undergo comprehensive clinical assessments to identify co-morbid disease [46]. It would appear this is particularly important in younger patients, as earlier and more aggressive interventions may keep individuals in employment for longer.
Published demographic data suggests that COPD is currently more prevalent in men [12] There were similar proportions of women and men in this study. This may reflect the gender differences in survey response rates in general [47]. Our study may also be reflecting the changing trends in female smoking behaviour, and that impact on COPD prevalence [48].
It is concerning that almost two thirds of the participants continued to smoke. As smoking cessation is currently the only known intervention to alter disease progression [49]; workplace programmes may be helpful to those still in employment.
It was not our intention to make country comparisons, however the results from China are worthy of note due to the apparent differences between China and the other countries in all measured parameters. The Chinese participants, the majority of whom were male [n: 283, 71%], reported milder disease [as measured by MRC score], higher quality of life, minimal loss of productivity and less use of health care services yet the Chinese data contained the highest number of current smokers [n: 329, 83%] compared to the rest of the cohort 59% [n: 1366]. We can surmise from the size of the cohort and the chosen methodology that these differences may be culturally specific rather than a reflection of physical effects of the disease. The concept of 'face' or 'mianzi', whereby the social standing of an individual is in relation to others, is part of Chinese belief systems. Losing face is something to be avoided and can give rise to distress caused by shame. It is possible that our questions relating to disease severity, comorbidities and work were influenced by these beliefs, resulting in the apparent differences between the Chinese data and the rest of the cohort.
The main strength of this study is that the large dataset was collected from similar sized samples of the population in six countries with differing economic, social and demographic characteristics thus presenting a wide international perspective on the disease impact. However this also gives rise to some of the limitations as the study population cannot be seen as representative of any larger domain, and the value of pooled analyses is limited. The advantage of the approach is that a by-country analysis identifies those aspects of COPD, and its impact on patients, which are common to a widely differing set of countries, and those which are limited to certain societies. The breadth of the data collected serves to indicate some of the possible reasons for differences in the pattern of the disease and its impact between countries. Consistency in many qualitative relationships, for example between COPD severity and quality of life, can be seen across all countries. Whilst pooled data analysis is not appropriate, to the extent that the sub-samples are representative of COPD patients in each country, estimates of aggregate national burdens may be made.
One major limitation in this study is the fact that there were differences in the methods of selection of the study population, recruitment and data collection across countries. This may have resulted in the observed differences in the characteristics of the patients; for example, patients recruited from local patients' groups [UK] may have had more severe disease than those recruited randomly from geographical regions [China, Turkey]. The significant heterogeneity of disease severity between countries [data not shown] prevents us from pooling the data or making cross-country comparisons. However, these data are still valuable to illustrate the global picture of the burden of COPD.
Where available we used validated questionnaires to quantify the burden of COPD in a working age population. However, there were some aspects of COPD for which these questionnaires were not available. This resulted in the development of a small number of specific, non-validated questions. These questions, despite being piloted with COPD patients and revised to minimise ambiguities and errors, may not reflect COPD morbidity with the same degree of reliability as the validated questionnaires.
Although we used criterion which would identify participants with COPD as accurately as possible, the diagnosis and reported severity was not verified by spirometry. The survey was subjective and retrospective in nature, relying on patients' recollection of the impact of COPD over varying time periods; this may have resulted in either over or underreporting of its impact [50]. The method of interview [telephone versus face-to-face] may also have had an impact on the way the questions were answered with telephone respondents having the potential to underplay their symptoms in an attempt to reduce social desirability bias [51]. Many other differences observed in this study would reflect the demographic pattern of disease, occupational contexts, economic drivers and access and affordability of health care.
Further prospective studies are required to investigate the impact of COPD on people in work, the precipitating factors for early retirement, and identify interventions that may keep people actively employed.
Conclusions
This survey demonstrates that COPD has a marked effect on the working age population. The cost of illness is possibly more extensive than has previously been recognised [5, 12].
Significant societal benefits could be achieved if COPD were diagnosed earlier and managed appropriately as this may enable individuals to optimise their ability to remain in active employment. Health professionals should ensure they have the skills to recognise the considerable burden COPD incurs, and the knowledge to treat sufferers effectively. This in turn should be supported by a commitment to invest in appropriate and accessible health services, including preventative health and to develop workplace strategies which enable people with COPD to remain in active employment for longer.
While some issues related to the study design may limit the scope for generalisation to all COPD populations, we hope the issues raised will increase the focus of attention of the impact of this condition on the younger populations.
Declarations
Acknowledgements
Martyn Burke analysed the data, and is based at the York Health Economics Consortium, York, UK. Marianella Salapatas [President of the European Federation of Allergy and Airways Diseases Patients' Associations] gave advice on the development of the protocol. Helen Albrow provided the writing assistance for the manuscript, and is based at Education for Health. Synovate Healthcare provided all questionnaire design support, respondent recruitment, data collection and final data.
Funded by a grant awarded by Novartis Pharma AG, Basel, Switzerland
Authors' Affiliations
(1)
Education for Health, Warwick, UK
(2)
National Respiratory Training Center, Virginia, USA
(3)
Oregon Health & Science University, Portland, USA
(4)
Woolcock Institute of Medical Research, Sydney, Australia
(5)
York Health Economics Consortium, York, UK
(6)
The London Chest Hospital, Medical and Emergency Directorate, London
(7)
Department of General Practice, University Medical Center Groningen, The Netherlands
(8)
Alpha-1 Foundation, Florida, USA
(9)
St George's University of London, London, UK
Copyright
© Fletcher et al; licensee BioMed Central Ltd. 2011
This article is published under license to BioMed Central Ltd. This is an Open Access article distributed under the terms of the Creative Commons Attribution License (http://creativecommons.org/licenses/by/2.0), which permits unrestricted use, distribution, and reproduction in any medium, provided the original work is properly cited.