Debate
Open Access
Open Peer Review
This article has Open Peer Review reports available.
To what extent could performance-based schemes help increase the effectiveness of prevention of mother-to-child transmission of HIV (PMTCT) programs in resource-limited settings? a summary of the published evidence
BMC Public Health
2010
10:702
Received: 18 January 2010
Accepted: 16 November 2010
Published: 16 November 2010
Abstract
Background
In resource-limited settings, HIV/AIDS remains a serious threat to the social and physical well-being of women of childbearing age, pregnant women, mothers and infants.
Discussion
In sub-Saharan African countries with high prevalence rates, pediatric HIV/AIDS acquired through mother-to-child transmission (MTCT) can in largely be prevented by using well-established biomedical interventions. Logistical and socio-cultural barriers continue, however, to undermine the successful prevention of MTCT (PMTCT). In this paper, we review reports on maternal, neonatal and child health, as well as HIV care and treatment services that look at program incentives.
Summary
These studies suggest that comprehensive PMTCT strategies aiming to maximize health-worker motivation in developing countries must involve a mix of both financial and non-financial incentives. The establishment of robust ethical and regulatory standards in public-sector HIV care centers could reduce barriers to PMTCT service provision in sub-Saharan Africa and help them in achieving universal PMTCT targets.
Keywords
PITCPMTCT ServiceHuman Resource Management ToolTrained Traditional Birth AttendantProvide PMTCT Service
Background
The risk of mother-to-child transmission (MTCT) of HIV has declined from 35% to less than 2% thanks to the development of biomedical interventions that can be provided to women and/or children during pregnancy, labor, delivery and breastfeeding [1, 2]. Vertical HIV transmission-the main route of pediatric HIV infection-has thus virtually disappeared in high-income settings, where integrated and comprehensive strategic services for prevention of MTCT (PMTCT) have been successful and are now the standard of care [3]. Conversely, vertical HIV transmission remains an important public health issue in the developing world because the scale-up of PMTCT services so far has been slow and highly uneven [4–7]. Too few pregnant women in low- and middle-income countries are aware of their HIV status. In 2009, only 26% of women attending antenatal care received an HIV test, and 53% of those who were found to be HIV-infected received an antiretroviral prophylaxis for PMTCT, which rarely contained the most powerful combinations of antiretroviral drugs (ARV) [8]. An estimated 430,000 children were newly infected with HIV in 2008-over 90% of them in sub-Saharan Africa [9]. Without treatment, an estimated half of these infected children will die before their second birthday [10].
There is no doubt that PMTCT is a key strategy for the achievement of the Millennium Development Goals 4, 5 and 6. PMTCT-sometimes referred to as the four-pronged strategy-is more than the simple administration of ARVs. Indeed, a full set of key interventions is recommended to be implemented as an integral component of essential maternal, neonatal and child health (MNCH) services [
11
]. The first and second prongs emphasize the important role of primary prevention of HIV among women of reproductive age and the need to prevent unintended pregnancies among HIV-infected women. The third prong of the strategy targets pregnant women already infected and recommends that HIV testing is integrated in MNCH units where ARVs are provided to prevent infection being passed on to their babies and also to improve the woman's own health; it requires also that adequate counseling is provided regarding the best feeding option for the baby. The fourth and last prong calls for better integration of HIV care, treatment and support for women found to be HIV infected and for their families (Table
1
).
Table 1
Four-prong strategy for a comprehensive approach of the prevention of mother-to-child transmission (PMTCT) of HIV
| | |
| --- | --- |
| 1st prong | Prevention of HIV infection among young persons and pregnant women |
| 2nd prong | Prevention of unintended pregnancies in HIV-infected women |
| 3rd prong | Prevention of HIV transmission from HIV-infected women to their infants |
| 4th prong | Provision of treatment, care, and support to HIV-infected women and their families |
The evidence from developed countries suggests that integrated health delivery systems may be a cost-effective way to meet the health-care needs of a population. The sexual and reproductive health specialists have been calling for integration with HIV services for many years. An initial focus on the integration of HIV prevention and testing services into family planning, antenatal and postnatal care in the mid-1990 s was followed by a drive to integrate PMTCT within MNCH services. Besides, the United Nations Millennium Development Goals incorporate a target of universal access to sexual and reproductive health within the goal of improving MNCH services-but fighting HIV often remains a separate project with malaria and tuberculosis [12]. A review of the Global Fund database for elements and indicators of sexual and reproductive health in all approved HIV-related proposals-submitted by 134 countries, from rounds 1 to 7-retrieved that only 20% to 30% of them included sexual health counseling, gender-based violence, and the linking of voluntary counseling and testing for HIV with sexual and reproductive health services [13].
Integrating PMTCT care into MNCH services and linking mother and child HIV status are necessary for HIV-infected mothers and HIV-exposed children to receive appropriate follow-up and treatment. Nonetheless, competing demands for resources within the health-care system require health-care providers to ensure the most effective and efficient use of resources. As we move towards eliminating pediatric HIV infection through PMTCT in resource-limited countries, it is imperative to improve the quality of the existing health-care workforce. In this paper, we review the literature on incentives-especially pay-for-performance schemes-and human resource management (HRM) in HIV care and treatment programs, particularly those that offer PMTCT. We seek to determine the impact of incentives and HRM on the effectiveness and quality of care provided by health-care workers in resource-limited countries.
Discussion
Human resources issues
Health workforce shortage
In fact, low- and middle-income countries not only have the highest rates of HIV worldwide, but also face a severe shortage of health-care workers. Sub-Saharan Africa is home to 11% of the global population and nearly two-thirds of people living with HIV/AIDS, but only 3% of the world's health-care workers [14]. Staff shortages in resource-limited settings are a major obstacle to the scale-up of HIV care and treatment, including PMTCT. In 2006, the World Health Organization (WHO) was one of the first international bodies to devote an entire report to the global health-care workforce crisis, thus renewing interest in this topic [14]. The shortage of trained health care providers in resource-limited settings has existed for decades, but in recent years the number of workers has been inadequate at almost all levels of the health system. One reason is that the number of people completing health-related training has not kept up with the increasing needs [15]. It is therefore critical to use the available health-care personnel in a cost-effective manner.
An estimated 45 countries worldwide, of which an overwhelming majority are in sub-Saharan Africa, will not meet the WHO target of skilled health-care attendants delivering 80% of the live births by 2015 [16]. The added workload brought on by the HIV epidemic has increased the strain on fragile health systems and already over-stretched health-workers [17, 18]. In Tanzania, the average staff workload at MNCH clinics ranges from 37.8% at facilities that do not provide PMTCT to 50.5% at clinics in which trained health-care workers provide PMTCT services [19]. This suggests that health professionals may be less motivated to undertake PMTCT-related activities. A performance-based system for providing PMTCT services may therefore improve MNCH and long-term HIV care and treatment.
Motivation: definition and association with performance
According to economic theories, individuals only choose to work if the overall benefits of their labor outweigh the associated opportunity costs. Benefits may include financial and non-financial rewards [20, 21]. Professional motivation is defined as an individual's willingness to work towards the goals of an organization. In order for health-care workers to be effective, they must be motivated and willing to implement the reforms proposed by health policy makers [22]. The problem of under-performance and de-motivation of health-workers has been often explained in terms of an asymmetric principal-agent relationship where agents (health-workers) lack incentives to perform and principals (employers and patients) lack sanction and accountability mechanisms [23]. HRM and support systems can increase motivation by improving working conditions and involving staff in management decisions. Reviews of health-care worker motivation in resource-limited settings have shown that a wide range of factors on both the individual and group level, as well as in various social and cultural contexts, are likely to influence their expectations and effectiveness when providing care. However, these studies have rarely assessed HIV care or PMTCT specifically [24–27].
The WHO has put forth four criteria for evaluating performance of health-care workers: availability, competence, responsiveness and productivity [
14
]. Several international development organizations have also adapted a "Performance Improvement Model" for use in low- and middle-income settings. This model outlines five key factors that influence performance outcomes: job expectations; performance feedback; environment and tools; motivation and incentives; and knowledge and skills. One group used this model in Armenia to assess the factors affecting performance among MNCH health-care providers [
28
]. They found that among people providing antenatal and postpartum care, performance was associated with practical knowledge and the ability to use everyday tools, recognition for good work, and performance feedback. These findings suggest that a set of incentives could help in introducing and scaling-up effective PMTCT programs (Figure
1
).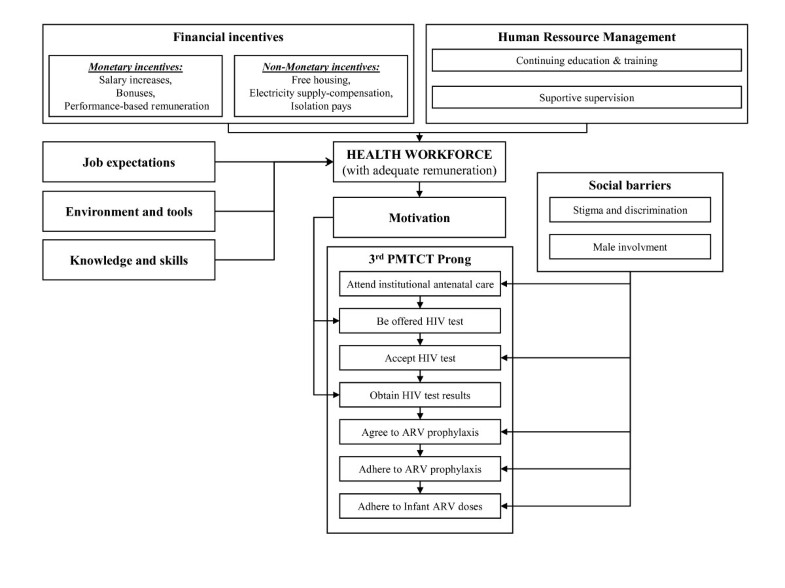 Where do we stand on the concept of incentives?
First, without adequate remuneration, health-care workers will not perform their tasks effectively, nor will they commit to their jobs on the long term, regardless of their responsibilities and initial level of commitment [29, 30]. It may therefore be possible to create explicit financial incentives, for instance by increasing salaries or providing bonuses to those working in underserved communities or rural regions [31].
Although wage concerns are important, they are not the only problem for already over-stretched health-care workers. Other important factors include professional fulfillment and opportunities for career advancement. Non-financial incentives may include compensation payments that improve living conditions, such as free housing, transportation or electricity, professional support and supervision, streamlined management, opportunities for continuing education and training, relocations, or promotions [32, 33] (Figure 1). However, it is important to note that non-financial incentives weigh as much as the financial ones and both need to be linked together.
Summary of experiences in resource-limited settings
Concluding remarks
Over-paying professionals to encourage them to commit to their job may pose ethical problems. In low- and middle-income settings, however, public health sector wages are rarely associated with education level or cost of living. Few studies in resource-limited settings have evaluated the effects of financial and non-financial incentives on performance in the public health sector, especially in the field of HIV and PMTCT. The implementation and evaluation of large-scale operations are critical at a time when international and bilateral agencies are pushing to attain ambitious PMTCT targets that remain distant in many countries [64]. Resource availability and worker competence are essential for meeting these goals, but they will not be sufficient to ensure that health-care providers work as efficiently as required. Increasing worker motivation requires consideration of many factors that cross disciplinary boundaries-economics, psychology, sociology and human resource management. Financial incentives may be important determinants of worker motivation for PMTCT, but they cannot resolve all worker motivation problems alone. Human resource management-one indicator of health-care workers' commitment to their jobs-should be considered in the design and implementation of PMTCT performance-based initiatives, which are urgently needed to eliminate the pediatric HIV/AIDS epidemic.
Summary
PMTCT in sub-Saharan Africa has encountered several programmatic barriers that impeded the full translation of biomedical research findings at the population level. One of the main challenges to PMTCT coverage is the shortage of health-care workers. Performance-based financing schemes involving robust human management systems may help increase motivation among selected health-care workers. The effectiveness of performance-based financing of PMTCT on a global scale depends on context, but its long-term sustainability remains unknown.
Declarations
Acknowledgements
Hapsatou Touré is a fellow of the French charity SIDACTION-Ensemble contre le SIDA. This paper is the outcome of Coordinated Action N°12 working group of the French Agence Nationale de Recherches sur le SIDA et les hépatites virales (ANRS). Special thanks to Brigitte Bazin and Claire Rekacewicz (ANRS) for helping to organize this working group, as well as Jean-Paul Moatti for co-chairing the meetings. We would also like to thank Joanna Orne-Gliemann and Freddy Perez for providing useful comments on an earlier version of the manuscript. We are indebted to Caroline Sloan for her English editing and proofreading services.
Authors' Affiliations
(1)
INSERM U897, Institut de Santé Publique d'Épidémiologie et de Développement (ISPED), Université Victor Segalen, Bordeaux, France
(2)
CNRS, Centre d'Etudes et de Recherches sur le Développement International (CERDI), Université d'Auvergne, Clermont-Ferrand, France
Copyright
© Touré et al; licensee BioMed Central Ltd. 2010
This article is published under license to BioMed Central Ltd. This is an Open Access article distributed under the terms of the Creative Commons Attribution License (<url>http://creativecommons.org/licenses/by/2.0</url>), which permits unrestricted use, distribution, and reproduction in any medium, provided the original work is properly cited.